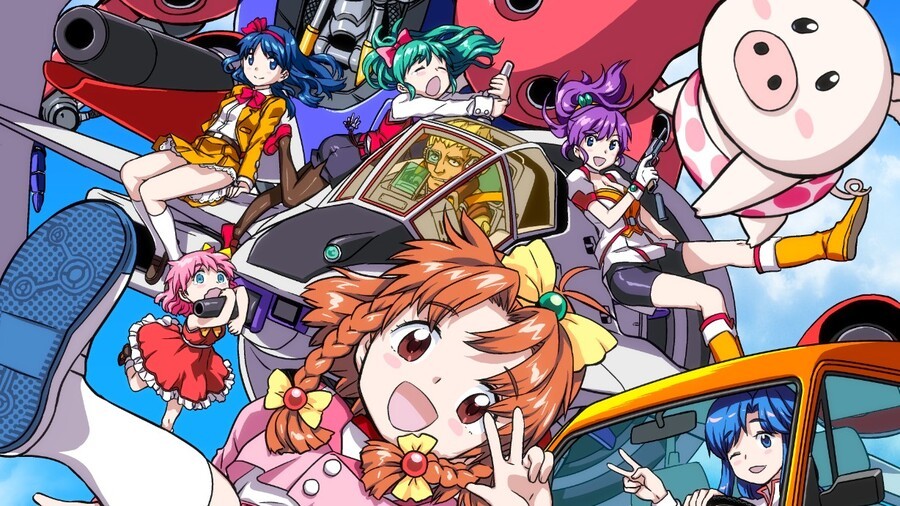 Last March we ran a feature speaking to customers of Dispatch Games (the western publisher of titles such as Psyvariar Delta and Soldam: Drop, Connect, Erase) who were tired of delays and total radio silence from the company regarding the whereabouts of physical pre-orders.
At the time, fans had been waiting months for information on where their orders for physical versions of games such as Radirgy Swag and Jaleco's classic Game Tengoku: CruisinMix Special had gotten to, yet their questions went unanswered by email or Dispatch's social media channels. The company subsequently promised to do better and eventually said to expect weekly progress reports.
Unfortunately, following a brief period of improved communication, the company's Twitter fell silent once again in mid-July until it returned in September with the ill-advisedly playful tweet below:
Information followed ten days later with a handful more tweets dropping until November, when Dispatch said it was moving all releases to January 2021.
This turned out to be a prelude to another two-month Twitter blackout, but that silence was finally broken on Monday when — hark! — the tweet below heralded the dawning of a new update:
As you can probably predict by now, no update was immediately forthcoming, although its absence was explained the following day (it was apparently taking longer than expected to prepare).
However, that elusive update has finally dropped. We'll include the entire text of the statement below, as taken from the press email:
We know everyone is waiting.
We appreciate your patience with us and we know that people simply want their games. They are coming. We sincerely apologize for the ongoing delays.
We are approaching updates not as THE update, but an ongoing series of information drops. There will be additional details in additional newsletters.
So whats different now?
A plan for the entire year.
Focus on current releases first.
Learning from past mistakes.

Status
Its clear that everyone wants a hard date right now.
We understand that people are frustrated and angry - talk is cheap and proof is when you get your product in your hand.
As we are still awaiting delivery on some items - March is our current realistic timetable for release. As things solidify, we will update accordingly - which is why we commit to frequent drops of information - even if that's to say we don't have anything new yet.
The good news is that the floodgates are about to open across all three titles as things continue to happen in parallel simultaneously.
- Game Paradise will release 1st. Early
- Radirgy Swag will release 2nd. Mid
- Rail Sim will release 3rd. Late

We anticipate shipping the titles as they are ready - so if you have multiple items in your order, you can expect to receive them separately. As we confirm firm solid dates, we will inform everyone.
Expect updates regularly. We wont be going dark. We will work to earn your trust.

The Year and Beyond
We have deliberately made zero announcements on new titles as we continue to focus all our efforts on the existing order shipments. What we can share is that we currently have 4 additional physical releases planned for later this year and several new titles scheduled into 2022. The future is bright and we will only get better and improve across the board.
Moving forward, pre-orders will NOT open as far in advance as before.
Pre-orders will only open once all of production has been locked into place.
We will endeavor to increase direct e-mail blasts for updates specifically by product as well as improve our social media engagement.
Making Things Right
We appreciate every single customer and every single order.
With regard to Game Paradise, Radirgy Swag and Japanese Rail Sim:
Each and every customer who has kept their order with us through the challenges and the delays will receive a token of our appreciation with their order. Every order for each game will receive the bonus. Details on this will be forthcoming.
Support has addressed all the open e-mails and is currently updating the remaining address change requests. If you sent in a request before today, you should see an update shortly.
So, there you have it — Game Paradise, Radirgy Swag, and Japanese Rail Sim: Journey to Kyoto are supposedly lined up for release throughout the year, in that order.
Frankly, from our perspective (and from those of customers who have heard this sort of thing several times before), it's tough to have much faith after so much radio silence and similar promises regarding customer communication in the past. Time will tell if Dispatch can ultimately live up to its name and finally send out any physical products in 2021.
Are you a Dispatch customer waiting on a physical release? Is your patience the only thing the company has successfully dispatched, or are you holding out hope? Let us know your thoughts on this rather sorry situation below.