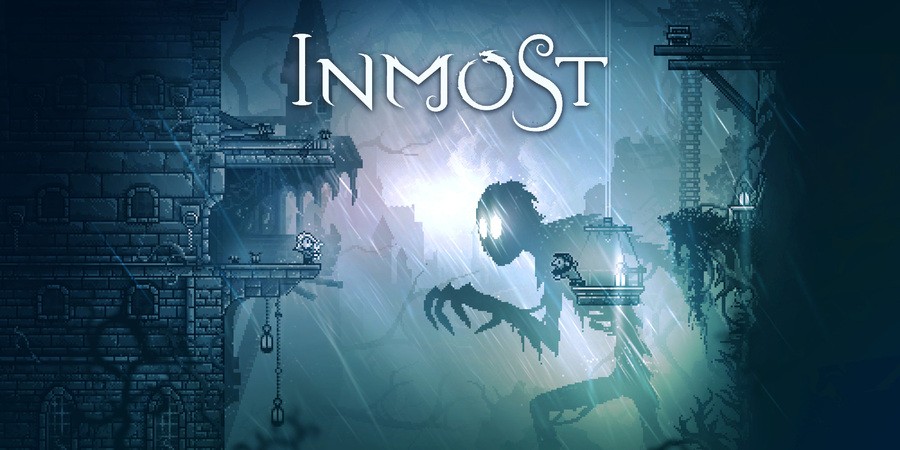 The latest Nintendo Download update for North America has arrived, and it's bringing new games galore to the eShop in your region. As always, be sure to drop a vote in our poll and comment down below with your potential picks for the week. Enjoy!
Switch eShop - Highlights
Peaky Blinders: Mastermind (Curve Digital, 20th Aug, $24.99) - Peaky Blinders: Mastermind is a puzzle-adventure game, based on the award-winning BBC and Netflix TV show. Set right before the events of Season One, Peaky Blinders: Mastermind lets you join the Shelby family's criminal gang. Read our Peaky Blinders: Mastermind review
Gleamlight (D3 Publisher, 20th Aug, $19.99) - Welcome to Gleamlight – a 2D action game that will take you on an adventure traversing a beautiful, transient world. Immerse yourself amid stained-glass artistry while tracing the world's mysterious unspoken story. What will you, as Gleam, sense and feel through your travels across this fearsome world of glass?
INMOST (Chucklefish, $14.99) - Something is lurking in the shadows ... A Knight sworn to the forces of darkness. A creature which feeds on pain. A young girl all alone. One interconnecting tale of suffering, sacrifice and the family in the middle of it all. INMOST is an atmospheric, story-driven puzzle platformer, following three playable characters within one dark, interconnecting story. Read our INMOST review
Switch eShop - New Releases
4x4 Dirt Track (BoomBit Games, 21st Aug, $11.99) - The amazing 4x4 Dirt Track offers challenges and adventure! It's time to get muddy in the realistic Off Road Environment and face driving challenges that only the most skilled drivers can complete. Learn to control 15 powerful vehicles in 75 Realistic Driving Missions. Get behind the wheel of Safari Trucks, Custom Race Buggies, Monster Trucks, Army 4x4 and Modern SUV's, each with unique handling and ultra-realistic suspension behavior.
A Short Hike (18th Aug, $7.99) - Follow the marked trails or explore the backcountry as you make your way to the summit. Along the way, meet other hikers, discover hidden treasures, and take in the world around you. You never know what you might stumble into! Hike at your own pace - there's no need to rush to the summit! Take your time fishing along the river banks or swimming by the lakeshore. Try taking a dive off the mountain peaks to soar above the forests. You might be able to help each other out! Listen to a lush original soundtrack by Mark Sparling that progresses dynamically as you explore the wilderness.
Aokana – Four Rhythms Across the Blue (PQube, 21st Aug, $29.99) - Welcome to a world where people fly freely through the power of anti-gravity shoes. Become a coach for players who race in the sky and make the acquaintance of four charismatic girls. Follow their adventures as you all grow closer in this emotional story of hope, love and sportsmanship.
Arcade Archives SUPER PUNCH-OUT!! (HAMSTER, 14th Aug, $7.99) - "SUPER PUNCH-OUT!!" is a sports-action game released by Nintendo in 1984. The main character participates in heated 3-minute matches against world-class fighters. With the same dual-screen punching action from prequel, and the new "Ducking" defense move, you could feel that you are actually on the boxing ring even more.
Bunny Adventure (11Sheep, 20th Aug, $6.00) - The bunny is on a carrot collecting adventure! Help him get to his goal by sliding road tiles to form a path. A classic puzzle game which is harder than it looks! Tons of levels in three modes to master. Test your skills and join the bunny's adventure!
Chinese Parents (Coconut Island Games, 20th Aug, $12.99) - This is probably the most heart-warming simulation game you have ever played. As a child born in an ordinary family, there is a journey ahead of you, a journey of growth from birth to adult—— Faced with the choices in life, how would you respond?
Digerati Presents: The Dungeon Crawl Vol. 1 (Digerati, 20th Aug, $52.49) - Explore, loot, and battle! Four adventure-filled worlds in one unmissable bundle: Fall of Light: Darkest Edition: A story-driven action RPG set within a world consumed by darkness. An old warrior and his luminescent daughter embark on a dangerous journey to reach the last place on Earth still touched by sunlight.
Ellipsis (Silesia Games, 20th Aug, $4.99) - Be smart and be fast to overcome the challenges of your journey. You will face countless enemies crossing your paths and a stunning universe unfolding before you. Fly through levels, dodging and evading enemies before they have a chance to react. Or explore leisurely, mastering each world and uncovering all its secrets.
Even the Ocean (Ratalaika Games, 21st Aug, $14.99) - A lowly power plant technician for Whiteforge City, Aliph, finds her world turned upside-down after a routine maintenance trip goes awry. Now, working directly with Mayor Biggs to face an unknown menace, Aliph must navigate her newfound power and influence to save the city. Aliph's identities, environmental issues and the world's fate all hang in the balance of Light and Dark energies.
Evergate (PQube, 18th Aug, $19.99) - Story Players guide a child-like soul named Ki on her journey through the Afterlife. Discover her past across lifetimes and her connection with her Kindred Spirit. Help save the Afterlife by channeling her power into her Soulflame. Game Play Evergate is a 2D puzzle-platformer featuring a unique align-to-shoot mechanic. Unleash your Soulflame and harness energy trapped within crystals to solve puzzles, find lost memories, and save your kindred spirit.
FuzzBall (Undefined, 20th Aug, $18.49) - Play as one of 6 FuzzBalls, these small animal plush toys roll into balls of fluff to move around and knock their enemies off a selection of 7 unique stages.
Giraffe and Annika (NIS America, 25th Aug, $29.99) - After waking from a strange dream, Annika finds herself stranded on the island of Spica, having no recollection of her past. With the help of a boy named Giraffe and the witch Lily, she must find three special star fragments on the island in order to uncover her memories.
Gryphon Knight Epic: Definitive Edition (Undefined, 20th Aug, $12.99) - Gryphon Knight Epic is a 2D Medieval Shoot'em up that mixes elements from classical shoot'em ups, exploration and duel-like boss battles, it tells the story of Sir Oliver and Aquila, an accomplished knight and his loyal gryphon that are forced back to adventure once again.
Indygo (Ultimate Games, 21st Aug, $6.99) - Indygo tells the story of a painter who suffers from depression. One of the symptoms is proceeding isolation. The main character hasn't left his room for more than 3 months. The person who helps him live through this hard time is his girlfriend Anna. It became obvious for both of them, that this situation can't last forever. The time has come to look for a solution. It's up to the player to decide how the story will progress.
Jenny LeClue – Detectivu (Mografi, 26th Aug, $24.99) - An adventure game focused on exploration, story, and character. Featuring dozens of unique characters to meet, mysteries and puzzles to solve across a vibrant world.
Jets'n'Guns 2 (Rake in Grass, 26th Aug, $14.99) - Assume the role of an elite space pilot and jump into an epic adventure to save the universe from inevitable doom. Travel the galaxies and unleash an arsenal of the deadliest weapons and devices ever installed in a spaceship!
KIDS: FARM COLORING (No Gravity Games, 20th Aug, $4.99) - Unleash your creativity! Play with animals! Play with colors! Explore a wide range of painting tools - from pencil to brushes and filling baskets! Paint freely and create your favourite pictures!
Kwaidan ~Azuma manor story~ (RAINYFROG, 20th Aug, $24.99) - 1930's Japan. It is the dawn of the Showa era. In a rural manor, a very long night is about to begin. . . Explore the depths of the Azuma Manor, fighting off devilish Yoki, while avoiding traps and solving devious puzzles as you strive to save the Azuma family. Kwaidan mixes classic 3D horror action with point-click adventure to provide a nostalgic-yet-new experience.
Manifold Garden (18th Aug, $19.99) - Manifold Garden is a game that reimagines the laws of physics. Rediscover gravity and explore a beautiful Escher-esque world of impossible architecture. Geometry repeats infinitely in every direction, and falling down leads you back to where you started. Manipulate gravity to change your perspective and see the world in new ways. Master the rules of the universe and restore a barren world with vegetation and life.
No Straight Roads (Sold Out, 25th Aug, $39.99) - Start a rock band & end the EDM empire in NO STRAIGHT ROADS, a rockin' action-adventure from the minds of Wan Hazmer (Final Fantasy XV) and Daim Dziauddin (Street Fighter V). Explore Vinyl City & fight musical megastars on your journey to defeat oppressive EDM empire 'NSR', in an action-packed adventure that mashes together rhythm-infused third-person combat with a kick-ass soundtrack!
One Line Coloring (21st Aug, $6.99) - One Line Coloring offers a relaxing, creative experience built around lines that uncover charming objects. Inspired by classic, pen-and-paper game of connecting dots, One Line Coloring gives players an impression of actually drawing the full object, line by line. Some objects are easily recognizable as our everyday items, others need to be completed to reveal their true form.
Over the Alps (Stave Studios, 25th Aug, $12.99) - Postcards written in invisible ink reveal a secret history... Travel back in time in the debut game from Stave Studios, OVER THE ALPS. Stay undercover, evade the police, and race across 1939 Switzerland in this Hitchcockian World War Two spy thriller. Navigate the twists and turns of an interactive story written by Jon Ingold of 80 DAYS and HEAVEN'S VAULT fame, where each of your actions has consequences.
Paratopic (Arbitrary Metric, 21st Aug, $5.49) - You got caught smuggling VHS tapes across the border, and now there's hell to pay. You want to find an elusive rare bird in the forest and snap its picture. You have to kill a man in the back room of a shady diner. This is Paratopic, an experimental first-person horror game named by Rock, Paper, Shotgun as one of the best games of 2018, and by FACT mag as having one of the top 10 soundtracks of the year.
Phoenotopia : Awakening (Cape Cosmic, 20th Aug, $19.99) - Join Gail, a simple villager, who must heed the call for adventure when a great star ship appears in the night sky and abducts all the adults. As the new oldest member of her fragmented community, she must set out to solve this great mystery. Little does she know of the grand adventure before her, the evil lurking in the shadows, and the role she would play in the fight for Earth's very existence! Read our Phoenotopia : Awakening review
Poker Hands (QUByte Interactive, 18th Aug, $0.99) - Use your arrow keys to move the cards. When two cards touch, they merge into one!
Puzzle Bundle – 3 in 1 (Fallen Tree Games , 22nd Aug, $19.99) - 3 fantastic puzzle games, now available in 1 bundle! Quell Zen, Highrise Heroes: Word Challenge, and Swapperoo, each uniquely crafted by developer Fallen Tree Games.
Raji: An Ancient Epic (18th Aug, $24.99) - Raji: An Ancient Epic is an action-adventure game set in ancient India. A young girl named Raji has been chosen by the gods to stand against the demonic invasion of the human realm.
Reason – Casual Puzzle (QUByte Interactive, 13th Aug, $0.99) - Reason - Casual Puzzle is a thinking game in which the objective is to push the boxes to the marked places. The difficulty of the game is in the fact that you can push the boxes, but you can't pull them, not to mention that they can fall into the void of space.
Retro Tanks (EpiXR, 20th Aug, $5.99) - Retro Tanks is an intense, fast-paced tank shooter game. It is fun, easy to learn and addicting. Play alone, together with friends or against your friends and show your navigation and reaction skills in 6 different game modes and countless levels.
Runestone Keeper (CIRCLE Entertainment, 20th Aug, $9.99) - Now on Nintendo Switch, Runestone Keeper will keep you coming back for one more floor, one more run, as you try to push through the dangers of the dungeon! Heroes, monsters, equipment, events, magic and skills, traps and devices, shrines and altars, Goddesses and merchants.
Samurai Jack: Battle Through Time (Adult Swim Games, 21st Aug, $39.99) - Become Samurai Jack, the greatest warrior across time. Journey through time to finally stop Aku's evil reign in this new adventure told by the creators of Samurai Jack. Voiced by the original voice-actors, Samurai Jack: Battle Through Time is an action platform game that spans across time and space, where your actions will determine a new legend!
Spiritfarer (Thunder Lotus Games, 18th Aug, $29.99) - You play Stella, ferrymaster to the deceased, a Spiritfarer. Build a boat to explore the world, pick up spirits, and release them into the afterlife. Gather, produce, and consume resources while you guide your passengers across mystical seas. Join the adventure as Daffodil the cat, in two-player cooperative play.
Street Power Soccer (Maximum Games, 25th Aug, $49.99) - Sick style and high-energy action come together in this arcade football experience. Face off against street football legends or friends in a variety of over-the-top game modes and playgrounds, unleashing tricks and crushing superpowers to become Street King.
Takeshi and Hiroshi (18th Aug, $8.99) - "Takeshi and Hiroshi" combines the two worlds of puppet animation and RPG. It tells the story of two brothers and their daily life. The 14-year-old Takeshi, a game designer to-be, is creating a game for his weak little brother Hiroshi who always wants to play the next chapter of the game as soon as possible. As the game is still in the making, Takeshi has to improvise and secretly plays some of the monster roles himself. He has to choose which monsters shall appear when and struggles more and more as the challenge for him as a game creator becomes increasingly difficult.
So that's your lot for this week's North American Nintendo Download. Go on, be a sport and drop a vote in the poll above, and comment below with your hot picks!