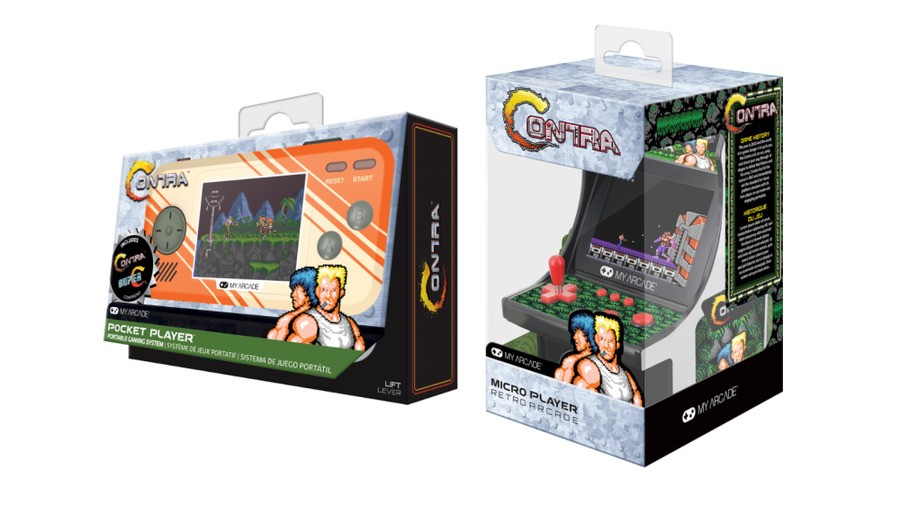 Fans of Konami's seminal run-and-gun series Contra have no shortage of ways to play the classic game, whether you're a fan of the arcade original, the NES port or the numerous sequels we've seen over the years. The recent Contra Anniversary Collection brought together a bunch of them in a package that we awarded a coveted 9/10 in our review.
But you can never have too many ways to play the game us Europeans knew as Probotector, so two more methods are coming later this year courtesy of My Arcade. Known as the Contra Pocket Player (the handheld) and the Contra Micro Player (the mini tabletop arcade cabinet), players are able to link two devices together for co-op play (although it's unclear if you can connect the Micro to the Pocket). Both variants will include the original arcade version of Contra, and the Pocket Player will also include the arcade version of Super C.
We've seen various retro players from My Arcade in the past, including Galaga, Dig Dug, Ms. Pac-Man and Bubble Bobble, so it's no surprise to see Konami's classic join its range of mini retro 'systems'. Interestingly, the press blurb describes these as "the initial line-up" - do we really need more ways to play Contra?
Yes. Yes, we do.
Do you own any of My Arcade's previous 'Players'? How do they hold up against the versions available on Switch and elsewhere? Feel free to share your thoughts below.