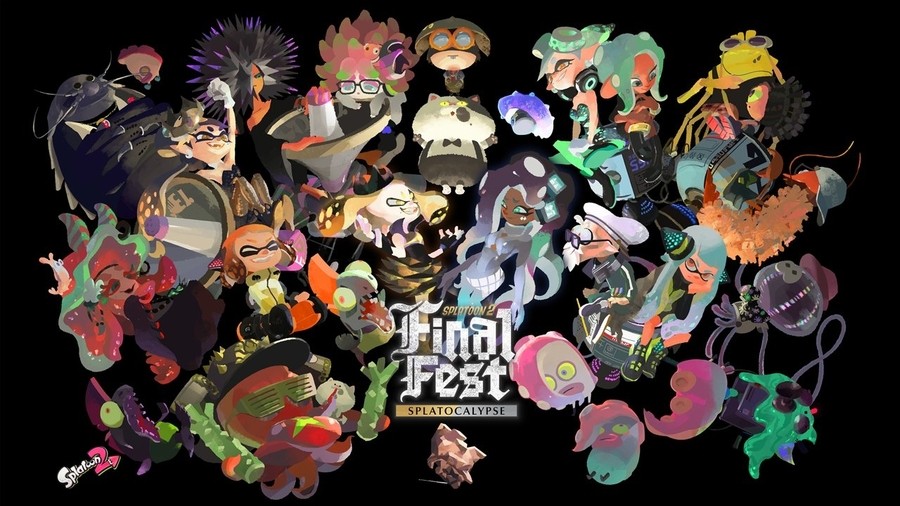 Quickly, drop whatever else it is you're currently playing and join in on the final Splatoon 2 Splatfest.
In the "Splatocalypse" you'll have to side with either Team Chaos (Pearl) or Team Order (Marina) to decide once and for all who reigns supreme. After you've picked a team, you can then participate in this 72-hour event until Sunday afternoon if you live in the UK, or 5 am PT if you're located in North America. In celebration of the grand finale, a new Shifty Stage has been added to the level rotation. Here are the full details:
The 23 previous stages will surface in a constantly...shifting rotation for the first 48 hours, with the new stage making its debut for the final 24-hour period. Special in-game gear will also be distributed in honor of this Splatfest via players' Nintendo Switch news feed.
Earlier this week, Splatoon 2 was also updated to Version 4.9.1. Here are the full patch notes:
The data for the Final Splatfest has been updated.
Fixed an issue causing the player to appear in an unintended location after falling into water while performing a dodge roll with a Dualie weapon equipped.
Downloading the latest update will prevent matching with players at the Shoal that are using previous update data.
If you want to join in on the fun, Splatoon is currently 33% off its normal price on the UK eShop.
Which team are you siding with in the final Splatfest? Leave a comment below.
[source twitter.com, via twitter.com]