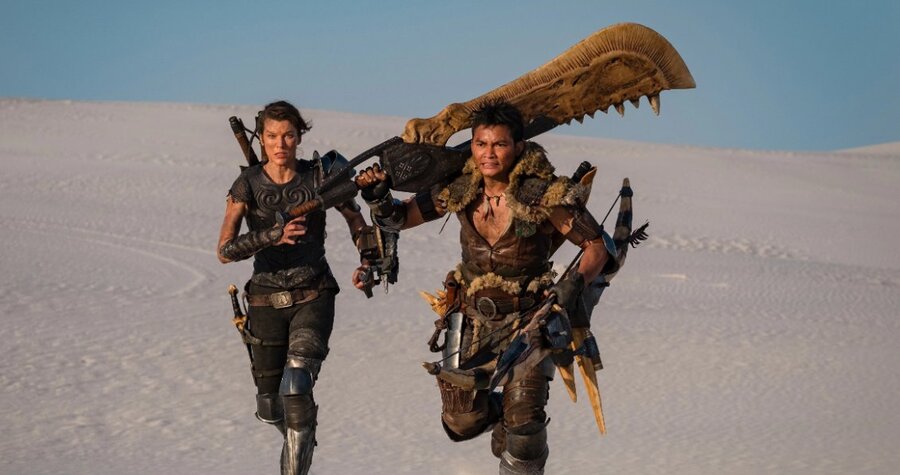 Whether you're open to the idea of it or not, a live-action movie based on Capcom's insanely popular video game franchise Monster Hunter is currently in the works. So far we've got glimpses of multiple characters from the movie and even some animations of the monsters that will be on display throughout it.
In the latest update, we get another look at Milla Jovich as the movie's heroine Natalie Artemis and also our very first glimpse of a hunter, played by Tony Jaa - the famous martial artist and stuntman from Thailand. As described in the Tweet below, Jaa's character is wielding a Giant Jawblade and Great Hunter's Bow. According to IGN, his costume patterns are based on the Field Team Leader from the recently released Monster Hunter World game. Milla's character is carrying a pair of Dual Blades, a carving knife and slinger on her left arm.
Screen Gems has released the official synopsis for the film as well:
Behind our world, there is another: a world of dangerous and powerful monsters that rule their domain with deadly ferocity. When Lt. Artemis (Milla Jovovich) and her loyal soldiers are transported from our world to the new world, the unflappable lieutenant receives the shock of her life. In her desperate battle for survival against enormous enemies with incredible powers and unstoppable, revolting attacks, Artemis will team up with a mysterious man who has found a way to fight back.
In a phone interview with IGN, the film's director Paul W.S. Anderson - currently on set in South Africa - said all the armour and equipment for the character played by Milla was directly taken from the game. As any fan would hope, the landscapes have also been inspired by the video game:
The beauty of the costumes and the landscapes from the Monster Hunter game really kind of came out in that image... She [Milla Jovovich] is the game player, in a way, she is the audience's avatar, their way into the world
There's a more lush part of the movie, which kind of reflects the kind of lush, more jungle-y look of the Monster Hunter world. And then the climax of the movie takes place around a piece of the Ancient Civilization that's, it's kind of referenced many times in the Monster Hunter games.
Do you any more faith in the upcoming Monster Hunter movie? Let us know with a comment below.
[source au.ign.com]