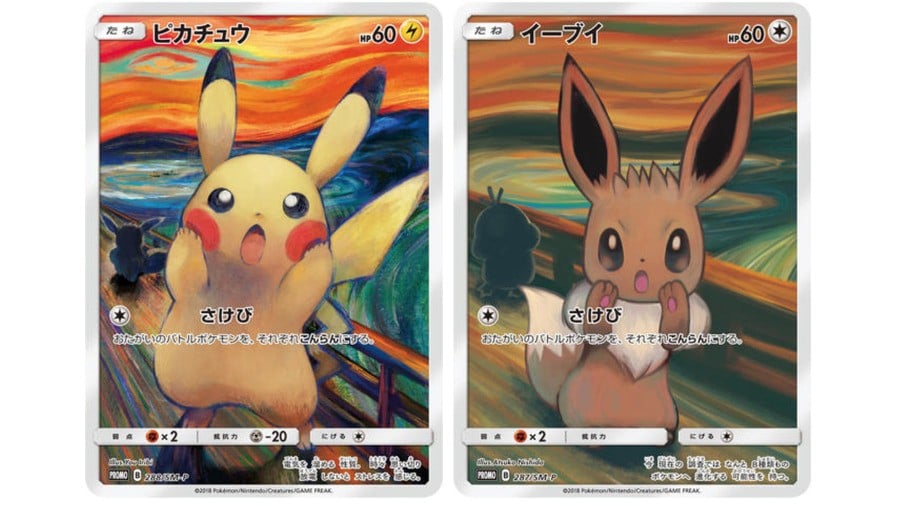 We know that Pokémon's pretty popular, and that the series tends to collaborate with other franchises, retailers, and anything else going, but this is one tie-in we never thought we'd see.
Introducing the Edvard Munch x Pokémon Trading Card crossover. With designs for Pikachu, Eevee, Psyduck, Mimikyu, and Rowlet, the cards are clearly inspired by Munch's hugely famous art piece, 'The Scream'.
The cards (which you can also see on the official Pokémon card website) have been created to tie-in with the "Munch: A Retrospective" exhibition set to take place at Tokyo Metropolitan Art Museum from 27th October to 20th January. The event will showcase the real art piece for the very first time in Japan, with the Pokémon cards acting as souvenirs which can be purchased from the Tokyo Metropolitan Art Museum and Pokémon Center Online.
According to ResetEra member, Forkball, the attack featured on each of the cards is called 'Scream', with the descriptive text underneath saying "Make both battle Pokémon confused." If you're a collector of all things Pokémon, grabbing a full set of these cards will no doubt be going straight to the top of your to-do list.
Would you like to own your own copies of these cards? Let us know with a comment below.

[source eurogamer.net, via resetera.com]