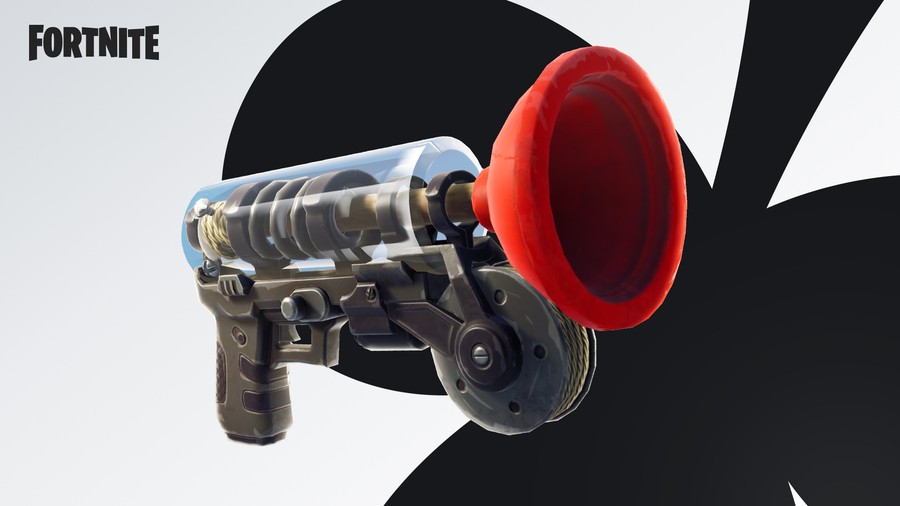 Epic Games' Fortnite has just entered downtime for its version 5.40 update, but what can we expect to see once the servers come back online?
Well, for starters there's the new High Stakes limited-time event. Players can assemble their crews (or join up with others online) for the new Getaway limited-time mode and complete bonus challenges to get some free rewards. The details surrounding this High Stakes event were revealed recently at PAX West, so we'd urge you to check it out in full if you're interested.
Having said that, one part of the new event that we do want to highlight is the new Grappler weapon. This item acts like a grappling hook, allowing players to make a daring escape or get into the action extremely quickly Firing this item makes it attach to anything you hit for quick traversal, potentially adding a completely new dimension to how battles will play out. If someone's sitting at the top of their own carefully planned fortress, simply grapple right up to the top and surprise them.
Elsewhere, various bug fixes and alterations have been made, with many relating to the Switch version of the game in particular. Here are the highlights:
- Motion controls now function uniformly across input types on Nintendo Switch and mobile. Options have been added to the settings to allow you to switch your motion turn axis.
- Improved loading performance on Nintendo Switch to reduce issues with buildings loading late (i.e. low-res buildings during skydiving).
- Fixed a large performance regression related to effects. This was causing poor framerate in the 5.30 release (especially on Nintendo Switch).
- Improve the quality of the sound played when dropping from the Bus on Mobile/Nintendo Switch platforms.
- Fullscreen map now supports touch on Nintendo Switch.
The game will return to normal service shortly after the time of writing, so expect to find all of these goodies waiting for you the next time you load up the game (after updating it, of course).
Do you like the look of these new additions? Have you been regularly playing the game, or has your interest faded? Let us know with a comment below.
[source epicgames.com]