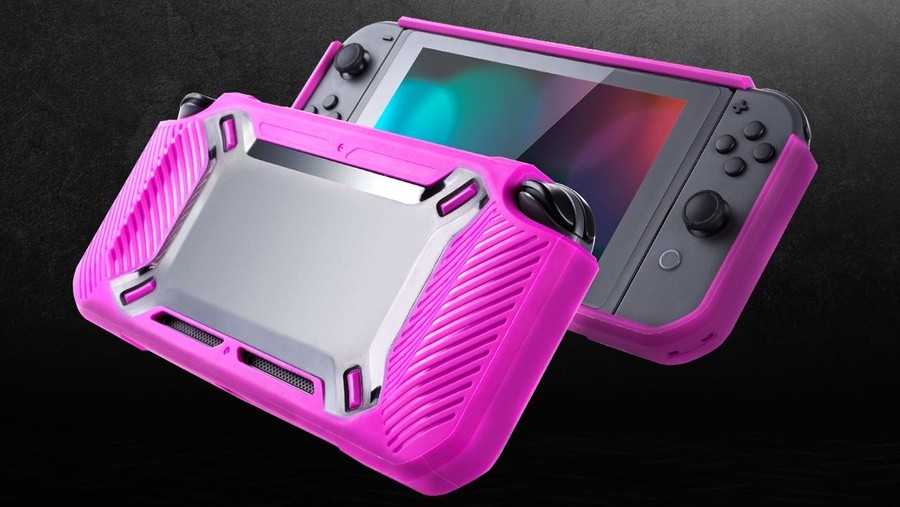 Gaming accessory maker snakebyte has unveiled the 'Tough:Case' for Nintendo Switch, giving players a way to keep their console safe from nasty bumps while playing in handheld mode - and making sure that you'll never misplace it ever again.
Designed to fit perfectly around both the tablet part of the system and its connected Joy-Con, the Tough:Case cradles the console when in handheld or tabletop modes, aiming to prevent any damage to the console that could come as a result of dropping or knocking. 
The rugged design is made out of a protective rubber shell which includes a scratch-resistant polycarbonate back cover. Quickly wrapping around the console, the case is designed to be strong enough to protect, but light enough to never intrude on console controls during intense gaming sessions. 
It probably goes without saying, but this could be a great solution for any younger players who use the Switch almost like a tablet, or even those who find themselves prone to accidents. Nick Repenning, CEO for snakebyte USA, said the following:
"The Nintendo Switch is on course to become the best-selling console in 2018, and seeing more and more gamers use their Switch hardware in the wild is now a very common site. The Tough:Case offers Switch owners superb protection, guarding their console from damage and managing to look stylish in the process. We think it will prove a must-have accessory for all handheld lovers."
Shipping is expected to begin this August for both the black and delightfully bright 'strawberry pink' versions. No pricing details or product listings have been shared just yet, but you can keep an eye on snakebyte's website if you're interested.
Will you be rocking a bright pink Switch in the future? Or is this one a little bold for your tastes? Share your thoughts with us down below.