Plenty of games are getting the re-release treatment on Nintendo Switch, and while some definitely don't deserve a second shot at stardom, one recent addition to the console's library definitely does: the sci-fi adventure that is Another World. It was well ahead of its time when it originally launched in 1991, and it's managed to stand the test of time thanks to various re-releases over the years. So to celebrate its arrival on Switch, we caught up with industry veteran and the game's creator, Éric Chahi.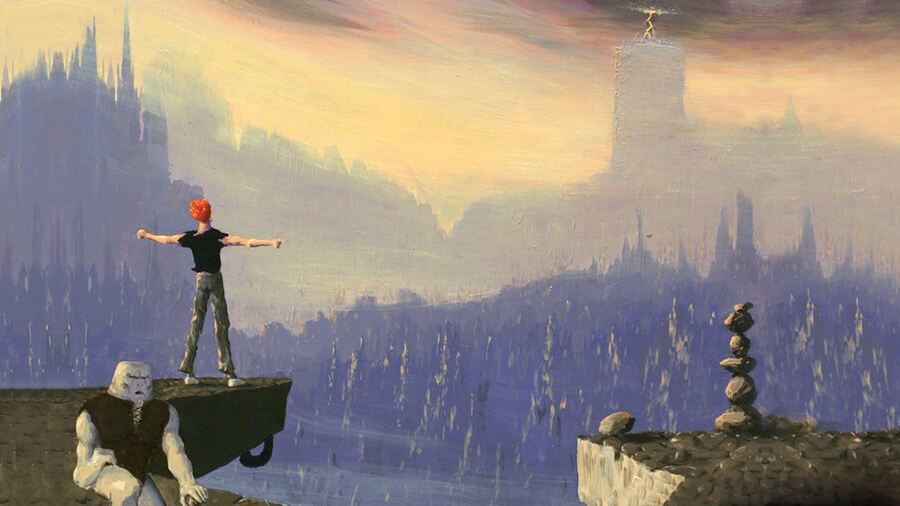 Nintendo Life: What do you think is the 'je ne sais quoi' that makes Another World continue to resonate with audiences?
Éric Chahi: Hmmm ... Probably because of pacing and the freedom it gives to a player's imagination. Indeed, the minimalism of the game gives players the space to build their own world in their mind while playing. Similar to how people imagine a world while reading a book description, players are able to fill in details viewing Another World's graphics utilising flat colors and shapes, or narratively where the story is suggested by a flow of visual events without any text. The game's dialog are all alien words, so there again the player can imagine many things.
So, when you give space to a player's imagination, a game can age very well. The other aspect to consider is the pacing. How events happen, climatic rhythms, moments of surprise while playing, that sort of thing. It structures the entire narrative and gameplay experience. I think it is this non-verbal rhythm which makes Another World still resonate with players today. 
What influenced the art style and atmosphere of the game?
Mainly science fiction or fantasy art. Illustrations from artists like Michael Whelan, Frazetta, and Bernie Wrightson. Comics from Richard Corben like the Den series, too. I really love the raw force of his universe. The Polish painter Beksinski had a strong impact on me as well.
I have also been strongly influenced by movies, but it was more about individual elements like the laser blasters in Star Wars. Or in Akira Toriyama's Dragon Ball manga, the Kamehameha energy ball and the fast motion suggested by the thin lines. Influential readings at the time of development were Dune and Hyperion. 
What drove your desire cinematic presentation, especially considering hardware limitations at the time?
During my teenage years, I was doing some stop motion animation with clay. I really enjoyed creating short animated stories with that. Since then, invoking a movie feeling in a game was a latent desire. But creating a game with cinematic cuts seemed technically impossible.
Things changed in my mind when in 1989 I saw Dragon's Lair on the Amiga. Dragon's Lair had flat cartoon colors with huge animations. It was technically impressive, but the game was using six disks with real-time streaming on it. It was using too much memory. Most of the CPU resources were spent on accessing the disk. With that problem in mind, it gave me the idea to use polygons to surpass memory limitations. With polygons, I was able to remove the loading constraint. Everything should be in memory. I could draw shapes as big as the screen with very few data. It blows away all usual limitations.
Suddenly, I had the possibility to create, cut, implement animations of any size, and switch from one cut to another in an instant. For example, Another World's introduction uses only 64kb of memory for graphics, which allowed me a lot of space for accompanying sounds.
How important was it to include both the original and HD graphics for the re-releases?
For me, it is very important to include the original graphics for historical reasons. The HD visuals make a lot of sense because of the vectorial nature of graphics which can support any resolution. The biggest improvements are on the backgrounds. In general, though, I kept it focused on minimalism playing with smooth shades of color. 
What was your reaction to the momentum and praise the game got early on, and having something of a renaissance with new fans on social media after the Anniversary edition?
At the time, the enjoyment of players and press had built up a big recognition for me. Especially because it has been international. At the time very few French games were sold outside of France. I'm elated that it's resonated with so many players. 
Do you consider Another World as going against gaming conventions of the time?
Yes, definitely. For example, a focus on the player's score was a standard at the time. It was the legacy of arcade games. But it was anti-immersive, so I decided intentionally to break that rule with no user interface on screen. The other difference was visual. All games were using bitmaps with a lot of details made up of pixels; in Another World, the graphics are created with flat shapes to create depth. It was also the first time a game showed cutscenes truly linked to the gameplay. For example, when the player takes the gun in the jails or the introduction of the big black monster at the beginning. I was a bit anxious about player reactions at the time since it was very different. 
How did/does it feel to have Another World cited as an influence by some of the best game creators in the industry?
That was humbling and I was very surprised. It felt immensely rewarding, especially because I appreciate Fumito Ueda's work for example. His work on developing a relationship between Ico and Yorda progressed even further than my portrayal of Lester and his alien buddy. He is a poet. 
You've said on numerous occasions in the past that a sequel would be 'tricky'. Has the ongoing love for the game made you think about revisiting the world or the characters, or even a 'spiritual sequel'?
Yes, it would be tricky because the game universe is so open and that is part of its DNA. Another World allows players to form many different perspectives.  What is this alien world? Who is the alien friend?  What happened next in Lester's life? It would be tempting to continue it. But Another World is super coherent as it is and I prefer to keep it that way. It fills me with joy to hear interpretations of the game from others. 
How have you approached subsequent projects considering how much the industry has progressed (at least in part as a result of Another World's influence)?
Heart of Darkness has sort of served as a continuity of Another World, but with more emphasis on cutscenes. From Dust is very different, because it's mainly based on a simulation with elements of 'god games'. The common point I keep in mind is about the player's experience though; supplying a coherent universe with a new kind of experience. I love to explore new fields and styles of play! 
What contemporary or Nintendo games have impressed you?
My first Nintendo game was the arcade game Donkey Kong. Then Pikmin on GameCube was a super innovative game with a unique ecosystem, playing with a crowd instead of one character. Very interesting gameplay and one of the most enjoyable titles I played on the console. A more recent favorite I've played is Playdead's Inside, which to me felt like it held a lot of common spiritual points with Another World! I'm currently playing The Legend of Zelda: Breath of the Wild too, which is amazing. 
Have you experimented with the Nintendo Switch and its features?
Yes. And it fit very well with Another World, for the kind of controls the game needs and the crisp visuals it offers on a portable screen. 
What have you been working on since the release of From Dust (2011)?
First I worked on a simulation for one of the best big volcano museums on Reunion Island, which allows visitors to create eruptions and interact with virtual lava flows. It was an incredible project, and I worked with François Sahy, a crazy indie GPU coder. For the last two and a half years or so, I've also been working on a new game with a talented team of indie folks. Something new, something narrative, something simulated! I can't say more on it just yet, but stay tuned!
Thanks to Éric for his time. Another World is available on the Nintendo Switch eShop right now...