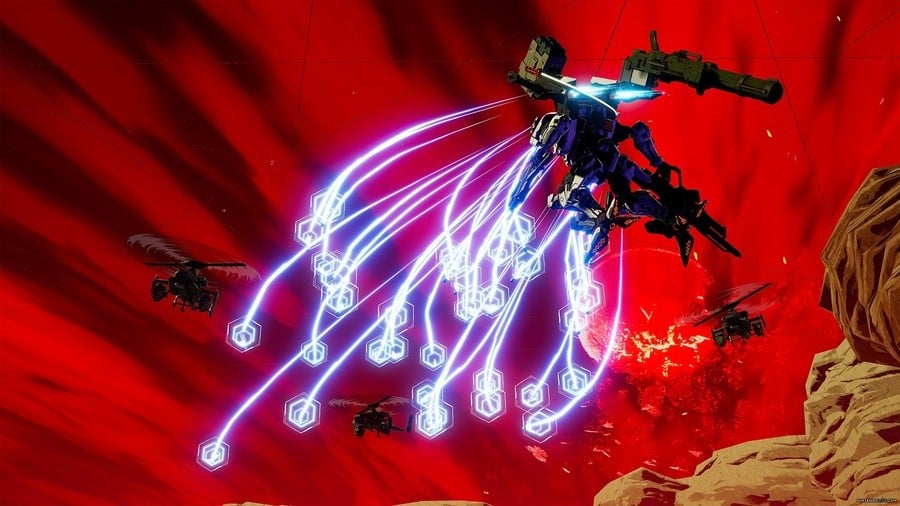 Earlier this month, the producer of Daemon X Machina, Kenichiro Tsukuda, said there was nothing noticeably distinctive - in terms of visuals - about a lot of modern video game releases. He said a lot of games were starting to look more similar and hoped players of his own upcoming title would appreciate its unique aesthetics.
In an interview with the Japanese website 4Gamer - translated by Nintendo Everything, Tsukuda provided more information about his project's visual direction, explaining how the team avoided taking a more photorealistic route and instead opted with a colourful anime and comic book art style:
When drawing mechas for games, one generally goes in a more photorealistic direction; we've become pretty familiar with a lot of mechas from things like anime and comics, I think. This time we wanted to challenge ourselves with something like that by expressing that kind of art style through the game, and it suited the game pretty well, in fact! It was pretty interesting, actually: with this style, the range of what we were able to express expanded considerably. For example, we tried shading using the color black: it didn't look out of place at all in fact, rather, the game looked like an illustration out of a comic book! Thanks to that, no matter where the player is in-game, their Arsenal will still look cool.
During the same interview, Tsukuda also explained how players would be able to steal equipment and parts from enemies for their own mech, how each mech essentially has five weapons and also how multiplayer was currently being implemented.
Daemon X Machina is on-target for a 2019 release, tell us below if you've been keeping an eye on it since the initial E3 reveal.
[source nintendoeverything.com]