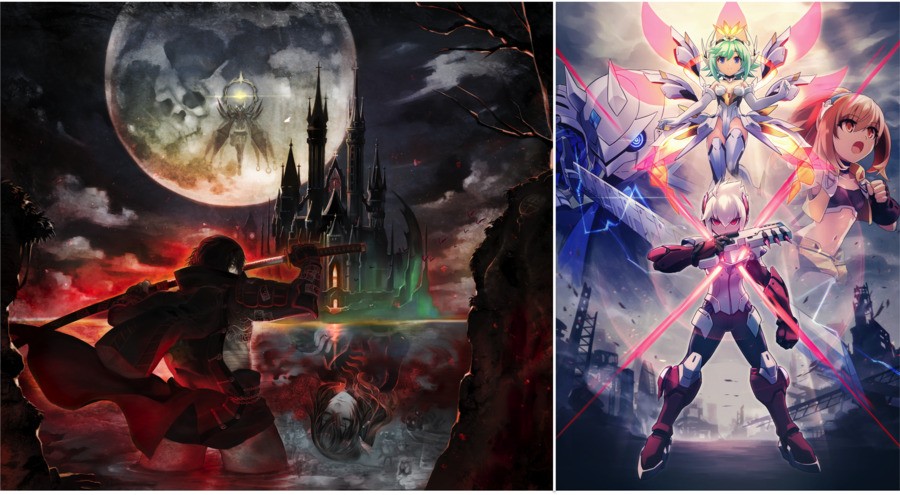 During BitSummit, the largest indie gaming event in Japan, Inti Creates has today announced not one, but two new games to be released on Switch - Bloodstained: Curse of the Moon and Gunvolt Chronicles: Luminous Avenger iX.
Bloodstained: Curse of the Moon
Bloodstained: Curse of the Moon is a retro-style action spin-off of sorts that was originally promised as part of the Bloodstained: Ritual of the Night Kickstarter campaign back in 2015. Developed by Konami legend Koji Igarashi, a producer of the Castlevania series for almost 20 years, the game's crowdfunding campaign went on to raise a staggering $5.5 million, hitting the stretch goal to make this second smaller project possible.
Players will take control of one of four characters that can be interchanged at any time during gameplay: the sword-swinging exorcist Zangetsu; the whip-wielding heroine Miriam; the magic using alchemist Alfred; and Gebel, who can turn into a bat and take to the skies. You can experience multiple endings depending on how you interact with the game's characters. Are you ready to survive the horrible night, forming new alliances and battling against demonkind?
The game will release on Nintendo Switch and Nintendo 3DS for $9.99 / €9.99 on 24th May.
Gunvolt Chronicles: Luminous Avenger iX
Luminous Avenger iX is a new title in the universe of the Gunvolt series, which began back in 2014 with Azure Striker Gunvolt on 3DS. This new title sees Gunvolt series anti-hero Copen take the starring role, and more details surrounding the character's involvement are expected to be revealed over the summer.
Little else has been shared about this new title, other than the fact that it currently appears to be exclusive to the Switch. We'd expect to see more of the Mega Man-inspired action-platform goodness that was present in previous entries to the series, but we'll have to wait and see when the details begin to emerge.
Do you like the sound of either of these new games? Will you looking out for more info in the near future? Let us know your thoughts down below in the comments.