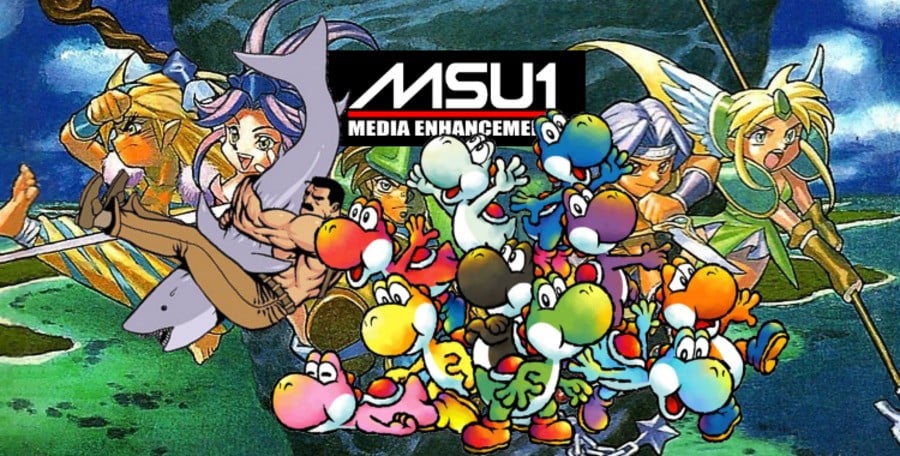 The Zeldix MSU1 community continues its incredible streak of MSU-1 audio project releases, with this week seeing the conclusion of two major projects from Conn and a nice Capcom surprise from Kurono and PepilloPEV.
Without a doubt one of the greatest Super Nintendo (perhaps even even all time) platformers, Yoshi's Island is now high fidelity enabled thanks to Conn's hard work, along with the orchestration sound packs by Enmet and daniloroxette. If you ever need a good excuse to go back and flutter around while we wait for Yoshi's Switch début, this is a very good one.
We still have very high hopes Square Enix will make amends and release Seiken Densetsu 3 (aka Secret of Mana 2) officially in the West some time in the future. This incredible action RPG has recently been released on the Nintendo Switch as part of the Seiken Densentsu Collection and has become one of the hottest Japanese imports for the system despite the ever-present language barrier. 
Conn's MSU-1 patch release is further proof of the enduring qualities and appeal of this 16-bit masterpiece. The audio pack by RedScorpion features - at the time of writing - 35 of the 75 original tracks re-orchestrated in high quality audio; not an easy task considering the brilliant original soundtrack by Hiroki Kikuta. The patch even works with the several fan translations of the game. Hopefully one day we will be able to play this one officially, or perhaps the rebooted 3D remake of the second game will head towards the Switch in the future since the demand is certainly there.


Last but not least this week we have Capcom's peace offering to Super Nintendo owners after the original Final Fight fell slighty short of the expected arcade perfect conversion we all dreamed of. No more single player only or cut characters here; the exclusive sequel Final Fight 2 has Mike Haggar giving the day off to Cody and Guy, instead taking along Maki and Carlos instead for a world tour of street justice. 
Thanks to the release of MSU-1 support by Kurrono and PepilloPEV you can now pile drive Mad Gear goons into the pavement to high fidelity music. For the moment only the general MIDI sound pack has been released with PepilloPEV currently working on a full remastered soundtrack release in the future. Remember to vote for (the now 75 year old!) Mike Haggar in future general elections, folks.
These are the freshest Super Nintendo MSU-1 audio enhancement patch releases. Any excellent memories from these three titles? Fell free to walk us along the 16-bit memory lane in the comments section below.