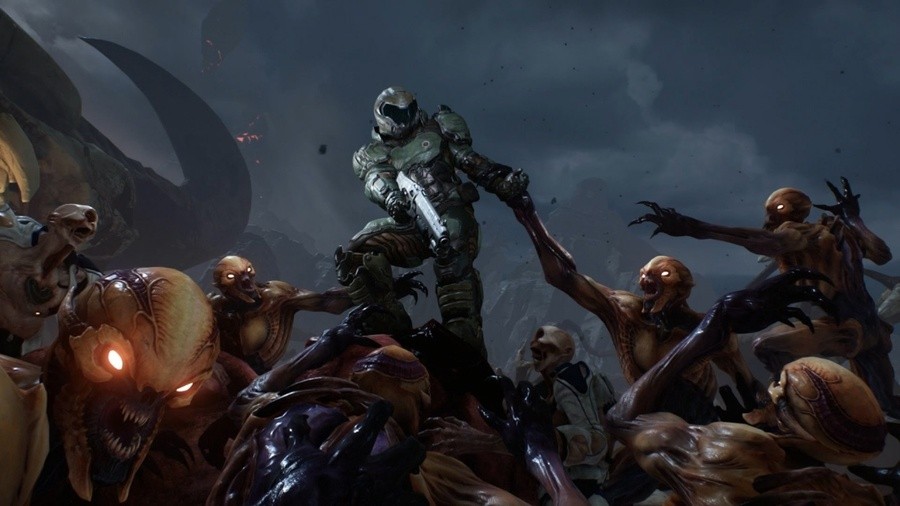 It's time for the Nintendo Download Update details for North America, ladies and gentleman, and it's a whopper. It has well over 20 new arrivals in the coming days, with the Switch getting a hugely impressive batch of retail and download-only releases. The 3DS gets a retail game of its own and the Wii U doesn't entirely miss out - let's get to it.
Nintendo Switch Retail Downloads
DOOM (Bethesda, $59.99USD) - This intense and fast-paced shooter was critically acclaimed when it launched in 2016, and it's made an impressive transition to Nintendo's hybrid system. A full-on solo campaign is joined by some fun online multiplayer options, so it's an impressive package to have on the go. Despite a few day one flaws we still gave this a thumbs up in our DOOM review. Available from 10th November.
L.A. Noire (Rockstar Games, $49.99USD) - Another high profile arrive for Nintendo's system, in this case an inventive and critically acclaimed crime thriller from the last generation of consoles. Visually stunning when originally released, it'll be fascinating to see how this detective's tale transitions to the Switch; it'll include all previous DLC, a 'Joy-Con' mode with motion controls, HR Rumble and some 'contextual touch controls'. We'll let you know what we think of this in a review, and also of note this is available for pre-purchase / pre-load on the eShop. Available from 14th November.
LEGO Marvel Super Heroes 2 (WB Games, $59.99USD) - The LEGO games keep on coming, and are often rather good fun. This one mashes up a whole lot of Marvel characters into a new story, and there'll also be 'battle arenas' for a bit of non-co-op multiplayer. Available from 14th November, pre-purchase enabled.
Batman - The Telltale Series (Telltale Games, $39.99USD) - The steady catch-up of Telltale games on Switch continues with this collection of the first Batman series. This will include five episodes as you alternate between the caped crusader and Bruce Wayne across the storyline. Available from 14th November.
RiME (Grey Box, $29.99USD) - This one has had a long road to the Nintendo Switch, also due as a budget retail title in stores. It's a cerebral single player adventure in which you explore a mysterious island with a cute fox as a companion. Our review will be with you before release. Available from 14th November.
Ittle Dew 2+ (Nicalis, $29.99USD) - The Wii U had the original game in this series, so it's great to see the re-jigged sequel continue the run on Nintendo hardware. It's an overhead adventure/puzzle experience that draws comparisons to 2D Legend of Zelda games, but also very much goes its own way. Available from 14th November.
Ben 10 (Outright Games, $29.99USD) - A single player action brawler which could certainly be fun for fans of the TV series. Available from 14th November.
Nintendo Switch Retail Download / DLC
Snipperclips Plus: Cut it out, together! (Nintendo) - Coming to retail as a complete package with the new content also available as DLC for those that own the original; there'll be 30 new stages, remixes of old stages and some additional features such as a 'stamp' mode. Available from 10th November.
Switch eShop
Hulu (free) - It's the first TV streaming app on the Switch, with Hulu being a surprise addition in this week's update. A free trial is available for new users, otherwise it's a paid subscription service.
Rocket League (Psynonix, $19.99USD) - In coming to Switch the hugely popular driving / football / action title will be playable on the go for the first time, and on top of that there are a few unique cars and designs for the Nintendo system. Many expect this to be a big hit on Nintendo's system. Available from 14th November.
Super Putty Squad (System 3, $19.99USD) - A retro platforming experience remastered for modern systems (previously also on Wii U and 3DS), this features a protagonist that "can inflate, morph, stretch, punch, jump and absorb". In principle that sounds like rather good fun, so we'll hop into a review.
Octodad: Dadliest Catch (Young Horses Inc, $14.99USD) - A game based around tricky controls and chaos, it was actually a sequel and certainly earned plenty of plaudits when it first arrived. It eventually made its way to Wii U but, unfortunately, it wasn't a perfect port. Our review of the Switch version will be with you later today.
Cat Quest (Pqube, $12.99USD) - One of the quirkier titles that's been in the works for some time, this is "an open world RPG set in the pawsome world of cats!" Expect lots of cat-themed wordplay, but it also looks like it could be a relatively deep and fun game - we'll ask whether Dog Quest is in development and see whether this one is purrfect in a review.
UNO (Ubisoft, $9.99USD) - No, that's not a typo, it is a Ubisoft game, and considering the fact that the company's version of Monopoly costs a slightly ludicrous $39.99USD / £29.99 on the Switch, this is at least reasonably priced. This spin on the card game includes online play and various customisation options to switch things up.
Tallowmere (Teyon, $6.99USD) - Perhaps you remember this one from its release on the Wii U eShop last year; we really liked it in our review. The challenge is to see how far you can get into the dungeons. Each randomly-generated room gets bigger, harder, and more rewarding the further you go, and you strive to earn better gear as you progress. We'll check it out on Switch and let you know what we think.
Koi DX (CIRCLE Entertainment, $5.00USD) - Released on the Wii U a while ago, Koi DX places you in the role of a lone fish which has become separated from its owner and is tasked with purifying waters polluted by mankind. To do this, you must explore the waters for other fish and guide them to flowers of the same colour while avoiding the malevolent black fish. The game includes "memory jigsaws", new skins and alternative fish to control. We'll swim towards a review soon.
Spellspire (10tons, $9.99USD) - Spellspire casts the player in the role of a nerdy wizard climbing a 100 level tower; plenty of monsters must be defeated and loot collected on the way. Combat uses a word game mechanic, where the player picks letters from a grid of ten to spell out words; these are cast out as spells, with longer words producing more powerful blasts. We'll dig out a thesaurus and get cracking on a review.
Maria The Witch (Naps Team, $4.99USD) - One of those 'tap to fly' games popularised on mobile and with a few similar experiences on Wii U and 3DS, your task is to collect mail and various items through a variety of stages. We'll see whether it casts a spell over us in a review.
Rock 'N Racing Off Road DX (EnjoyUp Games, $7,99) - Another title making its way across from the Wii U, it features a variety of tracks, an arcade mode, time trials, and multiplayer action to get stuck into as well as a rock 'n' roll soundtrack for accompaniment. We didn't have a great experience with the game on Wii U so we're hoping for a pleasant surprise on the new console.
Street Hoop (HAMSTER, $7.99USD) - The latest ACA Neo Geo release fills that Basketball gap in the line-up; we reviewed this back in 2010 when it landed on the Wii Virtual Console it netted an impressive 8/10.
3DS Retail Download
Mario Party: The Top 100 (Nintendo, $39.99USD) - This 3DS entry in the series aims to tap into the best of the series by combining 100 minigames from across the IP's history. There'll be various modes through which to access and unlock the minigames, with amiibo support also confirmed.
3DS eShop
Bonds of the Skies (KEMCO, $9.99USD) - When we saw the artwork and title we instinctively thought 'that'll be a KEMCO RPG on 3DS', and so it came to be. In this one humans and Gods team up to find a demon that's 'cast a town into a sea of flames', which is a normal weekend for most of us.
New Nintendo 3DS eShop
RTO (nuGAME, $9.99USD) - This appears to be a scrolling gallery shooter in which you control multiple characters to shoot a whole lot of scary aliens, though the developer describes it as an "FPS survival horror game with permadeath".
3DS Demo
Worcle Worlds (Lightwood Games, free)
3DS HOME Theme
STORY OF SEASONS: Trio of Towns
Wii U Virtual Console
Lords of Thunder (Konami, $5.99USD) - A TG16 side-scrolling shooter that has you "blasting enemies to heavy-metal tunes". Yes please. 
---
As always Nintendo of America wants you to browse the eShop and check out the official sales and deals website for discount details.
There are a lot of choices this week - let us know what you'll be downloading in the poll and comments below.