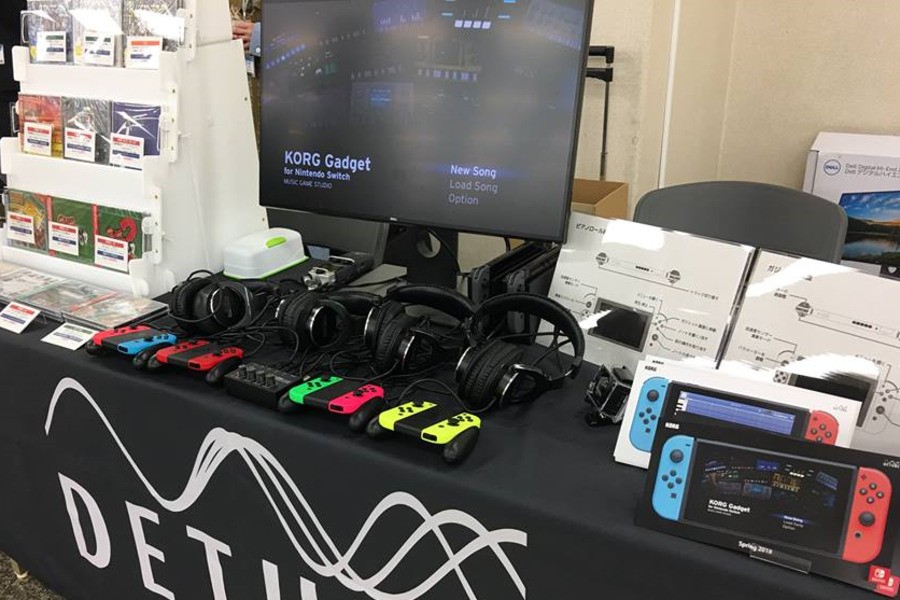 Music producers can rejoice as news of KORG and Detune bringing their music producing suite KORG Gadget to the Nintendo Switch broke out at the M3 event in Japan. A header picture was posted by Nobuyoshi Sano on his Facebook account, clearly showcasing that this Spring 2018 switch release will allow up to four players / music producers to collabote at the same time; it also looks like Joy-Con motion controls will be supported (thanks to cfgk24 for the translation).
The original product was released for iOS and Mac, and features thirty different synthesizers and drum machines. Couple that with a step sequencer and you will have everything you need to fully produce music on your Nintendo Switch, of pretty much any genre you can imagine. Considering the system's unique hybrid nature, we wonder if KORG Gadget will have some live performance potential. Have a look at the original product introduction video while we wait for further information.
If all of this sounds too good and you can't wait, do check out KORG and Detune's already impressive track record on Nintendo hardware, with solid conversions of KORG M01D and KORG DSN-12 for 3DS proving quite popular among music making enthusiasts. Also take the opportunity to revisit our Nobuyoshi Sano interview.
Shout-out to the NL community: If you make music and have ever used Nintendo hardware in your productions, fill the comments section with your finest works below.
Thanks to all that sent this in.
[source facebook.com, via twitter.com]