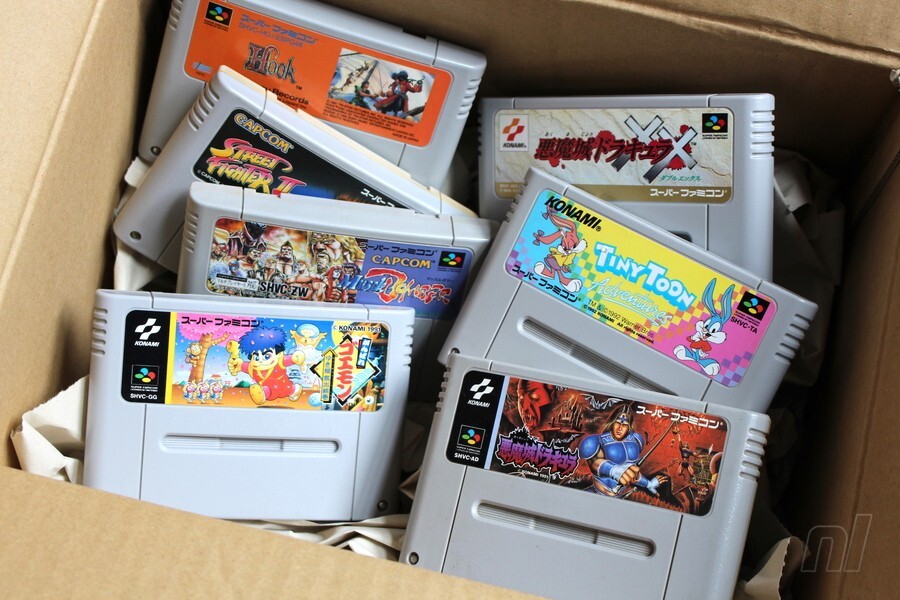 Back in the '90s, it seemed that the Japanese got all the best stuff. Not only did games typically launch sooner in Japan, they came in gorgeously-illustrated boxes complete with full-colour manuals, putting the rather drab western equivalents to shame. Not only that, the Japanese were blessed with many games during this era that were never localised, making them even more desirable. As time has gone on, the allure of such vintage gems has only increased, and the arrival of the internet and sites like eBay has driving the cost of ownership through the roof; with only a finite number of these games available, logic dictates that as more collectors snap them up, the price balloons.
I consider myself to be a veteran of the import gaming scene. I got my first Japanese console - a shiny new Mega Drive - for Christmas in 1990, and from the first moment I laid my eyes on the amazing Japanese cover artwork for titles like ESWAT, Strider and Thunderforce III, I knew I'd been bitten by the import bug. While I dabbled in western releases for text-heavy titles, I spent the next decade focused almost entirely on Japanese hardware and software, the high cost of which ensured that each new system would have to be sold before I could afford to purchase the next. This pattern continued through the Saturn, PlayStation and N64 era, right the way up to the arrival of the Game Boy Advance and Dreamcast. Since then, I've largely relaxed my stance towards new systems and have bought only locally-sourced consoles – but my retro collecting habit remains almost entirely preoccupied with Japan.
Anyone who has been following retro gaming for the past few years will know that prices are rising all the time. The internet is a wonderful tool as it allows us to gain access to a wide selection of items from all over the world, but with that comes increased competition, and that means the amount of cash someone is willing to pay for a particularly rare game increases. eBay is now packed with people selling retro games from the 8, 16 and 32-bit eras, and the days of getting a bargain sadly seem to be at an end; sellers are so clued up on what things are worth that they often over-value items instead, making it even harder to pick up classics on a budget.
There are plenty of people selling games direct from Japan on eBay, but many of these sellers are aware that western buyers will pay a premium for import stock and as a result the prices are slightly inflated; after all, it's not possible to walk into your average video game store in the west and pick up Japanese games on the cheap, so buyers usually don't have an issue with paying a little more for the privilege.
However, I found myself wondering: is it possible to order directly from Japanese auction sites which are aimed at Japanese gamers, cutting out the eBay middle-man? Turns out it is – but there's a bit of leg work involved first. Japan doesn't have eBay, but Yahoo Auctions is essentially the same thing. On this site you can find a lot of common Japanese imports selling for less than they are on eBay, so I decided to find out once and for all if I really could make a saving by going direct.
The key to this method is a site called Jauce (which stands for "Japanese AUction CEnter"), which bids on items on your behalf. Any items you win are sent to Jauce's warehouse in Japan, and you then pay to have them mailed to you anywhere in the world. Jauce makes its money by charging you a fee for each winning bid.
After creating an account, I first had to load it up with credit via PayPal – a process which takes seconds. Once my account had funds I could start bidding and buying. Just like eBay, Yahoo Auctions has "Buy It Now" listings where you can purchase the item outright without waiting for the auction to end, and that's the method I chose for all of the games I purchased.
Browsing Yahoo Auctions for games is a sometimes daunting experience, as the sheer volume of retro available is incredible. For this particular experiment I decided to focus on unboxed Super Famicom cartridges. Common titles like Street Fighter II Turbo, Tiny Toon Adventures and Muscle Bomber cost around 300 Yen each, which is approximately £2 / $2.70. Jauce then charges a fee on top of that figure, which is 400 Yen plus 8 percent of the total sale price, plus a 300 Yen banking charge for each transaction. You are then charged the delivery fee to Jauce's warehouse in Japan, which is usually quite small - around 130 Yen (80p / $1.17), if one is charged at all.
When you tot up all of those charges, the average price per common Super Famicom game is, on average, still lower than you'd normally pay either in the west, or when ordering a game from Japan via eBay – but you could argue that you only save a small amount per sale. At the higher end of the scale, things become a little more interesting.
The most expensive game I purchased via Jauce was Akumajō Dracula XX, better known in the west as Castlevania: Dracula X / Vampire's Kiss. This was being sold on Yahoo Auctions unboxed, along with a copy of Akumajō Dracula / Super Castlevania IV for 5,780 Yen (£39 / $52). Add onto this the 400 Yen fee plus the 8 percent charge (863 Yen) and the banking charge (300 Yen), and the total cost is 6,943 Yen (£47 / $62). The seller didn't charge postage in this particular case. Head over to eBay, and sellers are asking more than that for Dracula XX on its own, while Akumajō Dracula tends to sell for around £20 to £25.
As you can see, there's clearly scope for modest savings here, but the key to really making the most of the Jauce service is buying in bulk. Shipping to the UK cost me 3,950 Yen (£27 / $35) plus a 540 Yen packing fee (£3.70 / $4.80), and in that package there were seven unboxed Super Famicom cartridges. I probably could have ordered twice as many and not been charged any additional postage; another Jauce user I spoke to, Sean Tagg, says that a "medium" package has enough space for around 10 Super Famicom boxes, and I was only ordering loose carts. Jauce will keep your items in its warehouse for 60 days following their arrival, giving you plenty of time to buy up other items and then ship them all in one go. Jauce sends you an email every time an item has arrived in its warehouse and ordering a complete shipment is blissfully easy.
The service is straightforward to use and delivery was pretty swift, too – so is ordering direct from Japan the way forward for retro collectors? The number of fees which get added onto your base auction cost might seem intimidating at first, but if you use services like Jauce in the right way you can make quite a significant saving. I picked up seven Super Famicom titles which, had I sourced them from UK-based sellers or from Japanese eBayers, would have cost me much more. The key thing is to make sure you buy in bulk rather than a single game at a time, as you'll end up losing out on shipping costs. As you can see from the photos below, the box Jauce used to mail the carts in could have taken a lot more games, so I potentially missed out a bit.
Another considering is customs charges, which may (or may not) be an issue when ordering from Japan, depending on where you happen to be in the world. I was slapped with a £30 / $39 charge when the item touched down in the UK - add that to the initial cost of the games, the admin fees applied by Jauce and the international postage, and it means that overall, I didn't make quite as big a saving as I'd expected.
So, in conclusion, there's certainly merit in ordering your Japanese retro games straight from Japan via services like Jauce, but it's not as simple finding one or two cheap carts, sending funds via Paypal and feeling smug about the savings; you need to buy in bulk and at least budget for some kind of charge when the items reach your home country. If you're comfortable with both of those things, then you'll be like a kid in a candy store.