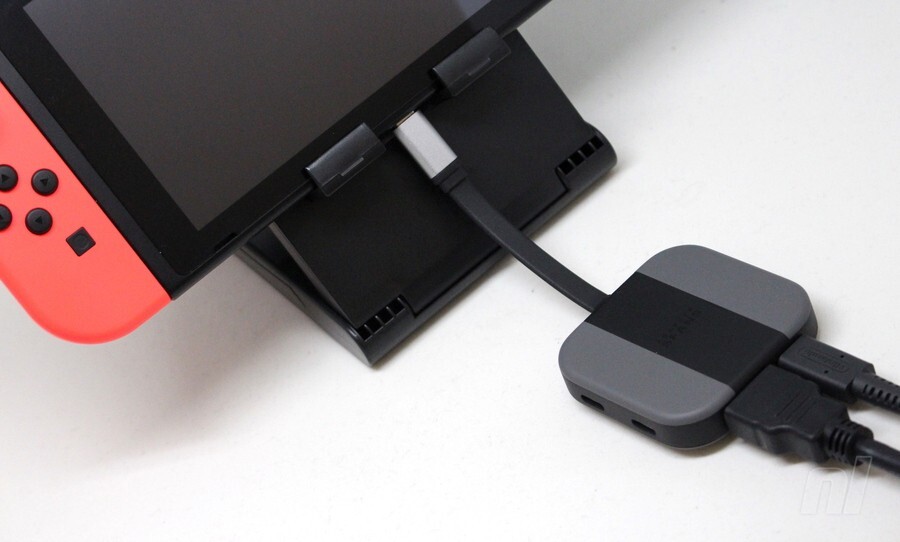 Update: Since this review went live it has been brought to our attention that the tech inside the SFANS is actually taken from a Chinese-made dongle intended for Samsung smartphones. This in no way changes our opinion of the SFANS Adapter.
---
Original Story: The portability concept of the Switch is something which needs no explanation; even your average person on the street can see that taking your game with you on the road - and then docking it when you eventually return home - is quite a neat trick. The stumbling block in this vision of mobile bliss is arguably the dock itself; it's not the most portable piece of kit, and to make matters worse Nintendo has slapped quite a steep price tag on it.
For this reason, people are already on the look-out for cheaper and more portable dock alternatives from third-parties. Nyko has a promising contender on the horizon and we've seen fans take fate into their own hands by customising their existing docks to make them more upwardly mobile, but the first example we've managed to get our hands on is the SFANS Adapter, a pocket-sized device which is more like a dongle than a dock but could be the ultimate option for Switch owners who value mobility over all else.
The SFANS connects to your Switch's USB Type-C port and essentially gives you all of the functionality of a docked system, and a bit more besides. There's a HDMI port for audiovisual output and a USB Type-C power connection to supply the juice. Despite the small size of the unit the manufactuer has managed to include two full-size USB ports and two additional USB Type-C ports, all of which can be used to charge other devices, like Pro Controllers and Joy-Cons in the premium Joy-Con Grip.
Once it's all connected the SFANS performs perfectly - the Switch acts as if it's docked and powers down its display, offering improved performance in many games. The key issue is how you then position the console when it's being used in this manner; laying it down flat on a table could potentially cause heat to build up on the back of the unit, while flipping it over runs the risk of scratching the display (although some Switch users will point out that the official dock does a good job of doing this regardless). Thankfully, the guys behind SFANS supplied us with a third-party play-and-charge stand which alleviated this irksome issue.
If SFANS takes your fancy then you may well be reaching for your credit card as you read this, but it's not available in any stores. It's currently on crowdfunding site Indiegogo, starting at $59.99 for the "early bird" special which only includes the SFANS. For $79.99 you can pick up the SFANS, AC adapter, HDMI cable play and charge stand. At the time of writing the campaign sits at $1,557 of a $10,000 goal, with around a month left on the clock. Should the campaign be successful, units will begin arriving with backers in August - but the team behind the unit have told us that even if the campaign fails, they will seek to begin production regardless.
What makes this campaign unique is that the individuals behind it have already proven that SFANS works - hence the fact that we've been able to bring you this review; we've got the unit right here, right now. Is it worth $60 though? That's a question you'll have to answer yourself. For us, it's going to be a real lifesaver as we've already had a few occasions where we've taken our Switch to the homes of friends without the bulky dock and been forced to huddle around the console's screen when we could have been gaming on the television, had we been in possession of an SFANS Adapter. 
You could argue that unplugging the dock takes seconds to do and would save you having to spend $60 (or $80 for the full package), but if you're anything like us your Switch dock and its associated cables will already be firmly entangled in the jungle of wires which lurk behind your TV set, and freeing them isn't something we relish doing on a regular basis.
In that regard, we can see the SFANS becoming an essential item in our Switch arsenal, but there are other uses. The Switch dock doesn't fit effortlessly into every AV setup due to the fact that you need space above it to lift and insert the console, so the SFANS could be the solution you're looking for if space is at a premium around your TV. It's also ideal as a second dock in the house connected to a smaller TV in a bedroom or the like – another environment where it might not be feasible to use the bulky, full-size dock. If you're in the market for another dock and can see the benefit of having a smaller, more portable alternative at hand, then we can't see any reason not to recommend this device - although those of you who simply want a smaller version of the existing dock might be better off waiting for other options.
Does this product take your fancy? Let us know if you've pledged to support SFANS by posting a comment below.
[source indiegogo.com]