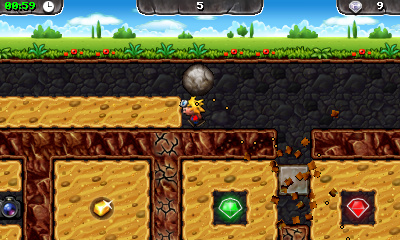 The DSiWare platform has plenty of well-constructed and enjoyable puzzle games, with Digger Dan & Kaboom being an example; we rather liked it in our review. Now publisher Four Horses is sprucing it up for a 3DS eShop release this summer, rebranding it as Digger Dan DX.
In this title Dan and his 'pet gopher' Kaboom team up to work through levels, which seems to blend aspects from games like Boulder Dash and Dig Dug. This improved version, however, has plenty to offer over its DSiWare predecessor.
All 100 levels from the original game, re-ordered to introduce new features more gradually.
4 themed areas with all new graphics
Stereoscopic 3D layers
Improved audio
60fps smooth action
4 save slots
This could be a promising eShop release later in the year; are you tempted to dig in?