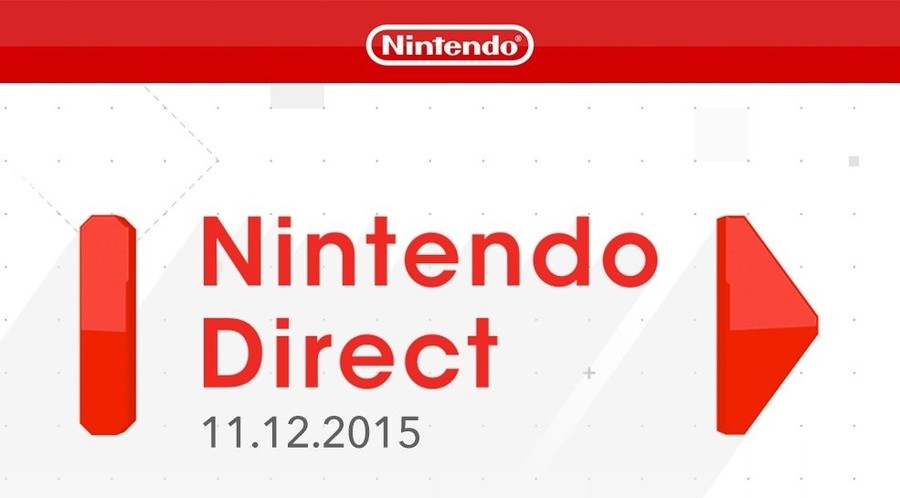 After a long wait it's finally time to think about Nintendo Direct once again. With simultaneous broadcasts in North America and Europe we can expect a show packed with information on Holiday releases, perhaps some titles due in early 2016 and - hopefully - some surprises.
We've already written about the need for deep breaths and keeping hype-levels under control, and we're going to stick to that rule here. We're considering what we feel are likely or at least possible inclusions in the upcoming Nintendo Direct, so as a result things like Nintendo NX should be pushed way out of mind. Seriously, it won't come up. Two other notable areas that we don't think will feature will be Miitomo and My Nintendo / Nintendo Account details - as these are coming next March and will be relatively detailed reveals we suspect they'll have a dedicated focus in early 2016.
That said, there are some potentially exciting details to come, with some pointers to a major reveal or two already emerging. Below is a mix of absolute certainties and a few hopeful 'maybes' that are very much on the cards for the broadcast at 2pm Pacific / 5pm Eastern / 10pm UK / 11pm CET.
Holiday Release Showcases
We're about to enter shopping silly season, and Nintendo will be pitching some of its own big releases against rivals on other systems. As a result the European and North American broadcasts will likely each tackle their line-ups. On 3DS in North America attention is likely to go to Pokémon Super Mystery Dungeon, while in Europe we can expect a few minutes each to be given to Mario & Luigi: Paper Jam Bros. and Nintendo Presents: New Style Boutique 2 - Fashion Forward.
On Wii U, meanwhile, opponents of spin-offs may need to bite their lips as we're shown Animal Crossing: amiibo Festival, as Nintendo will be keen to push that imminent release and its amiibo range. It's also extremely likely that Xenoblade Chronicles X will get a decent chunk of time, as that is a game that targets keen gamers - like those that tune in for a Nintendo Direct - and is complicated enough to benefit from some clarification and detail.
Super Smash Bros. - Fighter Ballot Update
With voting closing a little while ago Masahiro Sakurai and his team should, by now, have finalised its roster of DLC characters. No doubt one or two have been in development for a little while, and it wouldn't surprise us if the whole remaining cast is announced today.
The hype around this is likely to be intense, and no wonder. The Fighter Ballot has been a fan's dream, and the possibility of unlikely or quirky inclusions - assuming Nintendo can license relevant IPs etc - is tantalising beyond belief. Some may say that a number of characters are 'unlikely', but the sight of Ryu dishing out Hadoukens in the game is a reminder of what can happen.
We think a final Smash Bros. blowout could come then, if for no other purpose that it begins the transition for Sakurai-san and his team onto a fresh project. They've earned that much, and the legendary designer has tweeted a reminder for the broadcast. Exciting times.
Early 2016 Release Dates - Exciting New Footage of Star Fox Zero etc...
Nintendo's line-up for the first half of 2016 is rather promising on both its systems. Rather than bemoan the fact a few of those games aren't boosting the Holiday season we can look at that as a series of exciting games to look forward to. While not all games will get mentions or dates, some will undoubtedly get an update.
We're hoping for footage of Star Fox Zero, the Nintendo / PlatinumGames collaboration that was pushed back for an extra bit of spit and polish; Pokkén Tournament may also get a nod. We'd also love to see a bit more of Fire Emblem Fates and maybe a release date, depending on localisation progress. Heck, maybe Metroid Prime: Federation Force will get a chance to try and prove itself and gain a little positive publicity; we should try and give it a chance.
Minecraft
We suspect that Nintendo is cursing PEGI at this point, as a rating for Minecraft Wii U Edition with a release date of 12th November (yep, today) points to it being a classic 'available to download now' reveal. That's a European rating, but if North America isn't also in on the act we'd be astonished; that's assuming the rating isn't a monumental screw-up, but it's a solid indication that it's happening.
Though Microsoft now owns the brand, the company likes making money; as a result this is only surprising in how long it's taken. The 'Wii U eEdition' part of the name makes us hope for features specific to the system - it'll surely make good use of the GamePad, but if there's some tie-in with Nintendo IP or skins that would be a lovely touch.
An eShop Showcase, Of Course
We include this in all of these articles as it seems like such a safe bet. The eShop is such an important avenue for Nintendo now that it's always eager to show off upcoming games though sizzle reels and even small features with the Nindies themselves.
There are some goodies to look forward to, with games like FAST Racing NEO, Shantae: Half-Genie Hero and SteamWorld Heist all notable examples. We'd like to see a little more of the game content that'll accompany the Shovel Knight amiibo, too, as that's due for release very soon.
A Monster Reveal from Capcom
Consider this your SPECULATION KLAXON, as this entry is a little more wishful thinking that nevertheless has some basis in reality. Monster Hunter X (Cross) is about to arrive in Japan, so with development presumably pretty much done we hope that this will be localised for the West. Perhaps the time is right for a loose announcement to build early hype.
With Monster Hunter 4 Ultimate being the best-selling entry in the West to date we'd like to think that Capcom will want to maintain that momentum.
Some Nintendo Surprises - Possibly Twilight Princess HD and Zelda Wii U Footage, Pokémon, Splatoon Content
With a continuation of the speculation klaxon, these suggestions - once again - do at least have some logic. Leaks of eShop data pointing to The Legend of Zelda: Twilight Princess HD were believable in their nature and in terms of the game's likelihood. 2016 is a big anniversary for The Legend of Zelda, and this would be a perfect kick-off to the celebrations; we also think a reasonable budget price could be possible if this is an apology of sorts for the ongoing delays to The Legend of Zelda on Wii U. On the subject of that latter game maybe a brief burst of footage could make a cameo.
It's worth also noting that Mr Pokémon himself, Junichi Masuda, has tweeted a reminder about the Nintendo Direct. This could just relate to Super Mystery Dungeon or a little eShop game, though 'mon fans are hoping it'll be the start of build-up to the much expected Pokémon Z, or perhaps there'll be more information on mobile title Pokémon Go.
Finally, Splatoon, if playable Octolings are going to be a thing then now is the time.
More amiibo, There's Always amiibo
This section was added shortly after publication, as some correctly pointed out that it was a silly one to miss. The amiibo range continues to be a major success for Nintendo and the range has plenty of scope to expand. There are Smash Bros. cast members still waiting for their figures (primarily DLC), some wonder whether the Mario Tennis: Ultra Smash cast points to more figures - we're slightly more doubtful on that one - and we're curious to see whether any new figures or cards are unveiled for other upcoming releases.
A Tribute to Satoru Iwata
We're not 100% sure on this one simply due to cultural considerations in Japan, for example, but we'd anticipate some mention of Satoru Iwata, the former company President and the man that brought the very idea of Nintendo Direct together. It'll be a touching moment should it happen.
---
So there you have it, some of what we think will come in the upcoming Nintendo Direct. Remember it's all going down at 2pm Pacific / 5pm Eastern / 10pm UK / 11pm CET; we'll be streaming and live blogging both the North American and European broadcasts - with live chat - here on Nintendo Life, followed by the usual news and reaction.
Until then, what do you hope to see in this Nintendo Direct?