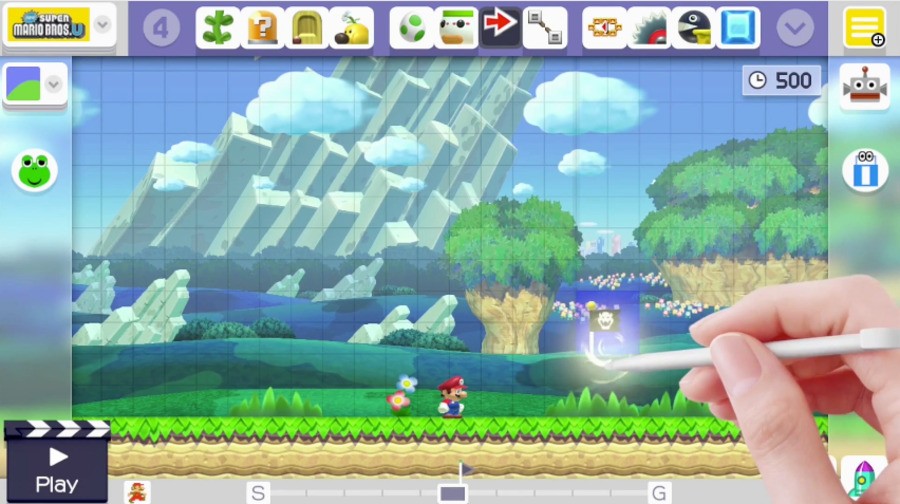 We absolutely adore Super Mario Maker here at Nintendo Life, but as polished and wonderful as the level creating experience can be there is always room for a little improvement. Nintendo isn't resting on its laurels and a software update has been announced which will add a few requested changes from players, along with some other goodies too.
The most exciting of these updates is the addition of mid-level checkpoints, which many Super Mario Maker fans we know have been eagerly hoping for. Users now have the option to add flags to their levels, allowing players to start at the selected point if they lose a life – rather than having to start over at the beginning of the level. Players can choose to edit and re-upload their own levels, or create new levels from scratch using this feature. Shaking an arrow sign item from the course parts palette will allow you to place a checkpoint flag.
Another neat change will allow players to insert power-ups that are dependent on Mario's status. By attaching a Super Mushroom to a Fire Flower and placing it inside a block, Mario will receive the Super Mushroom when he is small and the Fire Flower when he is large.
The software update also introduces Event Courses in the game's Course World online hub; this is where external business partners of Nintendo get involved. One of the first Event Courses will be "Ship Love," the winning level from the "hackathon" event that was held at Facebook's headquarters earlier this year. That hackathon was quite high profile in the run-up to the game's launch, so it's no surprise that it's getting first dibs in this feature.
The level that was featured in the final round of the Omegathon event at this year's Penny Arcade Expo event will also be available for players to try out shortly after the update goes live. New Event Courses will be added to the listing on an ongoing basis, some of which will apparently feature new Mystery Mushroom transformations. Additionally, a new Official Makers section in Course World will be added after downloading the update, featuring specially selected courses including some from Nintendo staffers.
The software update will be made available on 4th November in North America and 5th November in Europe, and you can see a neat video summarising all of this below. As always, let us know what you think in the comments below. What features would you like to see Nintendo implement in future updates to Super Mario Maker?