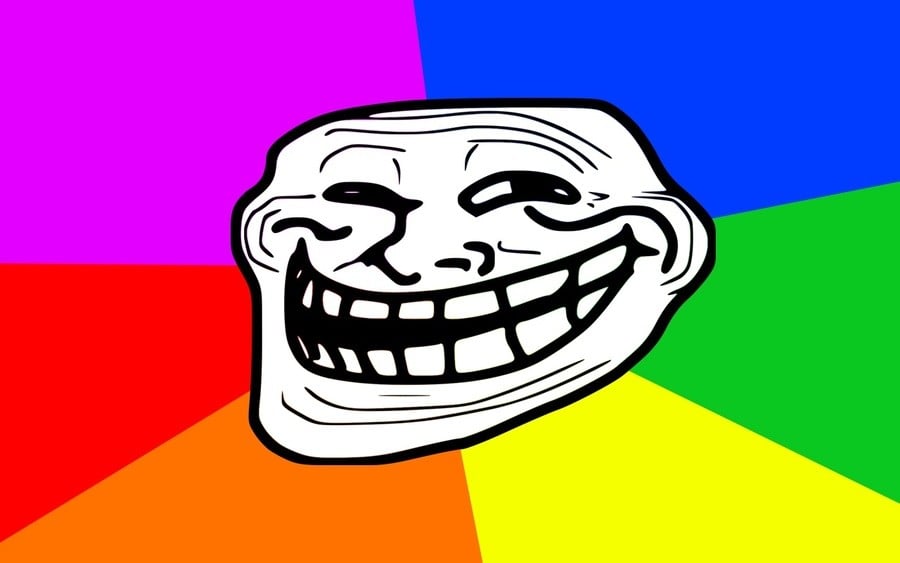 Remember Ninja Pig's Meme Run? The game hit the Wii U eShop recently and caused quite a stir, not only for its pretty terrible quality but also because it apparently used the popular "Trollface" Meme without the permission of the original creator. The end result was that the game was removed from the eShop, and remains out of circulation - possibly forever.
The man who created Trollface - 24-year-old Carlos Ramirez - has spoken a little more about the whole matter. Talking to Kotaku, Ramirez explains that he's happy for people to use his art online, but Meme Run was different:
People message me. "Hey, look, your trollface was used here! You oughta sue these guys" I just say 'Okay, I'll look at it.' And I look at it. If it's a really minor thing, I can't be bothered with it. It'll take too much time, and let people have their fun. If they're not making any significant money on it, it's like, eh, not a big deal. If you're publishing a game on a major platform and it's using my image, it's kind of hard to ignore. It's really troublesome when you're making a game comprised entirely of memes. It's a big problem of copyright infringement, all across the board, and I guess I was the only one with enough time to go out of my way and shake it down.
Ninja Pig's Jordan Schuetz has also spoken to Kotaku to give his version of events:
When developing Meme Run, some art assets were taken from content hosted on royalty free image websites like Open Game Art. The others I created myself in Photoshop. [...] It is uncertain if the game will ever return despite petitions that fans are currently circulating requesting the game be reinstated. The appropriate protocol to remove the game was followed.
(Kotaku notes that Trollface doesn't appear to be on the Open Game Art website, a royalty-free database of images.)
So the game is taken down, and everyone's happy, right? Wrong. Ramirez - who created Trollface as part of a what he believed to be a harmless comic when he was 18 - registered the art with the U.S. Copyright Office in 2010. That means he is able to legally enforce his ownership of Trollface, and is estimated to have earned $100,000 (£67,463) in fees and settlements since then, including a deal with Hollywood movie star Adam Sandler. Meme Run was a commercial venture designed to generate money, and Ramirez feels he's entitled to some of the cash that it made during its short time on the eShop.
However, when Ramirez broached this subject with Schuetz, he was told that the game made no cash. According to Ramirez, this isn't true - Meme Run topped the Wii U eShop charts and anecdotal evidence taken from WaraWara Plaza suggested that plenty of people were playing the game.
Schuetz told Kotaku:
Carlos' figures are completely abstract and erroneous. I'm not able to share exact or even ballpark figures to anyone due to the non-disclosure agreement that every developer signs with Nintendo. I am obligated to comply with the rules of engagement and confidentiality section of the contract that I signed in order to develop games for the Wii U platform.
Ramirez has apparently spoken to people close to Schuetz who claim that he has been saying that Meme Run will help fund his education - something that Schuetz doesn't appear to deny:
I've been developing games since I was 16-years-old. The revenue I've earned over the years from all my games goes to my university to fund my education.
Despite the non-disclosure agreement that exists between Schuetz and Nintendo, Ramirez wants answers. He wants to know how many copies the game has sold, how much revenue it has generated for Schuetz and whether or not Nintendo was aware of the game's possible copyright violation - all of which will be vital should legal proceedings move to the next step.
Ramirez is quite prepared to go to court to defend his copyright, and at the moment he fears that Schuetz - who is relatively young, lest we forget - is unaware of the seriousness of the situation:
He's probably the least mature person I've ever dealt with, if I will be frank. That's a difficulty. I don't think he knows what the consequences of ignoring me are. That's just annoying. It's going to slow down the whole process. He's going to be like 'Oh, you want to sue me? Go ahead!' And then we're going to have to spend weeks drafting this thing, writing to the courts, and then he'll be like 'Oh, f***. He's serious. S***! I should probably listen.'
The irony of all of this is that had Ninja Pig merely asked for Ramirez's permission, he says he would have given it gladly. He sees Trollface's appearance in the game as positive for his brand, and "good for business".
All of this raises questions about how wise it is of Nintendo to open the floodgates to indies on the eShop; once upon on a time, Nintendo would have been cautious about allowing any content which could offend or infringe copyright, but now the rules appear to have changed - and that means that naive and relatively inexperienced developers like Schuetz can blindly stumble into serious legal problems. Ninja Pig has also gotten into hot water over the use of "stolen" art in another of its games, Jumpy Cat.
For Ramirez, he's just trying to get what he feels he is entitled to - but he's aware that although he created Trollface and owns the (admittedly profitable) copyright, the character has taken on a life of its own:
People will completely forget that I made it, and I think that's cool. That doesn't bother me at all.
What does bother him is people using it without paying the price, it would seem. We'll keep you updated should this story develop further.
Thanks to Benson for the tip!
[source kotaku.co.uk]