In this special feature Nintendo Life contributor Alan Lopez shares his experience of a day with the San Diego StreetPass group.
What do you get when you Google "StreetPass groups"?
If you're searching in the land of Nintendo of America, Facebook pages for "StreetPass Chicago", "StreetPass NYC" and other cities rise to the top of the results, highlighting the most popular hobbyist groups. To those unfamiliar with the nomenclature of Nintendo's wireless tagging, a "StreetPass" occurs whenever two of Nintendo's portable systems come within a nearby physical proximity of one another, resulting in personal avatars and game data becoming wirelessly transferred between both systems. It's built into every one of Nintendo's 3DS (and 2DS) handhelds, and if the resulting fandom around the globe is any indication, it might just be the console's most important feature.
Of all the StreetPass groups, StreetPass San Diego boasts that it is the largest in America – a prideful claim several other StreetPass groups have also made. Gauged by Facebook likes, San Diego appears the clear victor. To counter, Los Angeles and New York City have quite a leg up in the Twitter-sphere. Thousands of fans follow these StreetPass teams on social media and in person to plan their weekends all throughout the year.
Yet to an outsider looking in, the worth of who's the biggest and what this even means only really comes down to one thing:
What exactly does one do at a StreetPass event?
---
A woman on the floor is checking her StreetPasses aside a baby in an automatic baby rocker. In the opposite corner of this room, kids a third my age are beating men that are twice my age in refereed Pokemon matches. I'm holding a Pokeball coloured cupcake.
The light on my 3DS is very, very green.
"StreetPass San Diego was created on Facebook in April 2011. The very first "miitup" gathered 8 people", says David behind a thick, French accent. David is an admin of SPSD, and has guided the group over the course of dozens of events to its 4th anniversary. "The very next meeting gathered 25, and it's been growing since then. We now average 150+ people every month."
The presence of all 150+ people were very much felt in line to sign up for the free Super Smash Bros. for Wii U Tournament. This huge tournament was being held in their regular, monthly meeting area atop the library in celebration of the "a-MiiVERSARY" on hand. For those who braved the sign-up line, myself included, a free mug cooler adorned with the Smash Bros. logo awaited at the registration table. This initial swag was just the first of the many, many Nintendo themed giveaways offered up that day. And every single thing was free for attendees.
Still in its relative infancy, San Diego's opulent, new public library is a thing to behold. And yet while our top story, glass room gave an impressive view of the downtown cityscape, all eyes were forever transfixed downward. The event was partitioned with game stations at all corners, including a Mario Party 10 kiosk in one corner, Mario Kart 8 races in the other, a round table of Monster Hunter hunts, and Pokemon and Smash Bros. matches lining the opposite walls. The inside area of the room was filled with rows of plastic seats, almost every one of which was perpetually occupied. The welcoming and dismissing of travelling Miis could be heard no matter where you stood.
As I walked around the floor, I noticed someone was StreetPassing on four handhelds at once. I cheekily asked if she was much of a gamer, and she indignantly answered, "…Of course!"
One person looked over my shoulder and loudly gave me unsolicited tips for how to do better at the game "Monster Manor".
By the time of only my second Smash Bros. match of the day, I had already met gamers with whales of separation between age, race, and background. One of these gamers was Ray, a Midwestern transplant living in Southern California who was not only a massive Zelda fan, as his t-shirt proudly attested, but who also happened to be the San Diego area Nintendo retail representative.
He dished to me on amiibo: "You know what…right now, people are running into frustration. I'll be honest with you, I get back feedback more negative than positive. But this amiibo thing is young…give it a little bit of time. I hope everyone gets what they want"
"The majority of major cities have a rep…LA has, I think, four, but the majority of them have just one. This is it."
I asked him if he was here on work.
"I work Monday through Friday and today…today happens to be my birthday. I'm spending it with cool people playing cool games. It's a perfect birthday for me."
Ray admitted Nintendo's employee code of conduct advises all employees to be "N-bassadors" to fans by reaching out and building community wherever possible. Yet while his initial involvement with SPSD was on assignment showing off the New Nintendo 3DS XL, on days like these Ray keeps up as a committed fan.
He dished to me on amiibo: "You know what…right now, people are running into frustration. I'll be honest with you, I get back feedback more negative than positive. But this amiibo thing is young…give it a little bit of time. I hope everyone gets what they want".
He even admitted to running into the same troubles as his customers. "I didn't want to get into it (laughter). But…I will never pay over suggested retail price…no matter how much I want Meta Knight (laughter)." In lieu of the neighboring Los Angeles scene, he also vouched for SPSD as the biggest StreetPass group in the country: "StreetPass San Diego has the biggest group…(they're) probably the best Nintendo community in the country. I'm gonna say that".
And he made sure to note some business at hand before we finished.
"I've been seeing your Pikachu, right? You're killing it…maybe we'll be playing each other."
I had already gotten through the first three rounds in the tournament when I was approached by Ray informing me that the bracket had led us to a round 4 showdown. Especially as the Smash tournament was only single elimination, our matchup was quickly made headline material for the big projector screen at the head of the room.
Like he, I too was somewhat juggling work with play. Shuffling between recorder, camera, and GameCube controller was developing into a new skill. Yet I was not one to so easily dismiss a decade of personal, professional Smash Bros. experience, which I did my best to keep secret. After giving it my all, he congratulated me on my victory while masking his own disappointment. But like so many before me, my run would not last forever.
I took a break from Smash to attend to the flickering green light on my handheld. I unhinged my 3DS to try out the newly released StreetPass games, Ultimate Angler and Battleground Z for the first time since having downloaded them a day after their release.
Ultimate Angler is a title in which fellow StreetPassers provide your avatar with unique bait to aid your goal of catching every fish on StreetPass Island. I soon found out the game was as addicting as it sounded silly. StreetPasses provide a helping hand while fishing, literally. Up to ten helpful strangers can pull on your fishing rod alongside you to give you the extra strength needed to reel in the big one. As I was passing dozens of handhelds at a time, catching lunkers during my first go-around was a breeze.
By the end of the event, I had made time to welcome over 50 strangers into my StreetPass plaza. Without Nintendo's self imposed limit of 10 passes at a time, it would have been far more.
Fishing was interrupted when my name was called for the semi-finals. I played against a Mega Man player named Luis. Things were going great for myself until during our last stocks, I quick-attacked right into a rage-fueled uppercut. In a single swing, I was instantly KO'd right off the top of the screen and eliminated from the tournament.
He embraced me in his euphoria.
The event stretched out over five hours of video game (and energy drink) fuelled celebration. Presumably saving the best for last, copious amounts of cake was prepared and handed out to everyone, followed by the ever popular free raffle.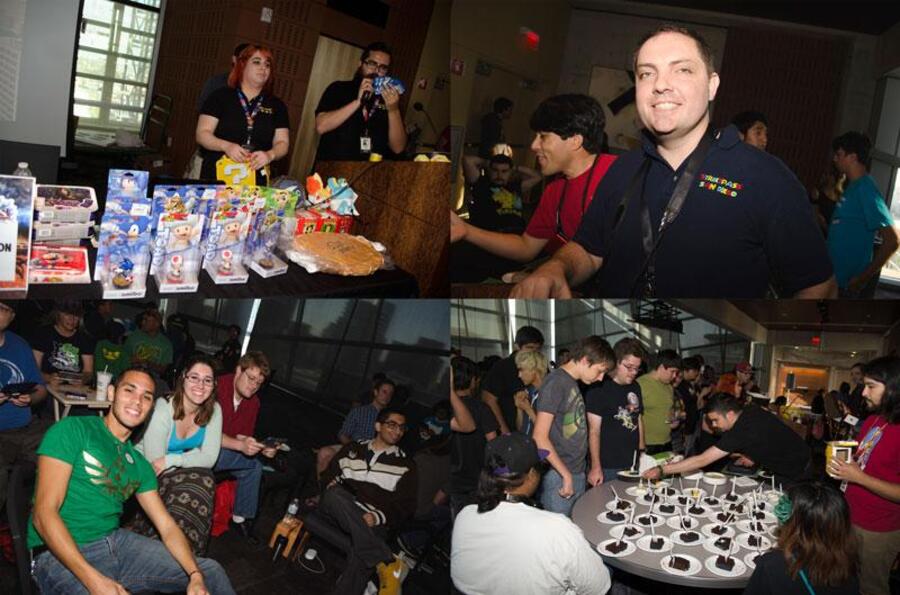 Plush toys, vintage items, and amiibo were all up for grabs. Leaving early meant missing a chance that your number might be called in the evening. Not that hardly anyone did, anyway.
"For the raffles, we partner with sponsors, including Nintendo and all the major developers like Capcom, Square Enix, local stores like GameStop, and other miscellaneous donators like Prima and K'nex. The admins of SPSD often pitch in when short of prizes and attendees have been offering more and more recently." David explained to me.
I asked how they got in contact with Nintendo.
"Nintendo, surprisingly, has been the hardest sponsor to get. While they know about StreetPass groups, they have very little interactions with them in the USA. They are very involved with StreetPass groups in Europe though.
"Nintendo, surprisingly, has been the hardest sponsor to get. While they know about StreetPass groups, they have very little interactions with them in the USA. They are very involved with StreetPass groups in Europe though."
This fact is highlighted by Nintendo of Europe's very own official website linking to pertinent Streetpass groups all over the world. None of the same corporate leg work is found in the spacious United States, which makes the NOA groups all the more impressive.
"We've been very fortunate and grateful to have such a generous crowd."
Like the final minutes of a fireworks display, rapid rounds of increasingly exciting prizes were handed out until the very last amiibo disappeared. In spite of dozens of prizes awarded, my ticket never got called. I did, however, end up in third place in the Smash Tournament, which netted me a Smash Bros. bag and an E3 lanyard.
Those leaving empty handed did not seem deterred; many attendees throughout the day told me that even in the face of the demos, prizes, and food, what kept them coming back for more was keeping the company of the Nintendo fans all throughout the year.
StreetPass groups, big or small, are the latest in the grassroots movements directed towards Nintendo that shows how community grows hand in hand with passion.
I asked a young Nintendo fan named Genesis what her favourite thing about coming out to a StreetPass event was.
"I like the cake. Yummy, yummy, for my tummy."
She later came back to me with a follow up to her answer.
"I also play games with my dad. He wins but sometimes I do."
---
Do you attend a local StreetPass group, or are you tempted to? Let us know in the comments section below.
Thanks to all who chatted with us at this event.