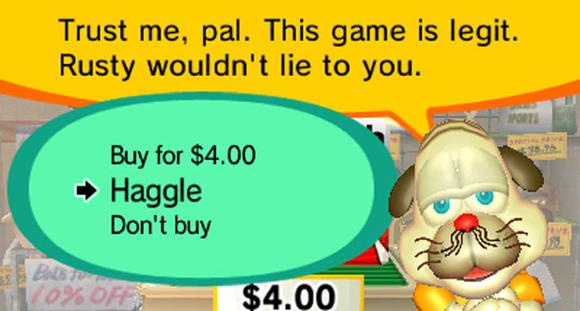 Nintendo is just hours away - at the time of writing - from announcing its Q3 financial results, which will teach us much about its Holiday season performance. The company's stable share prices approaching the publication of these accounts suggests that we're not looking at apocalyptic target misses, and such are the big N's humble projections that we're hopeful it'll actually perform better than expected. We shall see, but in the briefings to follow topics focused maximising income to return to 'Nintendo-like' profits are likely to be prominent. As will, undoubtedly, ideas over how that'll be achieved.
That's to come, and there are reasonable odds that there'll be cryptic updates on the mysterious smart device app that's in the works, and we wouldn't be surprised if Nintendo tackles the issue of new approaches to selling games - including free-to-play microtransactions. It comes up often, and in the past year or two Nintendo has - very gently - dabbled with the concept; Rusty's Real Deal Baseball used a quirky haggling system to sell mini-games, though this wasn't a global release (it skipped Europe). As time passes, though, there's a sense that 2015 may be a year when it's trialled a little more aggressively.
In fact, Nintendo wasted no time this year in announcing a free-to-play 3DS eShop download that'll push that angle. We were still settling into our seats for this year's first Nintendo Direct when Pokémon Shuffle was revealed, a match-three puzzle game that looks rather like Pokémon Link: Battle! / Pokémon Battle Trozei. While that previous Spring 2014 release was a relatively pricey download Shuffle will be free, but the mechanic of using up designated hearts in each battle is designed to test patience. Once your allotted plays are through you can either wait a while for more hearts, use in-game items to get more or - and here's the key point - spend money through eShop integration to top up and play right away; there'll also be items to buy that give you an advantage when tackling trickier levels.
It's the classic trick used in smartphone games, and balancing is everything: if it's too heavily weighted in grabbing money off you at regular intervals it'll come in for criticism, but if it offers too much fun for free Nintendo will struggle to make any money. For Nintendo it could be rather like trying to recite the 12 times multiplication table while doing a handstand and filling in a tax return with their toes, all at once; it's not easy to find balance.
Admittedly, match three games with microtransactions can make a lot of money on smartphones, but these devices have a weapon not available (right now, at least) on the 3DS - advertising. A free-to-play game can make money off millions of free downloads if there are adverts running, with the flexibility to sell the player the privilege of getting them switched off; whatever the case, money is still made from those that don't spend a single penny. Unless Nintendo does something very unlikely along those lines it'll be reliant on microtransactions - that brings pressure to the developers to tilt the balance of play towards making those microtransactions attractive and necessary, in the process risking the ire of gamers if it goes wrong.
There's already a confirmed free-to-play game on Wii U, too, with Bandai Namco's co-op action title loosely called Project Treasure. Bandai Namco is all-too-familiar with free-to-play, having dabbled in such downloads for established franchises such as Ridge Racer, Ace Combat and Soul Calibur already. Ultimately, though, it's hard to comment on Project Treasure as little is known about it.
Nintendo isn't completely new to free downloads, of course, and we've given plenty of praise to Steel Diver: Sub Wars, for example. Its approach is different in that optional DLC is the focus, with decent options for free; 2014 was a year that saw games from Nintendo - or those from third-parties that the big N published - pick up with plenty of DLC. In any case, the approach with previous free-to-play downloads on Nintendo hardware has typically been to offer extra content to download, rather than microtransactions for vital in-game currency or 'lives'.
It's certainly not our intention to declare free-to-play microtransactions as an evil to avoid at all costs - it's perfectly valid for Nintendo to explore areas where it's an approach that works. Our instinct with Pokémon Shuffle, however, is that it's a me-too project - match-three games with these mechanics are everywhere on iOS and Android, so Nintendo is somewhat late to the party. There are the aforementioned issues with this tactic on the 3DS, too, and there was a little irony that alongside Shuffle's reveal we had localisation news for the Puzzle & Dragons Z and Puzzle & Dragons: Super Mario Bros. Edition double pack in the same Direct segment. It's a puzzle / light RPG franchise that does brilliantly - particularly in Japan - as a free download on smartphones, yet GungHo Online Entertainment changed the mechanics to release it on 3DS as a retail title in Japan and the West. If GungHo is hesitant to adopt the microtransaction model on 3DS - when it's made huge revenues with that approach on mobile, which tellingly includes adverts as mentioned above - then that's a valid warning sign.
In any case, whether we like it or not, microtransactions could be a strategy that Nintendo increasingly explores through its eShop stores in 2015. Whether it becomes a major part of the company's future is depended on whether we, and all gamers with a Wii U or 3DS, decide to buy into the idea.