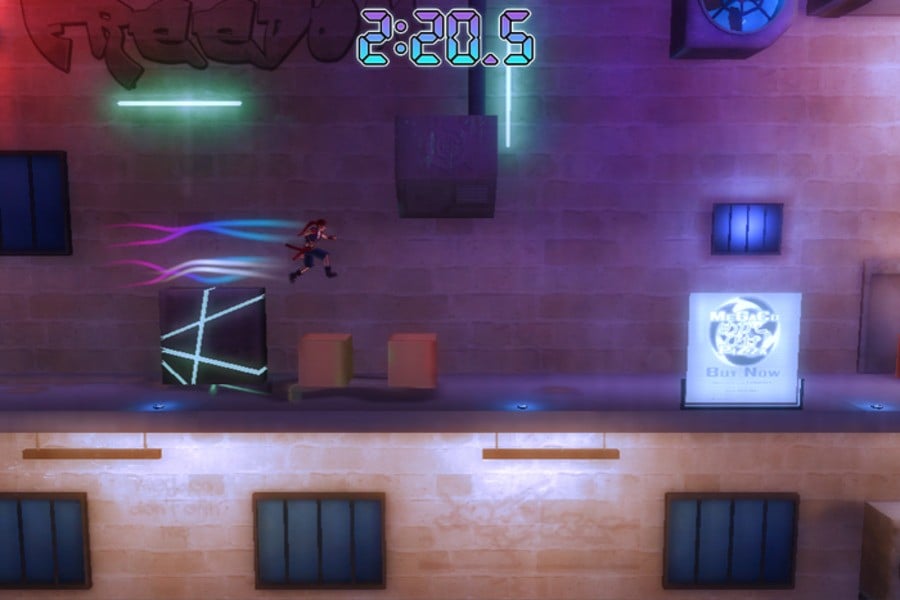 Disparity Games just opened a Kickstarter campaign for its intriguing new platformer, Ninja Pizza Girl, hoping to bring the game to the Wii U eShop should the funding target be me. Drawing inspiration from Sonic the Hedgehog and Mirror's Edge, Gemma the 16-year-old pizza delivering ninja free runs her way across a modern dystopia using jumps, slides and flips, taking out the baddies with effortless ease to deliver piping-hot pie. At least, that's what she'd like to do. It's when she doesn't that things get interesting.
Enemy behaviour in Ninja Pizza Girl is what sets it apart from most other games in the jump 'n' free run category. Instead of firing bullets, hurling throwing stars or otherwise trying to physically damage Gemma, enemies bully and humiliate her when she fails. As Gemma's confidence is chipped away, her world drains of colour and shadows become longer in the grey cityscape; a game mechanic inspired by the real-life experience of adolescence. Disparity's ambition for Ninja Pizza Girl is to make an inclusive game designed to appeal to core and casual gamers while addressing real-world issues.
Is Ninja Pizza Girl's concept appealing to you? Do you go vegetarian or live and die by pepperoni? Let us know in the comments!
[source kickstarter.com]