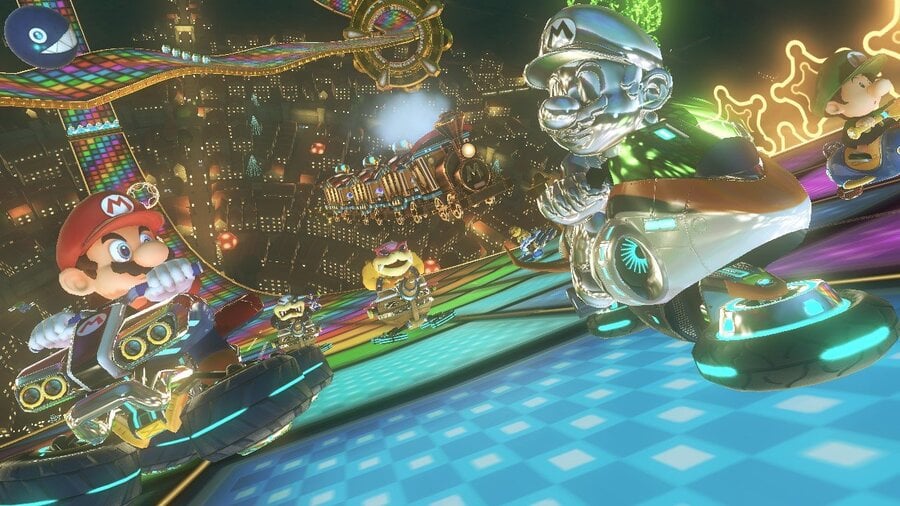 We may have the Nintendo Life GP on the go around the clock, but we thought it was high time, a week after release, for a good old-fashioned community race day in Mario Kart 8. Yesterday we asked for your votes on the tournament criteria, which has left us with the following:
150cc Grand Prix
All items
All vehicles
Pretty much as expected, but unlike our rolling tournament this one is just for you, the Nintendo Life community, so you'll need to enter the code to get in. That code is...
6583-0114-0691
Just head to Tournament in Online and select "Search Using a Code".
We initially planned for this to be a 10 hour tournament, before realising that was a tad unfair on gamers in Europe in need of an early night's sleep, so it'll actually be 15 hours. Below are the details.
The tournament will run from 1pm Pacific / 4pm Eastern / 9pm UK / 10pm CET today (6th June) to 4am / 7am Eastern / 12pm UK / 1pm CET* on 7th June. The timings may look peculiar, but it gives Europeans tonight and the morning to hit their allocation of races, and those in North America a big chunk of Friday.
What do we mean by allocation? In this tournament we'll all be limited to 32 races so that, when it closes, there'll actually be a winner based on some degree of skill, rather than whoever played the most races.
It's not perfect, of course, as some may end up in rooms with some CPU racers, yet these have at least been set to the Hard difficulty.
That's it! Of course, the main idea is to have fun and exchange some gentle teasing in the comments below. 32 races should take a typical player at least 90 minutes to three hours, depending on how long everyone's taking in the lobbies. Of course, if you hit your allocation just head over to the rolling Nintendo Life GP — tournament number 6347-6219-4703 — to race the hours away.
We'll see you on the track.