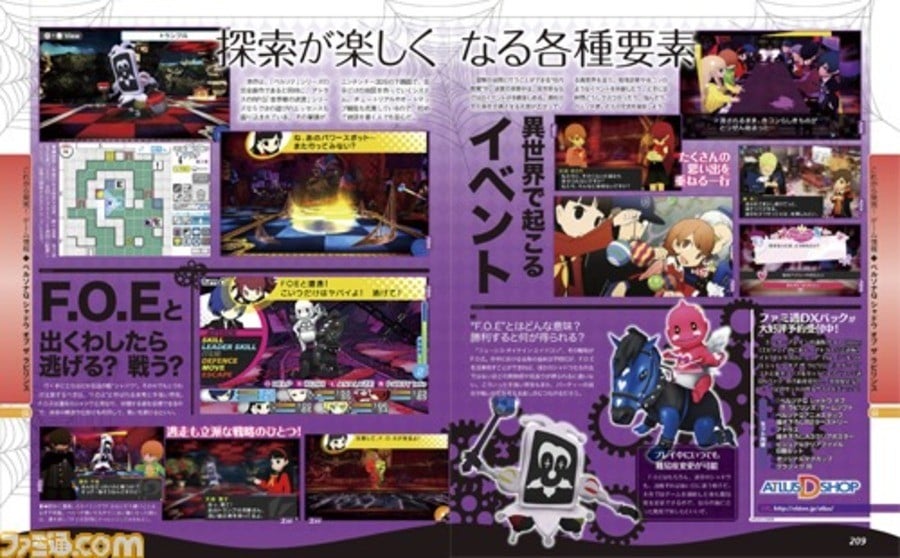 Atlus is not hiding the fact that its upcoming 3DS title, Persona Q: Shadow of the Labyrinth, will mix in gameplay elements from its other portable saga series, Etrian Odyssey. Now, thanks to a teaser from this week's issue of Famitsu, a couple of these elements have been brought into further light.
According to a summary of the teaser image through Siliconera, the dungeon mapping feature Etrian Odyssey is well known for will be included in similar form within Persona Q, letting players draw their own guides on the touch screen to maintain their bearings.
The concept of F.O.E. monsters will also be making the transition between the two franchises. These creatures are considerably tougher than standard monsters found in an area, leaving players to decide whether fight or flight is the best response when one is encountered. However, the Famitsu teaser appears to mention the possibility of some type of special reward for defeating F.O.E.s.
Persona Q will include heroes from Persona 3 and 4 and marks the first appearance of the series on a Nintendo system. The game is planned for a June release in Japan and has been announced for a fall release in North America.
Additional details on Persona Q are likely to emerge as the full issue of Famitsu hits publication. In the meantime, are there other elements from Etrian Odyssey you would like to see in the game? Let us know in the comments below.
[source siliconera.com]