While we do a weekly summary of screens for the upcoming Super Smash Bros. titles every Monday, occasionally the daily screens catch our eye and, well, we can't help ourselves. Today's is for the 3DS version, and features one of our favourite characters currently serenading millions of gamers in Animal Crossing: New Leaf.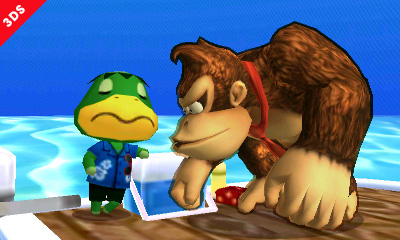 Cap'n is just a background character, it's worth bearing in mind, but Masahiro Sakurai certainly got into the spirit of it in his Miiverse post.
Pic of the day. Yar, I wants to watch some o' that Smash action, too, ye great beast!
Indeed, Sakurai-san. Animal Crossing: New Leaf is, as most would surely agree, one of the most charming games of recent times, and we'd argue that Cap'n is a standout. Those ditties when crossing to the Island are rather priceless, and we still can't bring ourselves to skip them. Below are videos we posted earlier in the year from YouTube musicial misterrandall, if you don't believe us.
Are you a fan of Cap'n's appearance in this 3DS screen? Let us know in the comments below.
[source miiverse.nintendo.net]