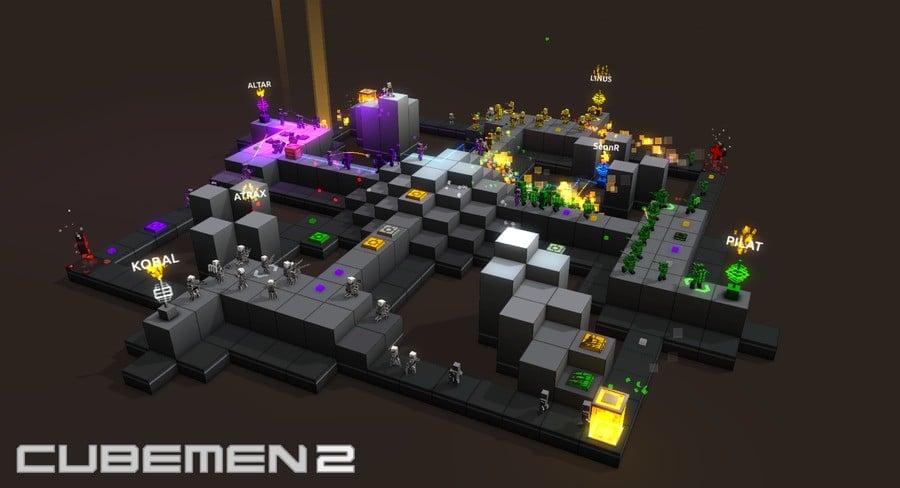 As part of today's European Nintendo Direct presentation Nintendo showed a rather impressive Wii U eShop sizzle reel of upcoming releases. Some were already known, but quite a few made their debut and therefore came as surprise announcement. One of these is Cubemen 2, which is being published by Australian studio, Nnooo; it's promising a first for the Wii U, with cross-platform multiplayer to greatly increase the player base and user-created content.
The game itself is an fast-paced strategy action game, where two sides of coloured Cubemen (Red vs Blue) duke it out. It can be played in single player — of course — in various modes battling CPU AI, but can also be played online with up to six players either in solo each-for-their-own battles or team equivalents. On top of that there'll be online leaderboards and, most impressively, level-building and sharing; you'll be able to play in user-generated stages.
The big first for this title, however, and something we'll hopefully see in more Wii U eShop titles, is that all online modes and content — including multiplayer — will be cross-platform; Wii U players will also be able to play with and access user-generated levels from the PC, Mac, Linux and iOS versions. There are apparently over 4000 user-generated levels already, and the pleasing thing for Nintendo gamers is that, from day one, there'll be an established online community to join and play with or against. Here's what Nnooo's Creative Director Nic Watt has said:
I'm really proud to be able to announce this. We've spent the last few months working with both Nintendo and 3 Sprockets, the game's developer, to make this a reality. Cubemen 2 is an amazing game and a great fit for Nintendo players. We can't wait to see how creative they are, whether in tactical multiplayer online or in the new levels they build.
As for developer 3 Sprockets, its Director Seon Rozenblum added the following:
We're excited to be working closely with Nnooo and Nintendo to bring a new dynamic to a Nintendo platform. We're bringing the gaming community together, offering true cross-platform play and user generated content across multiple platforms and devices and we are ecstatic to be including the Wii U in our lineup for Cubemen 2.
Below is a trailer from the other platform's releases earlier in the year, along with some screenshots; the target date for this one on Wii U is currently "late 2013 / early 2014" worldwide. What do you think of this game and its cross-platform online features?