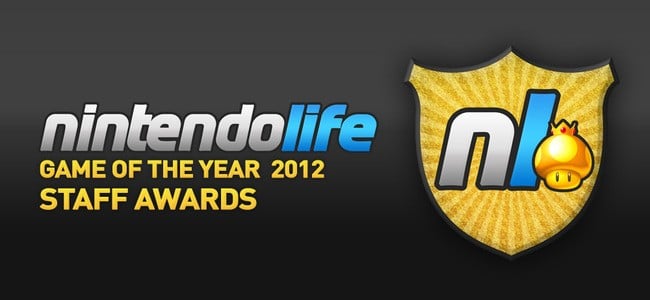 As 2012 draws to a close it can only mean one thing: annual awards. We've been gathering your votes for the Nintendo Life Community Game of the Year awards, and we have an all new Nintendo Life Gaming Awards article on the way. We'll kick off the next few days of award giving with the Nintendo Life Staff Awards 2012, which we imagine will prompt a fair bit of debate.
To be clear right from the start, these results have come from an entirely democratic process, with every member of staff having the opportunity to cast votes for their top three games in each category, with every vote treated the same. The official review scores on the site have nothing to do with this outcome, but what has mattered are the games that the staff have enjoyed playing the most over the last 12 months.
In some cases you'll see titles listed for the second year in a row; there are two examples where regional release dates made them eligible once again. Of course, results are also influenced by what games we've all owned and played, so if you're expecting any niche titles to win for their respective platform you're out of luck — remember that these awards are voted for by everyone, not as part of a review process.
On the whole, we're happy that the outcome shows some of the best games that have been available on Nintendo systems in the past year, and there are some unexpected results that show the merits of alternative experiences on the various systems. Let's get to it, starting with the oldest system in the categories.
---
DSiWare Download of 2012
One games library that hasn't struggled for new releases is DSiWare, with regular entries arriving every week on both the DSi Shop and the 3DS eShop. There are a fair number of mediocre titles, but we shouldn't disregard those that are still flying the flag for creative developers making use of limited resources.
This title arguably represents exactly why DSiWare is still worth watching, as it throws up surprises that can capture a gamer's attention despite ageing presentation values. A puzzle platformer that brings mathematical equations to the fore, this is a charming and creative title that also comes with a thoroughly attractive art style. A worthy winner for its willingness to try something new, much credit is due to developer Goodbye Galaxy Games.
Second Place: The voting in this category was particularly close, particularly as the staff's exposure to the extensive library was less than in previous years, so three games tied for second place. These were Magical Whip: Wizards of the Phantasmal Forest, Art of Ink and Castle Conqueror: Against.
---
DS Retail Game of 2012
To be blunt, the shortlist for DS retail games wasn't particularly long, as Nintendo's last-generation handheld has now been well and truly overshadowed by its successor. There were some new titles released, however, though you can guess which was number one.
When this sequel was announced, a number of fans queried why it was being released for DS and not Nintendo's latest handheld, 3DS. The thinking was sound, however, as Game Freak knew that eager fans would in all likelihood make use of the latter system's backward compatibility, while those yet to make the transition had the opportunity to dive in once again. It also brought plenty of new content to the table, even if the overlying impression may have been that it was more of the same, and this one is still occupying some members of the Nintendo Life team this Holiday season.
Second Place: Inazuma Eleven 2 — This title made it into the top three on the strength of European votes alone, which pays testament to the enjoyable experience that it offers. With a blend of conventional 2D RPG exploration and special-move infused football/soccer action, this one charmed its way into second place.
Third Place: Pokémon Conquest — When originally released in Japan, most assumed that this crossover between the famous series and the lesser known Nobunaga's Ambition wouldn't make it West. The urge to release a Pokémon-branded game was too strong, however, so it was renamed as Pokémon Conquest and, surprisingly, not too much was lost in translation.
---
WiiWare Download of 2012
This is a category that didn't leave us with much to choose from, with the Wii Shop platform having a particularly quiet year. 2012 did see one particularly notable localisation, however, while a few other gems fought it out to be included in the top three.
A runaway winner in this category, this action platformer provides plenty of old-school visual flair and punishing difficulty. With enormous, daunting boss fights, clever puzzles and a dizzying amount of exploration to be done, this truly is a worthy swansong for the WiiWare service.
Second Place: Rush Rush Rally Racing — A retro-style top down racer, this title was originally developed for the SEGA Dreamcast as part of a programming contest in 2009, but this WiiWare version is put together with great care and is, most importantly, a lot of fun.
Third Place: TNT Racers — A decent year for those that like some wacky racing in their downloads, this title also expected you to crash into other cars and take them out of the race. Frantic and fun, and great for those who enjoy bashing other cars more than racing to the chequered flag.
---
Wii Retail Game of 2012
While Wii undoubtedly had a quiet year as it waited for its successor to take over the reigns, there was still a small batch of excellent releases for the system this year. We know that Nintendo isn't working on any Wii projects any more, so this may be the last time that this category is included. With that in mind, we're happy with the results.
Some of you with a keen eye and memory will know that this finished second in our 2011 poll, yet we decided that it could be eligible as it was released in North America in 2012. The decision was an easy one, as our staff in the region may have launched protests if it wasn't included, such has been its impact on the system. It's an exceptional JRPG, with enough content to immerse any gamer for dozens of hours; after being defeated by Nintendo's biggest hitter last year, this title gets the victory it deserves.
Second Place: The Last Story — Another part of the so-called Operation Rainfall trilogy, this is a title that took a more linear approach than our winner, but was nevertheless a wonderfully engaging, engrossing experience.
Third Place: Rhythm Heaven Fever / Beat the Beat: Rhythm Paradise — When it comes to zany fun, we're not sure it gets much better than Rhythm Heaven Fever. You'll play golf, construct robots, stop flying peas with a fork and some far more bizarre activities, all to a catchy beat. Play it with friends, play it alone, just play it.
---
3DS eShop Download of 2012
We're now into the current generation of systems and, in the case of 3DS, there's been a lot of good content to enjoy this year. This category brought perhaps the most diverse voting among our staff, with a lot of votes spread across the various excellent titles on the shortlist. One of the top three is included due to its exceptionally late North American arrival in 2011 and its European release in 2012, while we think one of the other winners may surprise you.
Mallo's eShop debut, Pullblox, won the equivalent award among our staff in 2011, so this represents an impressive double for Nintendo's rising star. This sequel took all that made the first title a must-have and added extra depth, literally, by applying rows on both sides of the puzzle and opening the possibility for mistakes to lead to a collapse of the whole item. It's clever and utterly charming, and a very worthy winner.
Second Place: VVVVVV — We've seen some top-notch indie games of PC-origin make their way to the handheld's eShop, and this is the prime example of why it's such a good idea. It makes little use of the system's 3D effect or other functions, but serves up addictive and challenging puzzle platforming with the simplest of "flip" concepts. It's wonderfully designed, and includes enough content to keep even the most talented gamers occupied for a long time.
Third Place: Colors! 3D — Here's that surprise entry that we promised you. While a number of excellent games received a smattering of votes from different voters, this title consistently earned a place in a number of top three lists. It's no surprise, as it's a wonderfully detailed and accomplished art app, giving artists a diverse range of tools to create detailed images in impressive 3D, and also includes substantial online and sharing options. It sets the standard for future apps in the genre.
---
3DS Retail Game of 2012
This is another category that was keenly fought, not surprisingly, among the best first-party releases out there. There was love for third-parties, with plenty of votes for offerings from the likes of Square Enix, Capcom, SEGA and Chunsoft. The most consistent voting was for three particular big hitters however, involving a plumber and a returning hero of the NES age.
Proof that our review scores aren't driving results, this may have received a lower reviewer's score than those games in second and third place, but came first in terms of charming and delighting the Nintendo Life team. A diversion back towards the turn-based battles that were abandoned in the series' Wii iteration, this first handheld Paper Mario plays it safe in some respects, sticking to well known characters rather than being too bold with new personalities. That said, it makes fantastic use of the 3D screen, represents another triumph for Nintendo's localisation teams with plenty of witty text, and is simply fun to play. That's what games are all about, right?
Second Place: New Super Mario Bros. 2 — This is a surprisingly divisive Mario platformer, as its continuation of the "New" series' standards is praised by some as offering more 2D platforming goodness, while others decry it as derivative and repetitive of what's come before. While it wins no prizes for innovation, we have nevertheless enjoyed playing it. It brings more of the same, absolutely — it's still a blast, though.
Third Place: Kid Icarus: Uprising — We suspect that plenty will have this at number one in their personal lists, with good reason: it's frantic, blockbuster action with visuals and sound that are exceptional. Its control scheme should have been optimised with a dual stick Circle Pad Pro option — aiming with the face buttons is included, so this oversight is baffling — and for some the land battles are a challenge to manoeuvre. It's a stand out experience that all should experience on their 3DS, however, and represents a terrific return for everyone's favourite angel that can't fly.
---
Wii U eShop Download of 2012
With the Wii U eShop only weeks old, we voted on the launch library of titles that have graced the new service so far. While the pickings are unsurprisingly slim, those titles that have arrived are, without exception, all worthy of a download. With that said, our team have picked what they consider to be the best of the opening salvo from the various developers to take a chance on Wii U; it was an exceptionally close vote.
If one game provides a visual indication that Nintendo downloads are moving into a new era, the breathtaking graphics of Trine 2: Director's Cut do the job. That said, Frozenbyte's epic adventure is more than pretty graphics, with plenty of action, puzzles and platforming to challenge a gamer's reflexes and quizzical brain. The interchangeable three characters are ideal for the excellent local and online multiplayer options that are included, and the developer is planning further updates and DLC to enhance the experience further.
Second Place: Nano Assault Neo — A Wii U eShop exclusive, this picks up on the series that Shin'en gave a début on 3DS, substituting stereoscopic 3D for exceptional HD visuals. A twin stick shooter that requires a combination of skill, bravery and some tactical nous, the action is accompanied by a pumping soundtrack that's sure to get you in the mood. High score chasers will love this one, too.
Third Place: Little Inferno — Is this a game, or should we just call it an interactive experience? In any case, it earns a place in our top three, with a unique style and sense of storytelling that's unlike anything else on the platform so far. It's a title that will perplex and, possibly, prompt some genuine emotion and soul searching, all wrapped in an irreverent bow of peculiar humour.
---
Wii U Retail Game of 2012
The Wii U launch line-up of retail games had a good mix of exclusives, ports, and generally games to cater to any audience. We don't think the top three will surprise anyone, but the order was certainly a close run thing. Just one point separated the top two, while the bronze winner strikes a blow for innovative, challenging mature games on the system.
The second 2D Mario platformer to arrive in 2012, this title brought us our first glimpse of Nintendo's famous mascot in HD. Beyond the superficial, however, it was clear that Nintendo invested a great deal of thought and effort into this entry: the world map resembles a bigger environment along the lines of Super Mario World, while some of the secret hidden exits are, well, rather well hidden. While getting 100% in the main game is hard enough, the Challenges provide an extra incentive, with the touchscreen enabled Boost Mode making the game accessible to anyone who can tap a screen. With some of the most enjoyable and creative level designs of recent years, this is possibly the best "New" 2D Mario game to date.
Second Place: Nintendo Land — This collection of mini-games was just pipped into second place, though it deserves plenty of praise. Some of the experiences on offer are too lengthy and deep to be described as "mini", while this title acts as a showcase for the capabilities of the GamePad and the Wii U's asynchronous multiplayer. When played with a number of friends clutching Wii Remotes this can be a title that sells systems to non-believers, and gives gamers plenty of fan-service to enjoy for various franchises, while they wait for the main events in the coming years.
Third Place: ZombiU — Ubisoft has come right out of the gate with a great deal of support for Wii U, ranging from ports to fitness titles. Of those available on launch day, it was this survival horror title that captured the most attention, even having an exclusive system bundle in Europe. Survival Horror is the correct term — please don't call it a first-person-shooter — as even one zombie in the wrong circumstances can lead to a death. Ammo is scarce, death is permanent, the GamePad is intuitive and worryingly distracting at the same time, and the best tactic for survival is to hide in the shadows and avoid the hordes. Played in a dark room with a pair of headphones, this is a truly challenging and memorable experience.
---
So there you have it, the Nintendo Life Staff Awards for 2012. Let us know what you think in the comments below, and check back for our Nintendo Life Best of 2012 Awards, where we decide on categories such as "Biggest Wow Moment" and "Best Third Party Publisher", tomorrow.