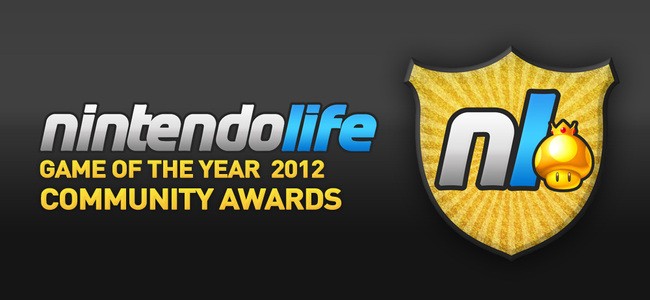 It's the last day of 2012 so it's time for you, the Nintendo Life community, to crown the winners of your Game of the Year awards. While the hotly debated Game of the Year Staff Awards were decided by 17 members of the Nintendo Life team, these awards have been determined by hundreds of votes.
The categories and voting rules were the same, and we've painstakingly counted all of the submissions. One particular result will be popular, we're sure of that, with many of the same games appearing from the staff awards. There are some big differences, however, so check them out below.
---
DSiWare Download of 2012

There are certainly a number of artists and creative members of the Nintendo Life community, which is reflected in this victory for the excellent animation app from Flat Black Films — it's eligible this year due to the delayed European release. For its price and considering the platform, this is an incredibly detailed and powerful animation tool, and is a download that will give you lots to enjoy if you put in the effort.
Second Place: Zuma's Revenge — PopCap Games is a master of addictive games for portable devices, with this block blasting action-puzzler providing plenty of content to swallow the hours.
Third Place: Ace Mathician — Beaten into third place by just a single point, this nevertheless represents an impressive double for the innovative puzzle platformer from Goodbye Galaxy Games — it placed first in the staff list. Who'd have thought that mathematics could be fun?
---
DS Retail Game of 2012

This result is a surprise to absolutely no-one, with a huge number of votes for this title. It benefited from the limited competition, but it's also a full-fat entry in the main series that, despite being a sequel, offers enhancements and innovations beneath the familiar exterior. It surely represents the end of the series on the biggest selling handheld of all time, but it's a good way to go out.
Second Place: Pokémon Conquest — This crossover with Nobunaga's Ambition clearly had a positive impact on the community, as it surged to a convincing second place. When it comes to 'mon and strategy games on the good-old DS, it seems to be a winning combination.
Third Place: Inazuma Eleven 2 — This is an impressive placing for the football/soccer based RPG, especially as it hasn't yet seen release in North America. Full of charm and crazy special moves that rarely get old, this brings good old-fashioned fun onto the football pitch.
---
WiiWare Download of 2012

It wasn't really a race to first place in the WiiWare category, with Nigoro's long awaited title (published by EnjoyUp Games) finally arriving on the download platform. It took a long time and lacked the expected DLC, but it's clear that for many it was worth the wait.
Second Place: Horizon Riders — Eligible due to its rather delayed European release, this exciting racing-shooter feels retro and unique all at once, though plays best with a balance board. If you're a fan of these kind of games and have the right peripheral, this is an intriguing experience worth exploring.
Third Place: TNT Racers — When a racing game places great importance on bashing other vehicles as well as getting to the finish line, it sounds like a combination destined to entertain. It may not be perfect, but it's a cool drive.
---
Wii Retail Game of 2012

There was little doubt that this title would triumph, with lots of enthusiastic voting going its way. With a breathtaking and enormous world to explore, side-missions and a story mode that require dozens of hours of your time, as well as some truly epic battles, this is one of the finest games to grace Wii. Monolith Soft showed itself to be a master of its craft, and we can't wait to see what comes next from the studio.
Second Place: The Last Story — A release with exceptional pedigree under the direction of Hironobu Sakaguchi, it combines excellent presentation with some emotive storytelling and an intuitive battle system. A worthy runner up.
Third Place: Rhythm Heaven Fever / Beat the Beat: Rhythm Paradise — If you have even a single musical bone in your body, and if you still play games because you primarily want to laugh and have fun, then this is the game for you. Irreverent, bonkers, and unmissable.
---
3DS eShop Download of 2012
It's the staff and community award double for Mallo's second appearance, cementing the potential of the franchise in the eyes of many on Nintendo Life. Charming visuals and a welcome level creation tool combine with plenty of fiendish, challenging puzzles, with this latest entry shaking up the formula with extra depth to the play area and new items. We suspect that this isn't the last we'll see of the chubby hero.
Second Place: Mutant Mudds — It was a hard-fought battle over second place, but Renegade Kid's retro-styled action platformer seizes the runner up spot. With tight controls and some gorgeous pixel art, this release got even better with free DLC provided by the developer not too long ago, giving it even more bang for its buck.
Third Place: VVVVVV — Terry Cavanagh's relentlessly difficult but ultimately simple title once again secures a top three place, rewarding the efforts of publisher Nicalis to bring the PC indie title to the 3DS eShop. You simply run and "flip" through the environments, but outstanding level design — and there's lots to play through — makes the simplest of concepts one of the best.
---
3DS Retail Game of 2012

We expect plenty of fist-pumps and whoops from throughout the Nintendo Life community at this result, as there was a clear and sustained vote for the angel's spectacular return. Its intense action and glorious audio/visual presentation has made it a big favourite among many 3DS owners, with enough collectibles and in-game achievements to occupy completionists for years to come. The online multiplayer is also popular, and it doesn't take long for the angels and mortals to be separated in those battles.
Second Place: Paper Mario: Sticker Star — This is the mascot's first handheld appearance in his flat form, and despite mixed reviews and opinions proved popular in the community vote. With its sticker battle system and the usual charm of quirky music and witty dialogue, this is a lengthy and fun title worth strong consideration.
Third Place: New Super Mario Bros. 2 — A 2D Mario title that has seemingly divided Nintendo gamers, with camps generally — though not exclusively — consisting of those that like the fact it carries on where predecessors left off, and others who feel that it simply falls short. It'll continue to split fans, but nevertheless it earns a second top three place in our awards this year.
---
Wii U eShop Download of 2012

It may be a small field of entrants, but the Wii U eShop race to first place was extremely tight, with Tomorrow Corporation's title just hot enough to take the prize. An intriguing gaming experience that adopts an almost hands-off approach to storytelling, while also leaving the player to progress at their own tempo. While the concept is basically to burn a lot of items, the combo system and the overlying plot have prompted positive responses from many, and earned it a lot of votes at the same time.
Second Place: Trine 2: Director's Cut — The winner in the equivalent staff award, Frozenbyte nevertheless earns a commendable second place in the popular vote, with the graphical polish and lengthy campaign no doubt doing much to satisfy early Wii U eShop adventurers. With more content and a voice chat update on the way, we suspect that this one will get even better.
Third Place: Mighty Switch Force: Hyper Drive Edition — WayForward Technologies follows up its Nintendo Life Indie Developer of the Year prize with a respectable bronze in the community awards, with this Wii U eShop launch release finishing comfortably ahead of its fourth placed rival. Adding a HD sheen to the 3DS original and also throwing in a series of extra-challenging levels to take on, this one shows that the appeal of this franchise lives on.
---
Wii U Retail Game of 2012
Once again pushed all the way, Mario's début on Wii U secures the staff/community awards double. This continuation of the series did return to some older ideas with a larger, more visibly connected World Map, as well as a number of hidden exits and secrets tough to track down without resorting to walkthroughs. With Boost Mode and Challenges adding additional content, along with the same manic multiplayer first seen in the Wii title, most seem to agree that this is a strong — maybe the strongest — entry in the "New" series.
Second Place: Nintendo Land — This title provides a lot of fan-service and, perhaps most importantly for Nintendo's new home console, demonstrates how the GamePad can change the way we play. With plenty of varied options for parties or for single players, this title pushed its platforming rival all of the way. It's surely just a taster of what we can expect to see from Nintendo's biggest franchises in the next few years.
Third Place: ZombiU — Comfortably in third place and completing a bronze double for Ubisoft's survival horror exclusive. It makes extensive use of the GamePad to change the way you play and, most importantly, distract you long enough for zombies to creep towards you from the shadows. It's dark, has a punishing difficulty and will introduce many to the wonder of a cricket bat, while the local multiplayer is also fun in its own right.
---
So there you have it, the Nintendo Life Community Game of the Year Awards for 2012. Let us know what you think in the comments below — they are from your votes, after all — and have a wonderful New Year. Keep an eye on Nintendo Life for our year in review articles in the coming days.