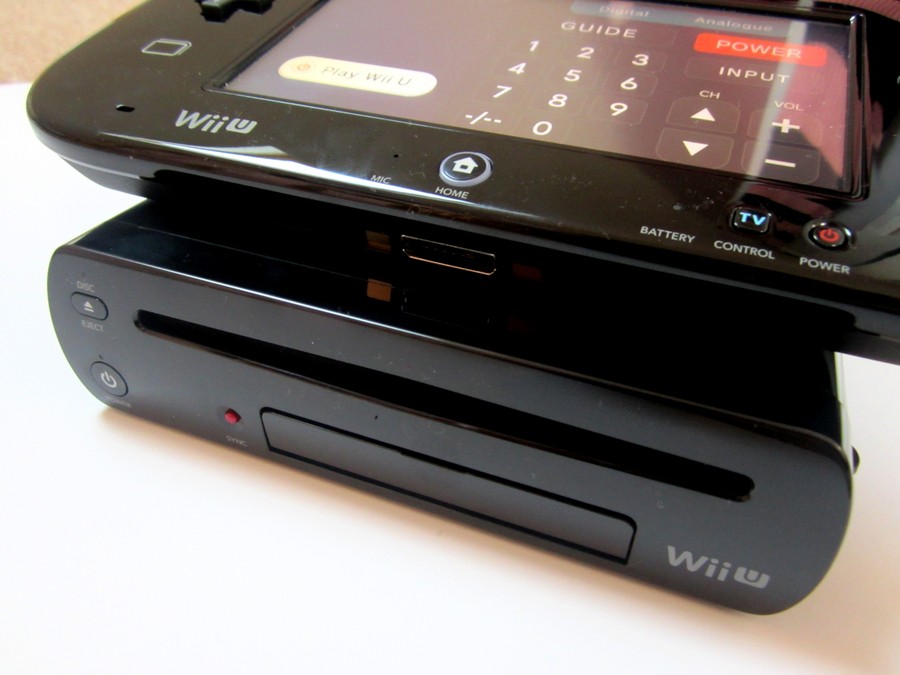 After months of waiting, the Wii U is finally here. The system launched in North America on the 18th and comes to European shores today. We've had our hands on a Euro console for a while now, and have been putting it through its paces to bring you our impressions of what is Nintendo's most important hardware release in years. Sitting comfortably? Then let's get this party started.
The Hardware
The moment you extract the Wii U from its packaging you'll be struck by just how much larger it is when compared to the standard Wii. It's also more rounded, with curves in all the right places. Some elements are perhaps a little fussy; there are panels here and there will presumably grant access to various parts of the internal hardware, and they break up the otherwise sleek lines of the casing. On the front of the system there's the all-important sync button (for setting up Wii Remotes and GamePads) and a pull-down flap which conceals the USB ports and SD card slot. The glossy black casing of the Premium model is sure to divide critics; while it looks mean and moody when placed under your TV - something the snow-white Wii rarely did - it's an absolute magnet for fingerprints.
If you got the Premium package then you'll notice a bundle of other items in the box. There's a power supply for both the console itself and the GamePad - the former of which is quite a chunky beast, but not as imposing as the one which ships with the Xbox 360. Two stands are supplied for the GamePad - one which charges the battery when docked, and another which allows you to rest the pad on a flat surface - handy for when you're making video calls. There's also a sensor bar, exactly the same as the one you got with your Wii. Nintendo has kindly supplied a HDMI cable as well, the use of which still feels a bit alien on a Nintendo console.
When the Wii U is running, it can get quite loud due to the internal fan. It never approaches the same level as the Xbox 360 - which can sometimes sound as if it's about to take off - but it's a big change from the near-silent Wii.
The GamePad
Arguably of more interest than the main console is the Wii U's GamePad. Again, it has the same glossy casing as the console, and as such picks up smudges just as easily. It feels chunky and oversized - even more so if you've had previous experience of tablet-like devices such as the iPad and Nexus 7. However, its proportions are intentional; the larger size makes it easier to grip, because unlike the aforementioned tablets, this is intended as a controller first and foremost.
The GamePad's touchscreen is something we expected to be disappointed with, and while there are elements we wish could be different, it has impressed us during our time with the console. The resolution - while not being HD quality - is very sharp indeed. Individual pixels are hard to discern unless you look very closely indeed, and brightness and colour are both spot on. Viewing angles are also rock-solid, which is important when you consider that many games will ask you to hold the device in a variety of different ways. The image displayed by the screen can sometimes offer disappointing results - for example, shades of red are quite blocky - but this is down to the compression system used to stream images from the Wii U to the GamePad itself.
Unlike the iPad and most mobile phones available today, the Wii U GamePad does not use a capacitive touch panel, opting instead for the older (and cheaper) resistive technology. Resistive screens - which are also used on the DS and 3DS - require pressure, which is why they work so well with a stylus. The negatives are that these displays are less precise; because you have to push down a little to register an input, there's more chance of pokes and swipes going undetected. Compare this to a capacitive display - which only requires skin-to-screen contact to function - and it's clear to see why many people were so disappointed to learn that Nintendo had taken the resistive route with the GamePad. Capacitive also offers multi-touch support and even boast special stylus pens now, which removes the only advantage resistive screens had over them.
However, we have to remember that capacitive technology - while widespread - is more costly. Adding it to the GamePad would have almost certainly have resulted in a higher retail price for the entire console. It also needs to be said that the GamePad has one of the best resistive screens we've ever used, very nearly matching a capacitive display in terms of responsiveness and accuracy. Taking all of this into account, it's hard to grumble too much about Nintendo's decision in this regard.
Many people wondered about the kind of range the GamePad could operate over, and now we've had chance to test it, we're pleasantly surprised. We were able to take the GamePad into the next room - which was separated by two solid brick walls and a flight of stairs - and it was only when we were right at the far side of the room that the connection dropped. Moving upstairs was even better; the signal between the console and controller clearly travels more freely through floorboards than brick, and we were able to enjoy a game of New Super Mario Bros. U from the comfort of our bed. Bliss.
The Wii U Experience
As you've no doubt heard, the Wii U requires a software update to unlock features such as Nintendo Network ID creation, the eShop online store and Wii functionality. The file size is around 1GB, which took us about an hour to download and install. You can do this in the background while playing a game so it's not the end of the world - and one would assume that Nintendo will never need to deploy an update of this magnitude again during the console's lifespan. Once it's over and done with, you can relax.
Initially, it's quite strange to have to shift your gaze back and forth between the TV screen and GamePad, but it doesn't take long to grow comfortable with it - especially when you're aware of how each piece of software utilises the displays. Nintendo has been very careful to ensure that messages appear indicating which screen you should be focusing on. Within a few hours you'll have gotten your head around the concept of using two screens simultaneously - a situation not entirely dissimilar to the first time you scooped up a DS console all those years ago.
The Wii U is full of little surprises. Here in Europe we can't access TVii yet (although it remains an option on the GamePad's home screen, which is a pretty big indication that it's coming), but it is still possible to use the controller as a remote for your television, thanks to the inclusion of an infrared port on the top edge of the device. You can switch the TV on, change volume, toggle between the available inputs and even access your digital programme guide. This might be relatively outdated tech - Casio had the same feature built into one of its wristwatches well over a decade ago - but it made us smile regardless. It's a solid indication of how Nintendo is trying to unify all of your entertainment into one device, and bodes well for a more connected and cohesive future in your living room.
We've noticed a few irksome points during our time with the machine, however. Software is prone to crashes, with Nintendo Land freezing on us several times during the first week or so. We also experienced random lockups when navigating the Wii U's main menu, and the only solution was to yank the power lead out of the back of the console and plug it back in again. This lack of stability is annoying, but subsequent software updates will no doubt rectify it.
Possibly the most frustrating element of setting up the console was the fact that we couldn't get it to connected to our wireless router, no matter how hard we tried. In the end we had to resort to inputting the settings manually after following a handy guide online. This isn't Nintendo's fault as such, but it bears mentioning, when you consider how painless it is to link up other consoles to Wi-Fi.
The Final Word
If you're expecting this section of the review to deliver a solid verdict on whether or not you should buy this system, you're sadly going to be disappointed. The Wii U is a fantastic machine with a few faults we'd rather it didn't have, but you can't judge a games console without putting it to the task it was built for: playing games. As you can see from our current selection of Wii U game reviews, the opening batch of games is solid, and this suggests a bright future for the system. Critics may continue to bemoan the 'slow' CPU or the 'last gen' graphics, but the fact remains that no one knows games like Nintendo, and just as the Wii was home to some of the best software of its generation, we're certain the same will apply to the Wii U. In short, Nintendo has done it again, creating a unique platform which is quite unlike anything else available on the market today.