Consoles, games, accessories, the lot!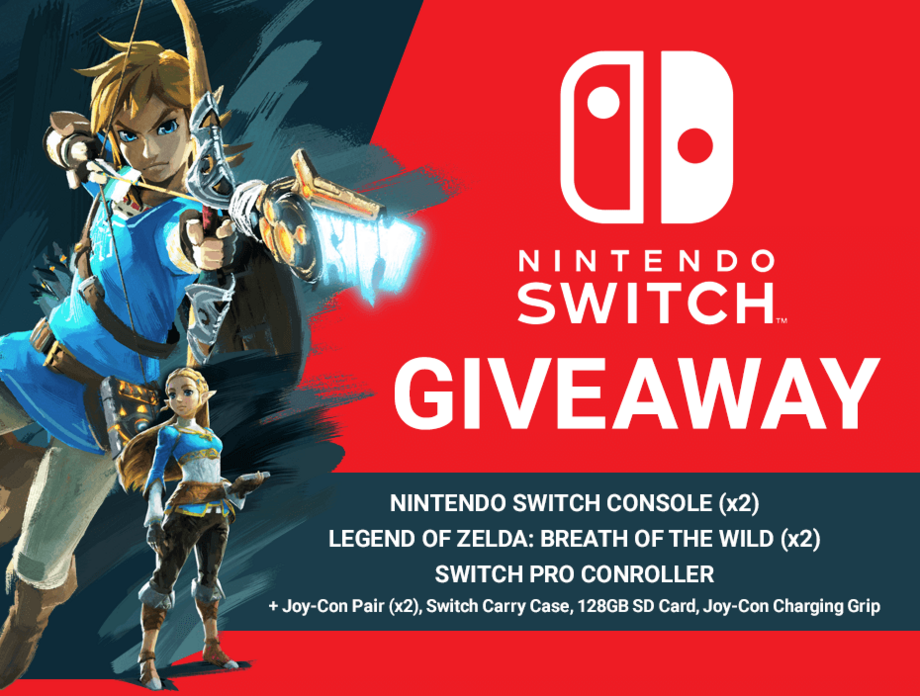 You may remember that last Christmas we had a very special competition where one kind soul donated some amazing Pokemon prizes in the spirit of the festive season.
To celebrate the impressive launch of Nintendo Switch earlier this month that very same kind soul has decided to spread yet more love and generosity, out of his own pocket, with another giveaway to you the UK readers of Nintendo Life.
We all know it's fairly difficult to get your hands on the console in the UK at the moment for a sensible price, so we're absolutely blown away by the gesture and invite you to think about putting others before yourself with these prizes. Is there someone you know that deserves a Nintendo Switch as a very special surprise?
We've got two different bundles to give away:
1st Prize: Nintendo Switch Console (Grey), Legend of Zelda: Breath of the Wild, Switch Pro Controller, Joy-Con Pair (Grey), Official Carry Case and a 128GB SD Card.
2nd Prize: Nintendo Switch Console (Grey), Legend of Zelda: Breath of the Wild, Joy-Con Pair (Neon) and a Joy-Con Charging Grip.
That's a huge amount of prizes. We'd like to once again thank the reader in question for their kindness and share their sentiment in making this competition about family, friends and those in need.
~ Nintendo Life Team
About The Prize
All the products in this competition are the UK editions and were purchased from a UK retailer and have UK power supplies, with this in mind and the potential shipping complications we have decided to keep this competition UK only. Thank you for understanding!
How To Win
It's simple, login or register and answer the question, we'll randomly select the winner(s) and contact them via email.
Enter The Competition
Sorry, you're too late, the competition is now closed, please try again another time!
And The Winner Is...
Our two winners are S-C-G and Toadsfriend, thanks to everyone who entered! We had a great response to the competition and this time the question was a little tricky, with over 30% of entries selecting the incorrect answer - a new record! :)
Rules
Closing date for entry is midnight GMT Mon 3rd April 2017, winners will be contacted via email for their postal address, prizes will then be posted via registered mail. You may only enter once, duplicate entries will be removed. You must be a UK resident to receive the winning prize. Please read our full competition terms and conditions before entering.