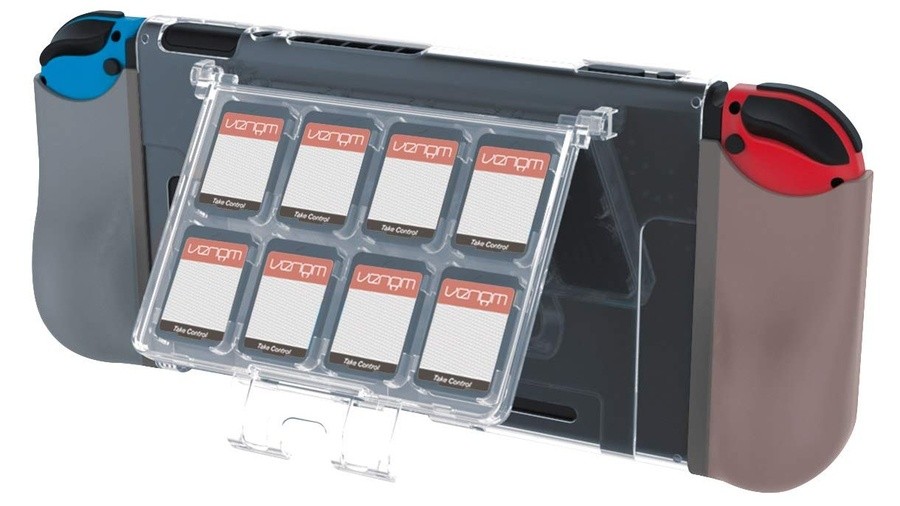 There are a surprising number of Switch cases and accessories available on the market, all offering slightly different ways to look after your pride and joy, and the latest to hit stores is this Protective Shell Case from gaming accessory maker, Venom.
The case aims to keep the Switch and both Joy-Con controllers protected wherever you go thanks to a "robust" outer shell. The focus here is to provide that protection while still allowing full use of the system and all controls, and it also offers storage for up to eight games should you want to take it out and about.
Venom says that the case "installs in seconds", with matte hand grips, an outer body case and a glass screen protector all included. The eight games can be stored at the rear of the case, as seen in the images provided.
Apparently, your Switch can still be placed in its dock - and be used in the dock - with the case still fully attached. We can't vouch for the safety of using the case inside the dock ourselves, but this does sound like a nifty feature for those who like to 'switch' between both handheld and docked modes regularly.
If you're interested, you can order your very own from Amazon right now for £12.99. It releases this Friday, so any pre-orders placed now should arrive fairly soon.
What do you think? Would you like one for yourself? Let us know in the usual place.