Just a couple of months ago, we reported on the fact that FutureGrind will soon be speeding onto a Switch near you. That day is getting ever closer and, to celebrate, a new, fast-paced launch trailer has landed.
If you missed the news last time, FutureGrind is an arcade stunt-racer all about tricks, skill, and speed, throwing players into a futuristic, two-wheeled bike to rack up huge combos and hunt for the perfect line. To do so, you'll need to match your coloured wheels with each track's fiendish layout of rails, and the whole thing looks pretty exciting.
Racing for high scores isn't the only focus, though; you'll also be making your way through a story mode with more than 30 unique tracks featured. Taking on the role of a newly-sponsored rider, keen to make your mark on the pro circuit, you'll need to fight for your sponsor's favour, discovering the true nature of your new job. Here's a feature list to give you a little more info:
Features:
- Dozens of hand-crafted tracks to test even the most skilled players
- Different bikes, each with their own unique style of play
- Chain tricks together in a deep combo system that rewards creativity
- Instant restarts (you'll need them!)
- Compete for high scores in score attack mode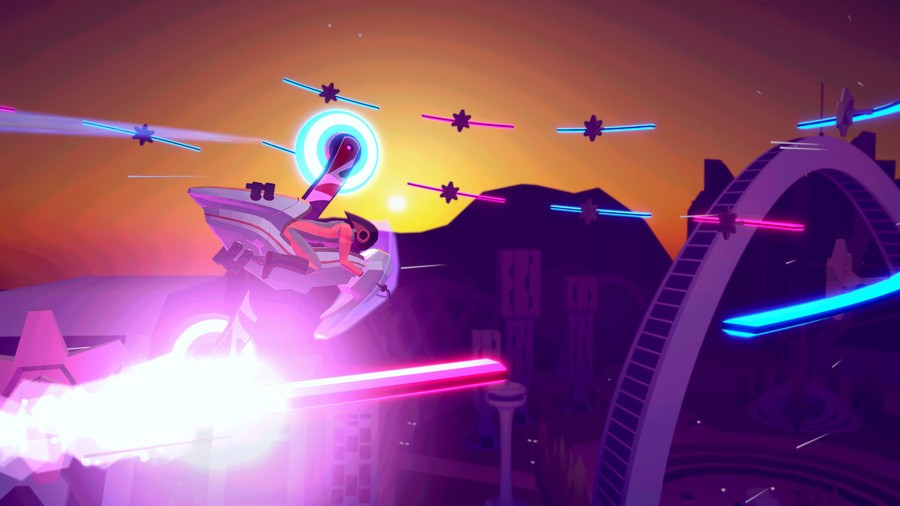 The game is scheduled to launch on Switch on 22nd January, with PS4 and PC releases arriving on the same day.
Will you be picking this one up from the eShop? Tell us below.