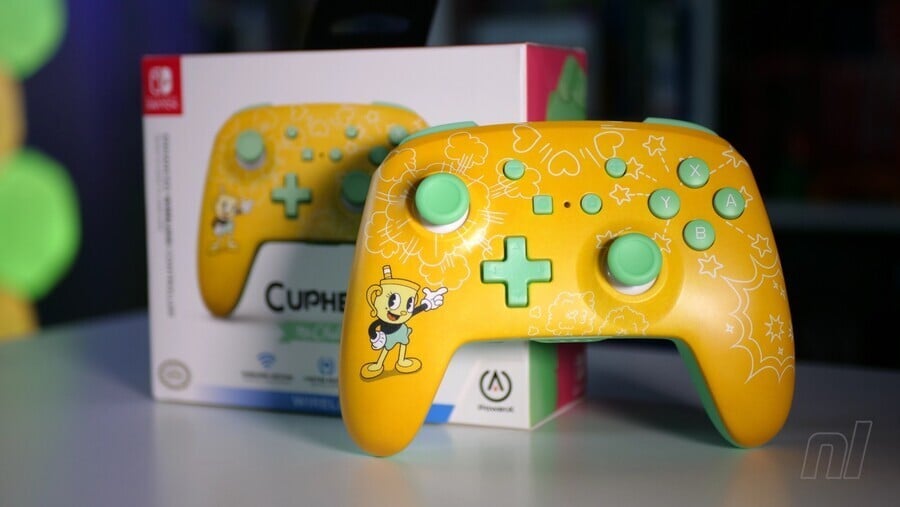 With the arrival of the long-awaited Cuphead DLC – The Delicious Last Course – accessory manufacturer PowerA has released an appropriately-themed enhanced wireless controller for the Nintendo Switch.
We were fortunate enough to be sent one of these controllers, and we've been trying it out. On the plus side, it looks rather fetching, it's comfortable to hold and it offers wireless control and the ability to re-map the 'advanced gaming buttons' found on the rear of the controller. Oh, and unlike a lot of third-party pads, it has motion control, too.
On the downside, it feels quite light and cheap, and there's no support for HD Rumble or amiibo scanning. It's also slightly disappointing that there's no internal rechargeable battery, and the pad instead relies on AAs. Of course, in time, this could be seen as a positive, because built-in rechargeables only last so long whereas AA batteries can always be replaced and swapped out.
Here's what PowerA has to say about the pad:
"The new Cuphead design radiates all the animated, eccentric energy of the franchise. Its bright yellow hues are complemented by mint green accents, making for an extravagant and vibrant colour combo. The front faceplate is polished off with detailed, cartoon artwork from the game starring Ms. Chalice who rightfully takes pride of place. Cuphead may be ruthless, but with the new Ms. Chalice design, at least you'll suffer defeat in style."
You can grab one from the official PowerA website for $54.99 USD.
While we're on the topic, we thought Cuphead's DLC was fantastic, saying:
Cuphead - The Delicious Last Course is a great little expansion that adds new life to one of the Switch's most entertaining games. It may be a tad on the short side but what's here is absolutely fantastic and it's reasonably priced to take its length into account. If you have the original, this is essential. If you don't, they both are.
[source powera.com]