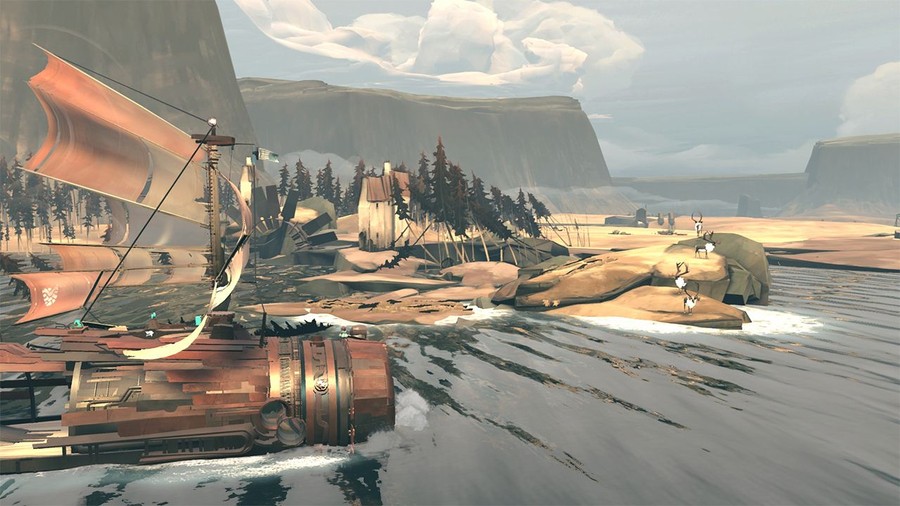 The latest Nintendo Download update for North America has arrived, and it's bringing new games galore to the eShop in your region. As always, be sure to drop a vote in our poll and comment down below with your potential picks for the week. Enjoy!
Switch eShop - Highlights
FAR: Changing Tides (Frontier, 1st Mar, $19.99) - Set sail for a new journey in this atmospheric vehicle adventure in the post-apocalyptic universe first introduced in FAR: Lone Sails. Captain your own seafaring vessel and explore a vast flooded landscape, tackle mighty storms and overcome conundrums while embarking on a voyage to find a new home. It's an emotional, meditative journey that doesn't require prior knowledge of the FAR series. FAR: Changing Tides will be available on March 1. - Read our FAR: Changing Tides review
Never Alone: Arctic Collection (24th Feb, $14.99) - Never Alone is an atmospheric puzzle platformer developed in collaboration with the Iñupiat, an Alaska Native people, and is drawn from a traditional story that has been shared across generations. Experience the epic journey of Nuna and Fox as they search for the source of an eternal blizzard that threatens the survival of everything they have ever known. Guide both characters in single-player mode or play cooperatively with a friend as you trek through frozen tundra, leap across treacherous ice floes, swim through underwater caverns and face enemies both strange and familiar. Never Alone: Arctic Collection will be available on Feb. 24.
Atelier Sophie 2: The Alchemist of the Mysterious Dream (25th Feb, $59.99) - Explore the next chapter in the heartwarming Atelier RPG series with Atelier Sophie 2: The Alchemist of the Mysterious Dream. Follow the burgeoning alchemist, Sophie Neuenmuller, shortly after her adventures in Atelier Sophie: The Alchemist of the Mysterious Book in her quest to find her friend Plachta after they are separated in the dream world of Erde Wiege. Along the way you'll use the puzzle-like synthesis system to create items and fight many monsters with a battle system that provides a wide range of combat strategies to implement. Atelier Sophie 2: The Alchemist of the Mysterious Dream will be available on Feb. 25.
Switch eShop - New Releases
#1 Anagrams Sudokus Bundle (25th Feb, $5.99) - Enjoy 2 great games in 1 with this bundle containing both #1 Anagrams and #1 Sudokus.
15in1 Solitaire (24th Feb, $2.99) - Freecell and Klondike are just the beginning! Dive deep into the world of Solitaire in the largest Solitaire combo released yet. Offering days of fun, pleasant looks and simple controls. Can your personal best measure up to the best? The common goal of all the solitaire variants is to eliminate all the cards, which are on the table. Move them to the corresponding pile based on the rules of particular mode. The cards are sorted based on their suits or values. Every variant have different rules and allows different card movements. Stack 'em all!
35MM (2nd Mar, $9.99) - Post-apocalyptic story about two travelers who set out on a long journey in the wasteland, left by people after the pandemic. The disaster destroyed much of the world's population, the infrastructure went wrong and the common life remained only in memories. The times when a human has adapted the environment for himself have ended and now, in order to survive, he will have to adapt to changes. You will have to play the character whose path runs through the deserted towns and cities in Russia, fields and forests of a vast country and even a secret underground facility. Who are we, where are we from and where do we go – we will be lucky to know it only at the end!
AAA Clock Extended Edition ($4.99) - Here it is, what all gamers have been waiting for - AAA Clock.
Aeternum Quest (25th Feb, $9.99) - Mankind, thirsty for power, harnessed the four elemental gems and fused them into the almighty "Aeternum Gem", a gem so powerful that any entity wielding the gem, with its strength and knowledge, could use it to not only rule over their own world, but the entire universe!
Amazing Machines (24th Feb, $19.99) - In this physics-based puzzle game, you construct whimsical contraptions with fun elements. Position explosive barrels, laser guns, rockets, conveyor belts and much more in the right places to set off comical chain reactions. Discover your inner inventor, and experiment across over 200 tricksy levels. The level editor offers unlimited tinkering enjoyment: Design your own levels using a colourful collection of objects - from clothes pegs to wind machines!
Ammo Pigs: Cocked and Loaded (25th Feb, $4.99) - The age is 2049 AD. All life forms have gone extinct — except for the pigs who oppose the hostile AI-controlled machines. The robots should be destroyed, but more importantly, there have been found the last surviving chickens. They must be saved at any cost!
An American Werewolf in L.A. (Aurita Games, 24th Feb, $4.99) - You are D. Landis, a tormented young man who wants to run away from Hell's Creek to become a pro surfer. When you're about to leave the village in your convertible, Sheriff Naschy steps in your way to capture you. Because you are a werewolf, and monsters never leave Hell's Creek. You will need to run through some of the most iconic American cities in a frenetic chase, defeating the men recruited by the Sheriff. Will you survive the hordes of enemies to reach L. A.?
An NPC's Odyssey (24th Feb, $4.99) - This is another story of the hero gathering his friends to defeat the Devil and save the world, but our protagonist is not the hero himself, but an ordinary unlucky NPC. The reason for his journey is simple——because the hero took the money from his house! To find the hero and get money back, our journey has begun.
Antarctica 88 (24th Feb, $5.99) - In this horrible action you will find yourself in the ice of Antarctica, where you immerse into a terrible sci-fi story full of monsters, weapons and adventures. Our survival action will scare you so prepare to scream and solve puzzles! Are you ready to face and escape from horrible monsters that Antarctica is hiding? Can you save yourself and humanity from the pure evil? This survival thriller takes place at the corp station "Antarctica 1". Over the past six months the expedition of your father Vladimir Efimov has been engaged in drilling ice and exploring prehistoric minerals found in it. Six weeks ago, the expedition stopped communication. As a part of a four-man rescue squad, you have to go on a creepy adventure and figure out what strange things happened there. Take an action and solve puzzles, explore, collect and use objects to figure out what's the creepy story and try to get out of arctic ice alive in our scary awesome horror.
Arcade Archives DANGEROUS SEED (HAMSTER, 17th Feb, $7.99) - "DANGEROUS SEED" is a shooter released by NAMCO in 1989. You pilot the "Moon Diver" fighter, which is made up of α-Ship, β-Ship, and γ-Ship, to fight off the mysterious aliens . If you can keep all of your ships running through the battle, they can also combine and transform into an ultimate configuration. The "Arcade Archives" series has faithfully reproduced many classic Arcade masterpieces. Players can change various game settings such as game difficulty, and also reproduce the atmosphere of arcade display settings at that time. Players can also compete against each other from all over the world with their high scores. Please enjoy the masterpiece that built a generation for video games. *The options menu and manual are available in Japanese, English, French, German, Italian, and Spanish.
Autobahn Polizei Simulator 2 - Nintendo Switch Edition ($39.99) - Start your even more exciting career as law enforcer on Europe's fastest road now with the successor to the popular Autobahn Police Simulator.
Blandville (Ultimate Games, 22nd Feb, $4.99) - It once was a place of your childhood happiness. None of that exists anymore. The question remains - why? What happened here? Where did all that beauty go, and what has taken it away? Interact with the environment - drag, drop, throw items around. Collect as much loot as possible. Explore the forest and the remains of once inhabited buildings. Keep your heat up - it's freezing out there. Stay inside, or sit by the campfire to avoid hypothermia. Cryptids - they roam the forest for the lookout of any survivors. Be careful out there.
Checkers Minimal (Hook Games, 25th Feb, $4.99) - Checkers Minimal contains all essential parts of good checkers game:- Custom rules: American Checkers, English Draughts, International Checkers, etc. - Online multiplayer, 20 seconds per move- Global leaderboards, Elo rating system- Private online games with your friend- Local multiplayer on a single device- Game vs AI- Touch support- Beautiful minimal design
Conan Chop Chop (1st Mar, $19.99) - Enter the Wrath-a-Thon, a fiendish challenge created by the evil sorcerer Thoth-Amon to trap the heroes of Hyboria. Crush, kill and maim your enemies with an arsenal of savage weapons as you and your friends take on the minions of evil. Upgrade your village, upgrade your skills and upgrade yourself (seriously, this game will make you a better person). Conan Chop Chop is the most epic and realistic stick figure game ever to be set in the world of Conan the Barbarian. Discover a delightfully savage world full of epic boss fights, perilous dungeons, and endless amounts of loot and item combinations. ONLINE AND COUCH CO-OP While you can choose to save the world solo, Conan Chop Chop really puts the party in "party game" when you step into its multiplayer mayhem. Featuring 1-4 player online and couch co-op, you can choose to play by yourself, with friends, or random people as you save the world from damnation.
Explosive Candy World (23rd Feb, $4.99) - Forget running or jumping. In Explosive Candy World, you'll have to destroy obstacles, blow yourself over pitfalls and ricochet off walls in order to reach the goal! It's physics-based mayhem with a precision platforming twist. Presented in cute and colorful pixel art and set to an original retro soundtrack, Explosive Candy World mixes classic style with modernized mechanics for a unique and unconventional platforming experience.
Flip The Buddy (25th Feb, $2.99) - Help your new buddies to go through increasingly difficult jumping levels. Rather than kick the buddy, here you flip the buddy!
HOT WHEELS – AcceleRacers Power Rage ($0.99) - Hot Wheels: Unleashed DLC pack.
Inside Her (bedroom) (Gamuzumi, 17th Feb, $2.99) - Inside Her (bedroom) is a 2D action puzzle game about monster girls' bedrooms. Move two mirrored characters to get items scattered around their rooms. Use their special skills to complete the puzzles and uncover their secrets. Every monster girl has a unique skill like moving through walls, pushing items, etc. Solve the puzzles to increase their desire.
Little Orpheus (1st Mar, $12.99) - Little Orpheus is a technicolor side-scrolling adventure game inspired by classic movies like Flash Gordon, Sinbad and The Land that Time Forgot. Join our bold yet hapless hero Comrade Ivan Ivanovich as he explores lost civilizations, undersea kingdoms, prehistoric jungles and lands beyond imagination. Gasp as he battles the subhuman tribe of the Menkv and escapes the clutches of dreadful monsters! Cheer as he triumphs over impossible odds and untold dangers in the subterranean worlds! With stunning visuals, brilliant acting and a world-class score, Little Orpheus is a subterranean epic you'll never forget. Comrades, to the center!
Moto Roader MC (Ratalaika Games, 25th Feb, $6.99) - The iconic Moto Roader MC was first released on 1992. Full speed ahead thirty years, and this beloved title is now poised at the starting line on consoles.
One Gun Guy (25th Feb, $4.99) - One Gun Guy is a straight forward no nonsense action platformer, one giant level littered with player upgrades, hazards to tackle, enemies to destroy and a boss to kill. After conquering the base difficulty take on this precision platformer's Hard Mode in your underwear!
Pixel Game Maker Series Arcanion: Tale of Magi (Gotcha Gotcha Games, 17th Feb, $10.99) - Magi is a girl of great promise, having recently entered training to become one of the defenders of the land, a Warrior of Arcanion. However, the great abbey is attacked while Magi is out on her first mission! Who would dare attack the Warriors of Arcanion in their seat of power, and what does this assailant want to do with the mysterious Dark Tome? Begin to explore the world of Arcanion in this classically styled action-platform experience! Unlock new powers, explore the various levels in any order you choose, and help Magi recover the Dark Tome! Play in either the classically difficult Hard Mode, or in the more forgiving Normal Mode! The "Pixel Game Maker Series" is a series of games created using the action game creation software "Pixel Game Maker MV" that can be enjoyed on the Nintendo Switch™.
Plunderer's Adventures (25th Feb) - The aspiring lady pirate Riley has finally acquired a ship to call her own, along with the beginnings of a lovely crew! Take the role of captain as you embark on an adventure to claim the turbulent seas and loot your rival's ships, recruit new allies, learn powerful combat skills and protect your booty from waves of enemy raiders!
Primordia (Wadjet Eye Games, 2nd Mar, $14.99) - Life has ceased. Man is but a myth. And now, even the machines have begun to fail. Explore a wasteland of rust and ruin, full of malfunctioning robots, mysterious devices, and ancient secrets. At its heart lies Metropol, the world's last city, where an implacable, power-hungry foe awaits. The android Horatio Nullbuilt spends his days studying the Book of Man, sparring with his sarcastic sidekick Crispin, and tinkering with the airship they call home — but their peaceful existence is destroyed when a rogue robot steals the power source they need to survive. Their search for energy will reveal buried truths about Metropol, mankind, and Horatio himself. What happened to the humans? And what fate awaits their mechanical inheritors? The answer will depend on the path you take and the choices you make.
Pudding Monsters (QubicGames, 25th Feb, $4.99) - The Pudding Monsters are on a mission to save their friends from the cold-hearted fridge owner! Growing into an ULTIMATE MEGA MONSTER sounds like the most reliable plan. Off the table, out of the house, and into the city – swipe to stick the Pudding Monsters together and save their friends! Take advantage of different monster species and their powers (like Slime Monster, who leaves a trail of green goo), boost your growth using the cloning machines, wear pretty little cars on your head and much more!
REDDEN: 100denarii (TROOOZE, 17th Feb, $7.99) - It's nearing closing time at the thrift shop "One Hundred Denarii". The exhausted store owner locks up after the last customer leaves,and yet chatter is heard in this supposedly empty store. Jo, the cutting board was once an arrow,Frying pan Bi, a recycled kunai,and Cal, the knife, with the same iron ore as a bullet. The amazing stories of these everyday tools are about to unfold. "As you all know, I once was. . . "The endless chatter of abandoned tools. An action arcade game from the tool's point of view, REDDEN!
Shipwreck Escape (Ocean Media, 17th Feb, $9.99) - Shipwreck Escape is a 2. 5D immersive game with puzzle elements. The catastrophe happened when the cruise ship was sailing from Athens to Dubai. The main character is a croupier in a ship's casino and he got stuck in this sinking hell. Solve the puzzles, save other passengers, control the two characters to walk through all levels to freedom, and find out the reason for the catastrophe. - More than 20 handcrafted levels with increasing difficulty (cabins, engine zone, casino, park, restaurants, and more);- The atmosphere of the sinking ship and panic all around;- Control two characters who have to help each other to escape;- There are many passengers who got into traps, but the time to escape is limited and only you decide whether to stay and help or save yourself;- Find the way through all obstacles: fire, steam, electrical hazards, and more;
Space Intervention (RandomSpin Games, 17th Feb, $0.99) - In classic style game. "Space Intervention" is:- Bright and nice graphics in 2D style. - Destroy aliens. - Beat your record. - Endless game. - The game gets harder with each wave. - You only have three lives.
To the Top, Mammoth! (isTom Games, 24th Feb, $10.00) - Compete with other players in a tower climbing challenge! Your cute climber pets are ready to conquer the spiral stairs of the trap ridden castle tower! Race against others in ghostplayer, or beat your own time, collect coins, unlock perks & cosmetics! Learn to avoid the mistakes of your past by seeing your own ghost on the stairs! The most esteemed (and also most adorable) tower climbers gathered to challenge each other! Join them and earn your place on the versus ghostplayer scoreboard! Choose your favorite animal to overcome deadly obstacles. Sharp spikes, rolling barrels, heavy rocks, falling platforms, fire traps and jumping bombs will be in your way, and it is up to your skills, strategy (and of course luck! ) to overcome all of them. Collect useful tools and abilities on your way up to survive and prosper! Are you ready for the challenge ahead?
Variable Barricade (Aksys Games, 24th Feb, $49.99) - Hibari is the sole heir to her family's fortune. Her grandfather is determined to find her a husband. He houses her in a luxurious home with handsome bachelors. As the men try to win her hand, Hibari endures endless trials and temptations. Has Grandpa chosen poorly, or is there more to these men than meets the eye? Hibari decides NOT to fall in love.
Wall of insanity (25th Feb, $7.00) - Wall of Insanity is a new project from the creators of the Slaughter game series. It features a dark storyline, intense action, and a mystical journey into a dead, smoldering world. You will face the unknown. A descent into a kingdom of anxiety and madness. The path through the abyss will be difficult, the trek extremely dangerous, and you will be left almost hopeless.
Who Is Zombie (24th Feb, $8.99) - 『Who Is Zombie』 is a zombie apocalypse simulation game where the player must prevent zombies from entering the civilian shelter. In the year 2033, the nation saw a large-scale zombie outbreak. As the government's mass care shelters reached full capacity, people begin to seek help at nearby civilian shelters instead. However, riots by the rejected and the infected lead to heavy casualties, causing the government to dispatch special inspectors to civilian shelters. Interview the refugees, screen out the infected, and protect your shelter as a supervisor!
Zombie Rollerz: Pinball Heroes (2nd Mar, $14.99) - Zombie Rollerz: Pinball Heroes is the ultimate mashup of classic pinball and zombie defense with rogue-like elements to ensure no two playthroughs are ever the same!
So that's your lot for this week's North American Nintendo Download. Go on, be a sport and drop a vote in the poll above, and comment below with your hot picks!