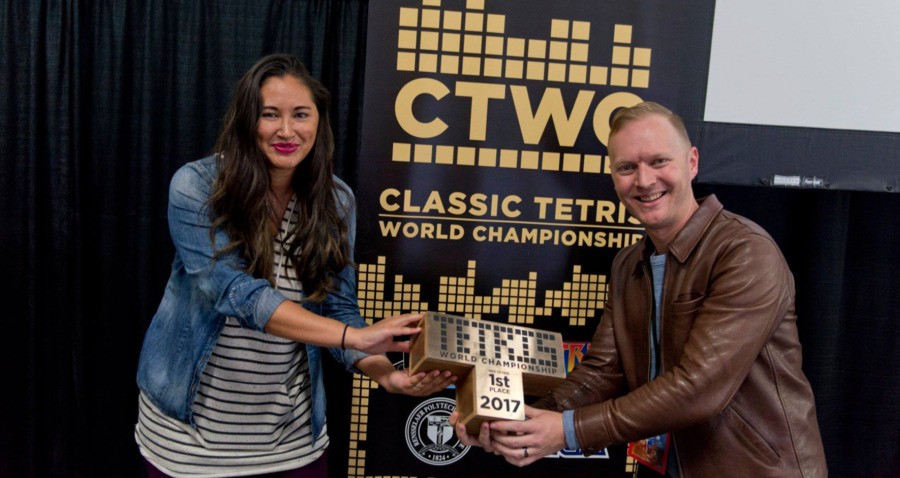 Despite the numerous sequels and spin-offs – such as Tetris 99 and Tetris Effect – the original NES Tetris remains one of the most popular versions of Alexey Pajitnov and Vladimir Pokhilko's famous puzzler, and last year, Classic Tetris World Championship (CTWC) drew record numbers in December.
However, in January of this year, the world of competitive Tetris lost one of its most famous faces when 39-year-old Jonas Neubauer passed away from "a cardiac arrhythmia of undetermined etiology". Neubauer might not be a name which those outside of the world of Tetris instantly recognise, but there's a good chance you've seen him in action.
He appeared in Ecstasy of Order: The Tetris Masters, a documentary that covered the first CTWC event (which he won), and he went on to win the tournament seven times in its first eight years. In 2017, he started recording tutorial videos that aimed to de-mystify the techniques and strategies that were necessary in high-level Tetris play, making him one of the most important figures in competitive Tetris (he also accidentally broke a world record live on Twitch, for good measure). Neubauer was a true ambassador for the game, and – according to Vice – "secretly the greatest Tetris player in the world".
Losing a figure of Neubauer's incredible standing has led many – including The Washington Post – to ask where competitive Tetris goes next. Casey Pelkey, vice president and general manager of the Tetris Company, feels there's so much more potential for the game in the world of esports, but losing Neubauer is a blow:
Quite honestly, we have a lot of room to grow [as an esport]. Our internal viewpoint is that we don't want to force this. It has to happen naturally, and the right game — or the right group of people — will take this to the next level, and the CTWC is a great example of that. Jonas is sort of like the Ben Hogan of the 'Tetris' world. The CTWC has blossomed now, and we're seeing much younger ages and different genders competing. … So Jonas set the standard, and now we'll forever be looking at the competition and saying, 'Who comes next?'
As The Washington Post so keenly notes, that question was perhaps answered some time ago, when Neubauer was involved with what has become one of the most-watched episodes in competitive Tetris history. In 2018, 16-year-old Joseph Saelee beat Neubauer in the CTWC final, thanks in no small part to the fact that he had been watching Neubauer's tutorials for quite some time. However, Saelee used a new technique known as "hypertapping," which has propelled Tetris scores even higher (and has since arguably been surpassed by the 'rolling' technique).
According to expert players, hypertapping introduced a new generation of Tetris masters who are outstripping what the older generation is capable of – but Neubauer's widow Heather Ito claims that her late husband was never bitter about being overtaken:
It was bittersweet for him. Hypertapping was something beyond his capabilities … but as someone who helped grow this community, he was delighted to see where it was going and the new levels — literally — they were taking it.
Now, the challenge is seeing how the CTWC can perform in 2021. Thanks to the ongoing Covid-19 pandemic it's almost certain to be a virtual event, just like last year, but there are plans to return to a physical event the following year – and it is likely that Neubauer will be honoured at this and future events, perhaps with a special award given in his name.
Ito adds:
I just spoke to Joseph [Saelee] recently and told him, again, that he's been a great champion. His response was, 'Hey, Jonas set the standard. We're just housekeeping.' So this group of youths have seen how [this community] is, and they want it to continue, just as Jonas wanted it: a place for like-minded nerds to have fun together.
[source washingtonpost.com]