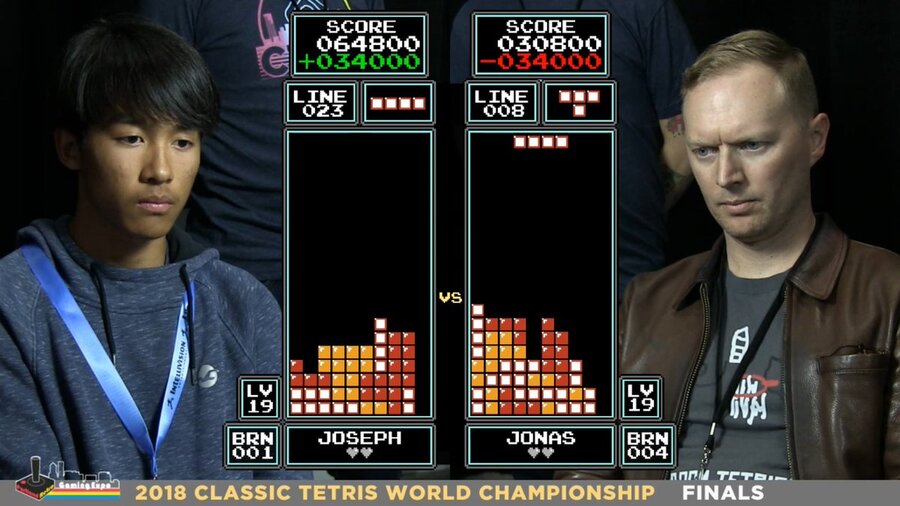 Joseph Saelee, a 16-year-old Tetris prodigy, has just emerged victorious at the Classic Tetris World Championship, defeating a seven-time world champion in the process.
The event took place at Portland, Oregon this weekend, ending yesterday on 21st October, with Joseph taking on Jonas Neubauer in the grand final. The championship was played out as a 32-bracket tournament, after an intense batch of qualifying rounds the day before, with players battling it out on the 1989 NES version of the game.
Sickeningly for most of us, this means that Saelee has just become the world champion of a game released 13 years before he was even born, and he certainly took the crown in style. Each match was a best-of-three affair, with players setting their games to the rolled sequence and agreed upon level (15 or 18). From there, each contestant simply hits 'start' at the same time and the player who achieves the highest score wins.
You can see Saelee's moment of victory below.
If you want to see the skill and super-quick controller work up close, here's a video showing the direct feed footage, too.
As you can probably expect, Joseph didn't simply turn up and defeat a seven-time world champion out of nowhere; he's been playing NES Tetris at a high level for some time now, and has shared several videos online of his accomplishments, too. His win yesterday earned him $1,000 in prize money - and the Classic Tetris World Championship trophy, of course.
[source eurogamer.net]