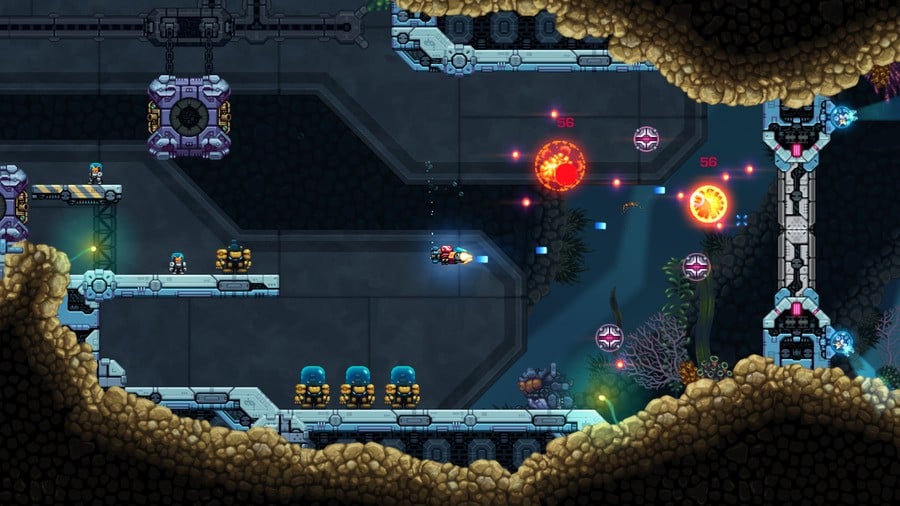 Tikipod – the studio behind Stealth Bastard, Gravity Crash and Rock Boshers – is working on a sequel to its hit shooter Aqua Kitty UDX, and it's coming to Switch.
The news was revealed during our Nintendo Life Indie Spotlight, which showed off a host of new titles for the Switch eShop.
According to the developer, Astro Aqua Kitty is an action RPG shoot-em-up "set underwater in space" and picks up right where the original Aqua Kitty left off.
You head into space to aid a mining crew of "cheerful cats" who happen to be drilling for things like milk, gems, power crystals and any other treasures they fancy. Of course, it's not as easy as simply grabbing the loot and heading for home; you'll be facing environmental hazards as well as the unwanted attention of native robotic aquatic creatures and pirate rabbit crews, the latter of which are also partial to looting and will contest ownership of materials and goodies with your feline crew.
You'll be expected to explore water-filled asteroids for booty, and assigning different crew members to your ship will allow you to rebalance your abilities.
The RPG elements come into play thanks to a levelling system which allows you to unlock new skills the more you play. You'll also be able to customise your weapon load-out and enhance your ship with special devices.