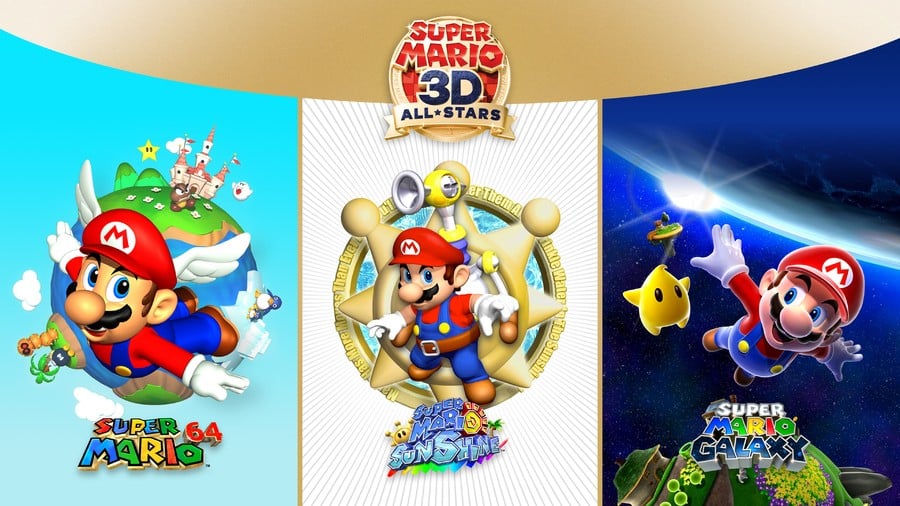 The latest Nintendo Download update for North America has arrived, and it's bringing new games galore to the eShop in your region. As always, be sure to drop a vote in our poll and comment down below with your potential picks for the week. Enjoy!
Switch eShop - Highlights
Super Mario 3D All-Stars (Nintendo, 18th Sep, $59.99) - Super Mario 3D All-Stars, which includes Super Mario 64, Super Mario Sunshine and Super Mario Galaxy all in one package, is the ideal way to experience some of Mario's greatest adventures of all time. In addition to having higher resolutions than their original versions, the games have been optimized for a smooth gameplay experience on Nintendo Switch. Super Mario 3D All-Stars also includes an in-game music-player mode to play the music and songs from all three games. Put on your adventure cap as Mario explores the Mushroom Kingdom and beyond! Read our Super Mario 3D All-Stars review.
Mini Motor Racing X (NEXTGENREALITY, 17th Sep, $19.99) - Mini Motor Racing X explodes onto Nintendo Switch with local split-screen and online multiplayer high-octane racing action! The classic Mini Motor career mode is back, with hundreds of races, dozens of cars to unlock and upgrade, and four fiendish championships to master. But that's not all: MMRX adds some firepower to the mix in the new Type-X battle mode. Put your pedal to the metal for Mini Motor Racing X and enjoy fast-paced racing action across 52 vibrant environments.
Unrailed! (Daedalic Entertainment, 23rd Sep, $0.00) - Unrailed! is an intense and chaotic railroad construction experience co-op multiplayer game in which you work together with your friends to build a train track across endless procedurally generated worlds. Master random encounters with its inhabitants, upgrade your train and keep it from derailing. With unlockable characters, a dynamic weather system, and a day and night system, get ready for railroad action that is blocky to the core.
WWE 2K Battlegrounds (2K Sports, 18th Sep, $39.99) - The world of WWE is your battleground with over-the-top, arcade action as your favorite WWE Superstars and Legends battle in interactive environments around the world. Compete using special abilities and power-ups in match types like Steel Cage and Royal Rumble. Play through a new story mode told through original comic strips, compete in Online Tournaments or stake your claim as King of the Battleground against players from around the world! Plus, battle it out in local multiplayer and dominate your friends.
Switch eShop - New Releases
2weistein – The Curse of the Red Dragon (14th Sep, $18.00) - All was peace and quiet in Asban and the whole land of Trillion – until that day on which the gates remained closed, as if by ghostly hand, and other strange things happened. The mean magician Godron has stolen the book Mathematica from the creator of Trillion, and has cast an evil spell over the city: a ban on mathematics. Godron wants to gain power over the whole land and transform the world according to his will.
CastleStorm II (Zen Studios, 23rd Sep, $19.99) - Aim your catapults! Command your troops! Bloody the battlefield! CastleStorm II levels up gaming's greatest genre mishmash with ruthless destruction powered by Unreal 4, plus a whole new metagame of strategic, tactical conquest.
Dog Duty (Soedesco, 17th Sep, $19.99) - Control a squad of misfits as they go up against some evil bigwig Octopus Commander and his army who are threatening world peace. In this fun, fast-paced real-time tactics game, you go into combat and use guerrilla warfare to eliminate all octo-scum. Fight on top of your moving vehicle as you go from island to island to liberate outposts and defeat wicked bosses in their crazy octo-machines. Wreck those squids up, but beware, they're well-armed.
Drag Racing Rivals (No Gravity Games, 17th Sep, $9.99) - Become part of the thrilling world of underground street drag racing in this awesome high-speed game with realistic graphics. Start as an unknown outsider and race your way to the top. Race in underground street races against your rivals from drag racing clans. Win cash, new amazing cars, and upgrade them to the max! Drive on!
Endurance – space action (Ivan Panasenko, 17th Sep, $7.99) - Endurance is a prequel of Ailment (another top-down sci-fi action shooting game). Endurance will tell you the story which happened before events in Ailment (you don't have to play Ailment before). You're a researcher on a spaceship called Endurance, and one day your crew members, your friends get infected and become insane and start acting like zombies.
Flying Soldiers (Wild Sphere, 17th Sep, $17.99) - Not everything is as it seems in this outlandish puzzle game, because these "flying soldiers" can hardly glide a few inches and they don't exactly have the abilities to go into battle. So, it's no surprise that, with squads made up of these "characters", they wouldn't be able to get themselves out of the mess they're in.
Georifters (Busy Toaster Games, 31st Jul, $29.99) - Steal the ground right from under your enemies! or yourself! In "Georifters" you can spin walls, twist tunnels, crush critters, battle against the ground or with it! It can be your tool or a weapon you use to smash others in a series of fast-paced ground busting arenas. Choose from a variety of heroes, dress them up (or down) and combine outfits to look fabulous on your way to victory.
GORSD (Springloaded, 18th Sep, $16.99) - Intense arena combat, set deep inside the heart of darkness. Discover the story of the GORSD alone, or enter battle with up to 4 friends in local multiplayer. Born from a womb-eye, you discover a world seething with challenges created by an unknown power. For what purpose were you created? Uncover the truth of the GORSD.
Journey of the Broken Circle (Nakana.io, 18th Sep, $8.00) - Meet fascinating characters on your quest to complete the imperfect Circle, and eventually pair with some! These partners bring their unique abilities to let you overcome new obstacles and keep discovering the world. They also bring their own personality to roll with. In this 4-5 hours adventure, full of ups and downs, but always playful and rewarding, the Circle learns about itself and you, along with it.
Kingdom Rush Origins (Ironhide Game Studio, 17th Sep, $14.99) - Kingdom Rush Origins is the third instalment of the award-winning Kingdom Rush saga, loved by millions and earning accolades from gamers and critics around the globe. Take a trip back to the beginning, before Vez'nan ever thought to threaten the kingdom with the gem of power, and experience even more of the lightning-fast, exceptionally captivating gameplay that made the franchise a cornerstone of essential tower defense games. Read our Kingdom Rush Origins review
Moero Crystal H (eastasiasoft, 17th Sep, $39.99) - Take the role of Zenox as he embarks on a mission to retrieve the Bra of Darkness from a mysterious thief who's corrupting monster girls throughout the land. In this enhanced "Hyper" version of first-person dungeon RPG Moero Crystal, encounter and recruit more than 80 monster girls, including all previous DLC characters, in remastered HD presentation and subtitled in English for the first time!
My Forged Wedding (Voltage, 17th Sep, $24.99) - Due to a twist of fate, you're now pretending to be the wife of a man you've just met. At first, you're against the idea of this fake marriage, but as the days go on and you get to know one another, your mutual attraction deepens.
Nevaeh (CFK, 17th Sep, $12.99) - Darkness looms over a bright and peaceful town as street lights begin to go out one by one. To bring back the light, a girl heads to the Tower from which the light came. Hidden in the Tower was a glowing butterfly. Thinking its light could help the town, the girl takes the butterfly with her. But what she found was the town entirely covered in darkness. The girl heads to the Tower once again to find a way to save the town. With the light gone, the Tower turned into a place full of lethal traps and monsters lurking in the dark. Venture forth with the glowing butterfly. It is up to you to drive out the dark and save the townspeople!
Orbt XL (Nickervision Studios, 23rd Sep, $0.99) - Stay in orbit while avoiding obstacles or being sucked into a black hole. Survive as long as you can while dodging and weaving between the various obstacles, the closer you orbit to the center, the faster you achieve points. The longer you last, the harder it gets. Good Luck and have fun playing with gravity! Simple one-button controls; just pressing the Orbt button allows your planet to move away from the black hole, not pressing the button forces your planet to be sucked towards the black hole.
Saboteur SiO (SimFabric, 18th Sep, $10.99) - Saboteur SiO is the official sequel to the classic retro games Saboteur! and Saboteur II: Avenging Angel. Travel the world in this original ninja mission, created and developed by the original author, Clive Townsend. In 1985 Saboteur! received the prestigious award "The Crash Smash" from Crash magazine and was high-rated with a 93% score. In 1987 Clive made the sequel Saboteur II: Avenging Angel - the first video game to feature a female protagonist - Nina - sister of the ninja from the first game. Now, after over three decades, SimFabric in collaboration with Clive Townsend have prepared the next instalment in the Saboteur saga.
Super Punch Patrol (Hörberg Productions, 17th Sep, $4.99) - Classic Beat 'em Up action from the creator of Gunman Clive and Mechstermination Force. When crime and violence dominate the streets, Police Chief Anders Punch decides to take desperate measures. Defeat the Evil Crime Syndicate using just your fists!
Tamiku (Ratalaika Games, 18th Sep, $4.99) - You are an alien from a distant galaxy who is totally obsessed with blow up balloons. Having popped every last balloon on your home planet, now you must venture to other worlds in search of more balloons to pop. Inspired by classic arcade games, Tamiku is an arcade game in which you have to burst all the balloons of a level without being killed. To do this you will face different dangers, jump, run and quickly inflate the red balloons!
The Secret Order: Return to the Buried Kingdom (Artifex Mundi, 18th Sep, $14.99) - The Buried Kingdom in on the verge of collapse. Maintaining the balance between peace and chaos has become almost impossible, as the dragons start to behave unpredictably. Who is behind all the magic anomalies? Explore beautiful locations, encounter unique beasts, solve riddles, reach the finale of this epic quest, and discover the power of friendship!
Titan Glory (Atypical Games, 6th Aug, $4.99) - Titan Glory is a sci-fi mech combat game with an emphasis on mech and weapon variety, multiple game modes and spectacular combat arenas. In the near future, mech combat sports are all the rage! Various match rules and objectives bring the thrill of the game in glorious skirmishes filled with explosions and projectiles. Taking part in tournaments and winning matches will earn you valuable credits and ranks. In turn these will give you access to 12 mechs with different weapon loadouts and attributes. For all of them you will have to choose which component to upgrade and where to push your machine to the limits.
Twin Breaker: A Sacred Symbols Adventure (eastasiasoft, 23rd Sep, $9.99) - In the early 2300s, Earth is still recovering from a decades-long World War that engulfed most of the planet, except for an isolationist United States that used its power and prestige not to fight, but to reach for the stars. But when NASA's generation ships disappear in interstellar space, only two pilots are capable of figuring out why.
Vampire's Fall: Origins (17th Sep, $12.99) - Vampire's Fall: Origins is a 2D open-world RPG with tactical combat. Create your character, choose your bloodline and venture out in the world. For countless years the villagers of Vamp'Ire have enjoyed a life of peace and happiness. But now, rumors are spreading about a wielder of dark magic - a Witchmaster. Fearing the rumors to be true, the village musters a militia to prepare for the worst. You are a recruit enrolling to defend the village. Little do you know, fate has something special in store for you…
WWE 2K Battlegrounds (2K Sports, 18th Sep, $39.99) - The world of WWE is your battleground with over the top, arcade action as your favorite WWE Superstars and Legends battle in interactive environments around the world. Compete using special abilities and power-ups in match types like Steel Cage, Royal Rumble, and more!
So that's your lot for this week's North American Nintendo Download. Go on, be a sport and drop a vote in the poll above, and comment below with your hot picks!