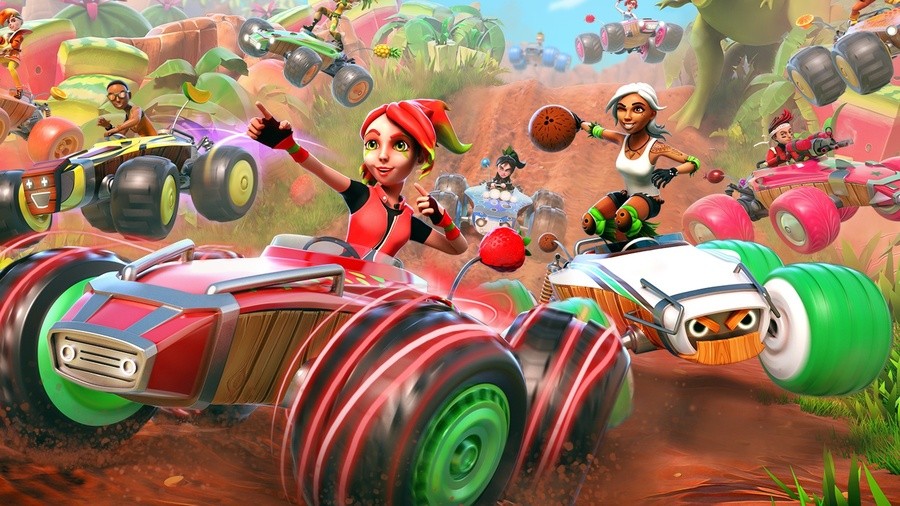 All-Star Fruit Racing, a kart racer from 3DClouds and PQube which launched on Switch back in 2018, has zoomed straight to pole position in the UK eShop charts.
It might seem odd to see the game outperforming the likes of Animal Crossing: New Horizons and Minecraft, but its success is down to a mighty sale currently being held by its publisher. At present, you can buy the game at a whopping 95% off, taking the usual £15.49 asking price right down to just 77p.
The 95% discount is also available across North America (making it just $0.99), and at the time of writing, the game sits in 9th place in the US charts. Of course, this isn't the first time we've seen publishers lower prices to such a degree on the eShop - QubicGames once discounted almost its entire library in a very generous sale.
---
---
If you're intrigued, we gave the game a 6/10 when we reviewed it a couple of years ago. Here's just a taste of what we had to say, although with an asking price of £0.77 / $0.99, it's hard to say no:
All-Star Fruit Racing takes a unique karting weapon system, throws it into a blender with some cute presentation ideas and an unfortunate series of technical annoyances, and ends up with a pretty mixed bag as a result. This is a competent racer, and there's just about enough content to make you want to keep playing, but it never realises the potential that it could have had and doesn't really stand up to the heights that other titles can offer.