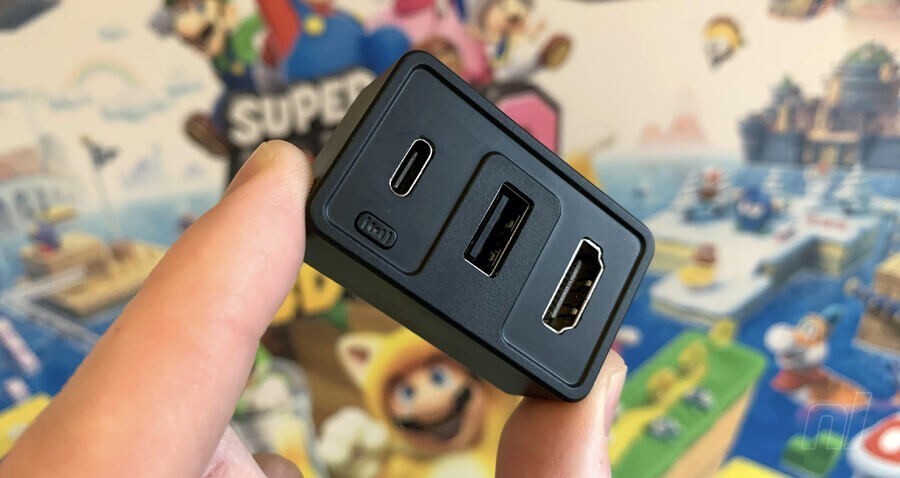 Update #3 [Sun 15th Mar, 2020 15:00 GMT]: The Kickstarter is now live again, and we've had an official statement from Better Digi:
Dear Dongii fans,

First of all, thanks to all backers' love right from the beginning. A few days ago we got a little problem with Nintendo copyright. Our company highly respects intellectual property protection, and we were unintentional to infringe on Nintendo's copyright by using the Nintendo game scene in the introduction of product function. But it just showed in the product's use cases, we never intended to use the games character's image to promote our products. We apologize to the copyright party and will resolve it properly. Our team will be more careful with the copyright-protected content and provide better services for you in the future. And we have submitted our own product's patent. We highly valued intellectual property protection and product innovation and want to build a good community with all of you.
As we all know, Kickstarter always advocates and encourages innovation. It is a fair platform and helps tons of outstanding products to get support and moving the development of technology forward. I believe this is also how all backers think about Kickstarter. We highly value each of your precise options. Our production is still ongoing to deliver the prime output for all of our backers after the campaign end. We really appreciate the early backers' support and trust and we have prepared an exquisite gift for every backer who still supports us until now. Your support and trust is our motivation.

Thanks,

CEO of Better DiGi Team
---
Update #2 [Mon 9th Mar, 2020 11:40 GMT]: Bigger Digi has told us why the Kickstarter was pulled – it was due to the use of a Nintendo copyright-protected game in the materials used for the campaign. The Kickstarter is coming back 'soon', along with a more detailed statement from the company's CEO.
---
Update #1 [Fri 6th Mar, 2020 14:00 GMT]: Since the feature was written, the Kickstarter campaign has been taken down due to an "intellectual property dispute". When the campaign launched, a second campaign – branded as 'fake' by Better Digi – also went live. Whether or not this is related, we'll no doubt find out soon. We've reached out to Better Digi and will update this piece with its response when we have it.
---
Yesterday, we announced the news that Better Digi's Dongii – a Switch dock that's small enough to fit in your pocket – had hit crowdfunding platform Kickstarter. We've actually had one of these units at the Nintendo Life office for a few weeks now, and have been putting it through its paces to see what all the fuss is about. The good news? This tiny little device is something of a game-changer, not only giving Switch owners a cheap alternative to the expensive and hard-to-find official dock, but also a wonderfully portable option which can easily be transported with the console if you're visiting a friend and fancy some docked action.
The Dongii joins Human Things' Genki Convert Dock in the category of teeny, tiny Switch docks and has a single male USB-C on one side, which plugs into the power supply (more on that in a second). On the other, it offers three ports: HDMI, USB-C and USB-A. The first two are pretty self-explanatory; they connect the Dongii to your TV and Switch respectively. The latter is for connecting physical devices, such as wired controllers. There's also Bluetooth 5.0 capability so you can connect the unit to wireless audio devices like headphones, with pairing handled by a physical button on the Dongii itself (it's worth noting that the cheapest version of the Dongii lacks Bluetooth support).
However, the Dongii itself is only part of the picture – it needs to be connected to a USB-C charger to work properly, and even then, it has to be a charger that will supply the required juice. When fully assembled, the unit is significantly smaller than the original Switch dock, which, lest we forget, also needs a bulky power supply to operate. The final unit will ship with its own 65W GaN charger, but this wasn't ready when our review unit was sent to us, so we've used a standard 45W USB-C power block.
While this powers the Dongii just fine, it doesn't provide the fast-charging capability of the more potent 65W dock. It's also not as nice to look at as it obviously hasn't been designed with the Dongii in mind, but the final product will look a lot more appealing. Another plus to the Dongii's charger being detachable is that you can plug it directly into any portable power bank that supports USB-C PD and supplied the correct amount of power – combine this setup with a portable screen, like the C-Force CF016XT, and you're taking your 'on-the-road' setup to a whole new level.
Of course, when it comes to third-party docks, the question of safety is always present. We've had reports of docks bricking Switch consoles in the past, with some suggesting that, in the early days of USB-C, the protocol wasn't standard across all products. However, according to Better Digi, the Dongii benefits from "years of optimisation" and "countless rounds of testing", which means it "delivers the proper voltage and amperage to the Switch based on its battery level and ensures the best and safest performance".
While we can't categorically say this is totally true, we didn't experience any issues using the Dongii over the past few weeks, even when running it through the aforementioned third-party charger. Better Digi also claims that because the Switch isn't actually 'docked' during use, heat build-up is less of an issue. We've all heard the anecdotal reports of consoles 'warping' as they get hot inside the dock, but we're not sure it's as widespread a problem as Better Digi might have you believe.
Dongii is a great accessory for your Switch, then, but that's not the end of its usefulness; because it supports the USB-C standard, it can also be used with devices other than your Switch, such as laptops. The USB-A port allows you to plug in flash drives and other accessories, and you can even use the device to connect your smartphone to a monitor, turning it into a computer you can carry in your pocket (assuming it has the functionality that is, like Samsung's phones). It's capable of outputting up to 4K resolution for this purpose.
Starting at just $29 via its crowdfunding campaign (it then rises to $65), the Dongii is likely to become a must-have device for Switch owners. It has already doubled its initial Kickstarter target of $10,000, and if you're currently on the fence about supporting this crowdfunding campaign, we'd recommend you give it a shot – especially if you're a keen traveller or are simply in the market for a second dock in your home.