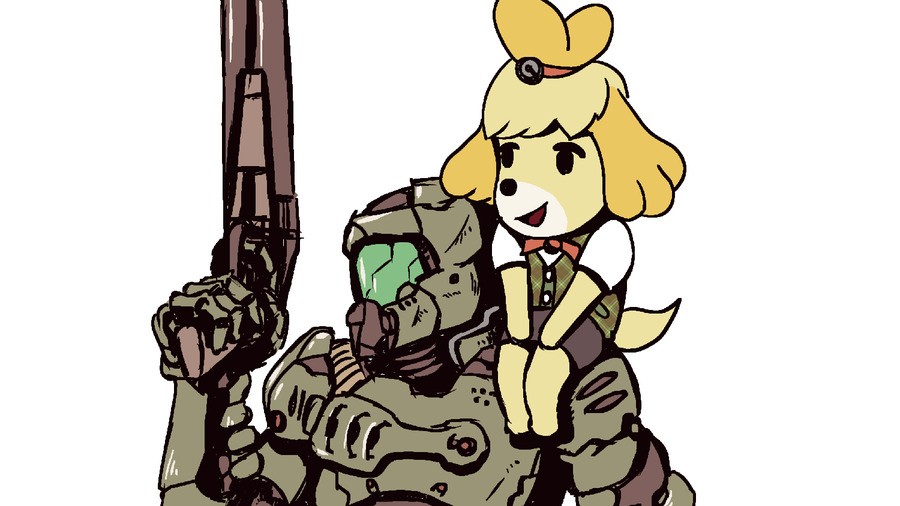 Two of the year's biggest (and most wildly different) games, Animal Crossing: New Horizons and DOOM Eternal, are scheduled to launch on the very same day, March 20th. DOOM's creative director has said that this amusing turn of events is "awesome", and we'd have to agree, but fans are taking things one step further.
You see, as the big day approaches and players begin to nervously decide which title they want to pick up first, fan art of the series' two most famous stars has started spreading across the internet. Not as independent pieces celebrating each game, but rather the two of them together, generally enjoying each other's vastly different pastimes in humorous yet endearing poses.
You can check out some of the best we've stumbled across below, some of which actually dates back quite a while now, but there's plenty out there both old and new:
We'll wrap things up with this - an audiovisual treat in which Doomguy and Isabelle host a podcast together.
We think it's pretty great that two games which couldn't be further apart are generating the same levels of buzz, and especially that so many fans are genuinely interested in playing them both this March.
Have you decided which game you'll be playing first? Do you think we should have a real DOOM x Animal Crossing game one day? For the sake of our favourite adorable animals, perhaps that wouldn't be wise...
[source pcgamer.com]