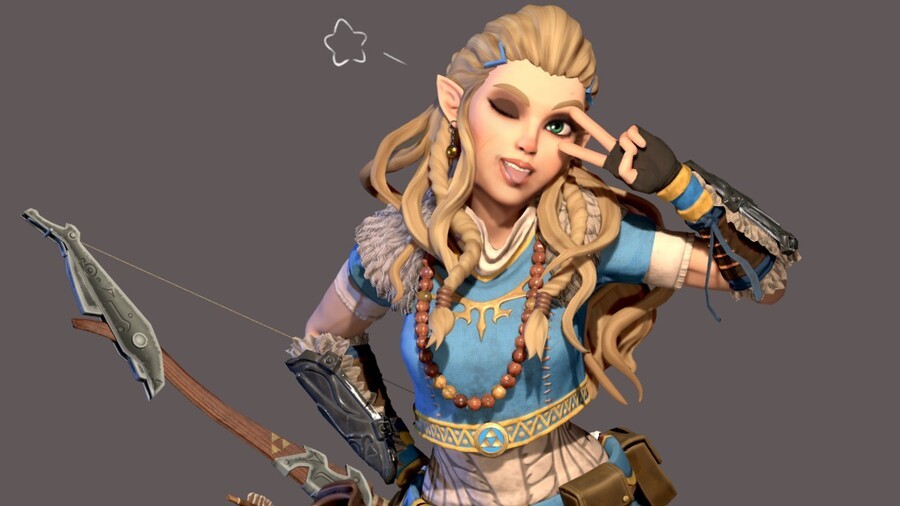 We've witnessed some surprising and spectacular cross-platform collaborations recently, although we're having trouble thinking of something we'd rather see come to fruition in a real game than this brilliant fusion of Princess Zelda from The Legend of Zelda: Breath of the Wild and Aloy from Guerrilla Games' PS4 hit Horizon: Zero Dawn, courtesy of 3D artist Victor Herranz.
Herranz, who works at Gameloft, has mixed the two bow users into one character combining elements from both series into the costume. 'Zeldaloy', as Herranz dubbed her, has two mini Hylian shields as kneepads and Aloy's furry boots and more rugged outdoor wear:
Elsewhere the artist has reimagined another princess, probably best known in her apple-loving Disney guise. You've certainly heard of her, although you may be surprised to learn she's a Super NES fan:
She's probably playing Super Mario Kart if that leaning and 'concentration tongue' is anything to go by. Be sure to check out Herranz's Artstation page for more examples and a whole load of brilliant artwork.
Aloy and Zelda - a great mashup, no? Let us know what other video game characters you think would fuse together well, possibly following some science experiment gone wrong (or right).
[source kotaku.com.au, via artstation.com]