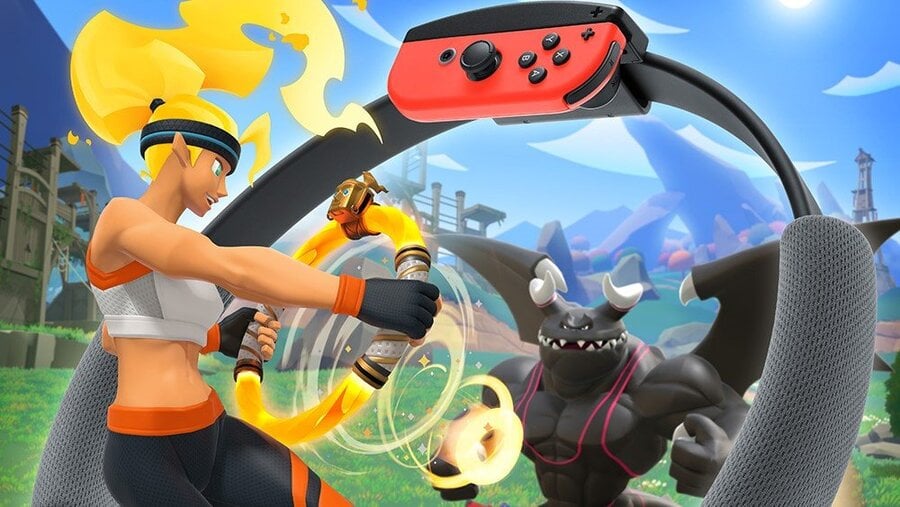 Nintendo's latest game Ring Fit Adventure is now available on the Switch and according to a poll we ran yesterday, a sizable chunk of you here on Nintendo Life have shown interest in trying out this fun new experience.
For anyone who has already picked up a copy of the game, you'll be pleased to hear Version 1.1.0 has already been rolled out. It adds online features and various "other features" that improve the game.
Below are the full patch notes from the official Nintendo support page:
---
Online Features
- Adds Friends Ranking and Weekly World Ranking in the Quick Play rankings.
- Adds Everyone's Records in My Menu for the Adventure and Custom modes, which lets you view Everyone's Exercise Rankings and Everyone's Profiles.
- Adds the Gift to a Friend function to Multitask Mode, which lets you gift the number of presses and pulls you do to your friends.(This data update will be required to receive a gift from friends.)
- Adds Share Setting for Online Features to Settings in My Menu for the Adventure and Custom modes.
Other Features
- Now supports the Nintendo Switch system Alarm function.
- Adds a new function, Restart the adventure from the beginning, to Settings in My Menu for the Adventure mode.
- Enables the screenshot-capture function by pressing the R button on the Ring-Con even while My Menu is open.
- The gameplay has been improved by addressing a few additional bugs.
- Allows alarm settings (day & time) within the Ring Fit Adventure software.
- Click Set Alarm in the title screen to jump to the setting screen.
---
If your system is connected to the internet, the update will download and install automatically. Save data will also still be available for use after downloading the update.

Have you tried out Version 1.1.0 yet? Do you even own the game? Leave a comment below.
[source en-americas-support.nintendo.com]