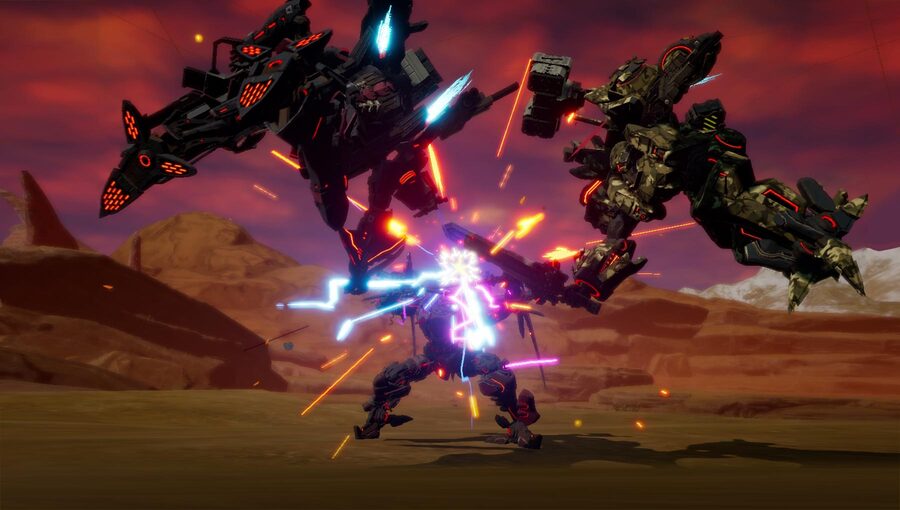 As part of a string of updates promised for the rest of 2019, Daemon X Machina has received a free update today which adds a lovely spot of competitive multiplayer into the mix.
You can now join up with friends either online or via local wireless (you'll all need your own copy of the game), strutting your stuff and showing everyone exactly who's the greatest mercenary on the field. Nintendo has provided an official description of the game's bolstered multiplayer offerings, so we'll hand it over:
Join up to three friends via local wireless or online for special co-operative multiplayer missions. Credits, weapons and armour earned in these missions can then be used in both single- and co-op multiplayer modes.

Some co-op missions pit you against colossal Immortal machines in a true fight for survival, where teamwork is the only way to win. You can also face off against opposing Reclaimers in their own Arsenals – take them all down and show your dominance!
Plenty more content is planned for the upcoming months, too, so if you've been left looking for a reason to jump back in, now might be the time to do so. You can catch up on the changes set to come right here.
Have you been waiting for a feature like this? Does this make you want to load up the game for another try? Tell us below.
[via nintendo.co.uk]