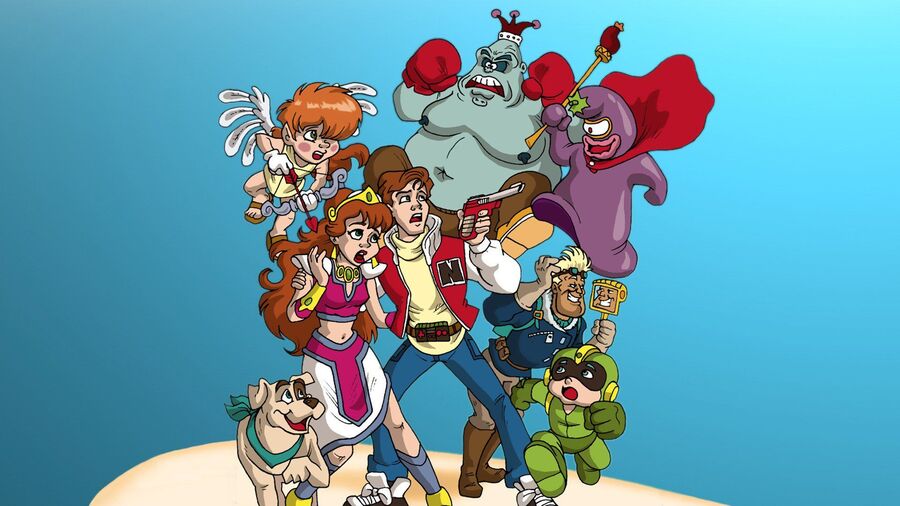 Super Smash Bros.? Pffft, garbage. The Marvel Cinematic Universe? Complete trash. Project X Zone? Hmmm, we appreciate your thinking but even so, nope. The greatest crossover of all time turned 30 years old this month and none of you selfish sods even noticed. We're talking, of course, about Captain N: The Game Master.
This Saturday morning cartoon series by DiC (snigger) – the same production company behind the Super Mario Bros. Super Show and Legend of Zelda cartoons – told the story of Kevin Keene, a teenage lad whose TV turns into a warp zone while he's playing the NES. He's sucked into his telly and ends up trapped in Videoland, a new universe where all the characters and environments are from Nintendo games.
The prophecy (because there's always a prophecy) determines that Kevin is the heroic Captain N, who will save Videoland from the evil Mother Brain (the one from the end of Metroid), and her minions including King Hippo from Punch-Out!! and the Eggplant Wizard from Kid Icarus and Dr Wily from Mega Man. Helping Kevin out are the rest of the 'N Team', consisting of Simon Belmont from Castlevania, Mega Man from... um, Mega Man, and Pit from Kid Icarus (though he's actually called 'Kid Icarus' here). Oh, and there's also Princess Lana, who isn't from any game and just seems to be there as a love interest for Kevin.
Over the course of 34 gloriously bizarre episodes between September 1989 and October 1991, Captain N captured the imaginations of many Nintendo fans – including this writer, who still thinks it's the greatest cartoon ever – who always dreamed of what it would be like to live in their favourite Nintendo games. And, as it turned out, games they'd barely heard of, too. Allow us then, dear reader, to take you on a tour of Videoland's odder moments. In a show filled with bizarre situations and ridiculous premises, these are the ones that made us think "eh?" more than any other.
While you read about these gloriously strange highlights from this glorious cult show, please also join us in doing what everyone seems to have forgotten to do and raise your glasses to Captain N. Happy 30th anniversary, pal, you made this writer's childhood a significantly happier one for being part of it.
---
Well, these were our strangest moments in captain N... but what about yours? Celebrate Kevin's 30th birthday with a comment below!