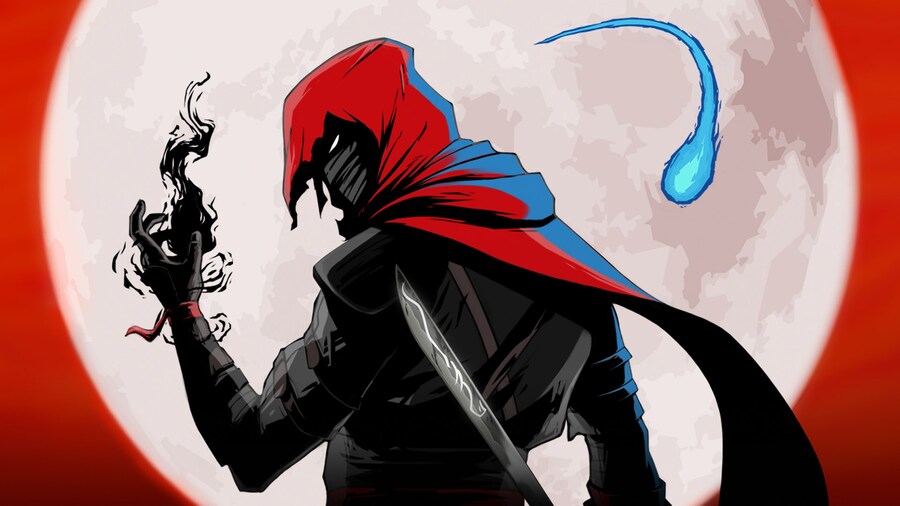 For those not in the know, Aragami: Shadow Edition is a third-person stealth game that casts you as a restless warrior who is blessed with the ability to control shadows, which must come in very useful at parties and social gatherings. You may have heard of this interesting title thanks to its release on other platforms, but it's now the turn of the Switch to get in on the action.
As we're so excited about the game's upcoming Nintendo launch on 21st February, we reached out to Lince Works' David León to find out a bit more about this upcoming Tenchu-style stealth-em-up for your edification...
---
For the uninitiated, could you please let us know what Aragami Shadow Edition is all about?
Aragami is a stealth game in which you play as an undead assassin with the power to control the shadows. Think of it as a sort of modern Tenchu, with cel-shading art style, and supernatural powers. While there are other stealth games out there, I believe there aren't that many stealth games in 3D and featuring online, co-op multiplayer. Yes, you head that right! You can play the full story campaign in the base game and included story DLCs with a friend online.
On the topic of DLC, this version comes packed with content. Could you tell us a bit about that?
Aragami was originally released in late 2016. Since then, we've been adding new stuff to the game, the biggest one being the Aragami: Nightfall storyline. It's a paid DLC (included in the Shadow Edition for Nintendo Switch) that adds hours of content, taking place just before the events told in the base game. You could say that Aragami: Nightfall is the prequel to Aragami.
In Aragami: Nightfall, you can choose between two new playable characters, Shadow Assassins Hyo and Shinobu, as they go after the mysterious 'Alchemist' in one last mission to bring back a long-lost companion.
As Aragami has been released on other platforms already, could you tell us a bit about the reaction to it at the time? Did it meet with your expectations, and were you able to factor any feedback into the Shadow Edition?
Aragami launched in October 2016 in a complete but flawed state. Performance was not that good, and there were plenty of bugs we hadn't caught until after the game was released. During 2017 and 2018 we kept updating Aragami to add new features and fix any major issue that was reported to us. A few months ago, Aragami was relaunched on Xbox One to some extremely positive reviews, and on Steam it has more than 3,000 reviews, delivering a 'Very Positive' average; so we are confident Aragami is a great game.
What challenges did you face with porting the game to the Switch?
As Miyamoto says, 'a delayed game is eventually good, but a rushed game is forever bad'. We were forced to delay the release of Aragami for Switch back in Autumn, since we quickly noticed that we needed some extra months for the game to feel as good, or even better, than its other console counterparts. Aragami, as a 3D game with a big usage of light and shadows, is not a GPU-friendly game. It took a huge effort on behalf of Lince Works and Stage Clear Studios to make it run flawlessly on Nintendo Switch, but I believe we achieved it.
What has the process been like working with an external company to assist with the Switch port?
Since both Lince Works and Stage Clear are based in Spain, it was really easy to help each other with technical struggles and achieve a port quality that rivalled any other console version. We didn't simply hand out the game to somebody else; instead, we frequently travelled to the Stage Clear offices to work side-by-side, and kept daily Skype meetings to coordinate efforts. I believe this constant communication really helped the port.
What other stealth games did you look to for inspiration when you began first working on Aragami?
Tenchu is the first one that comes to mind. It was one of my first games on PlayStation One, and I've always wondered why no other studio has taken the reins on the 'ninja game' genre. That's probably how Aragami was born, as the answer to all those players that wanted a new stealth game that felt both challenging and fast.
The art style within the game is quite striking. What inspirations did you draw from with this?
The character design has some Journey vibes, with its glowing scarf and diegetic HUD. Japanese mythology and culture were also a clear inspiration, since most of the team grew up watching Anime shows like Dragon Ball, Ranma 1/2, and Yu Yu Hakusho. In any case, we wanted to create a world of our own, and I believe it ended up having influences from both Asian and western cultures, giving it a unique identity. I think that has proven to be one of the charms of the game, and its characters.
How much freedom does the player have in choosing how to tackle the objectives?
Aragami is a story-driven game. That means it has a scenario structure tied to a linear storyline, but with the caveat that each scenario is designed as an open playground. That means that you usually can find shortcuts and plenty of ways to reach your objectives. Players can also decide if they want to kill every guard in their way, or do a full 'pacifist' run. Both ways are totally feasible, and even encouraged.
Can you tell us a bit about how the Shadow Techniques work within the game?
As I was saying, players can have very different playstyles. We label aggressive players as 'Oni' players, and the sneakier players as 'Ghost'. The pacifist players use a 'Kami' playstyle. That means that there's a skill tree of abilities divided by aggressive and stealthy or pacifist skills. For example, you could unlock an ability that lets you place a trap on the battlefield that swallows your targets into an abyss; or you could unlock an ability that turns you invisible for a few seconds. To unlock skills you must find hidden Shadow Scrolls through the game, which also act as a diary of sorts, telling you details about the backstory and world of Aragami.
Could you tell us a little more about online co-op mode?
You can set up a Multiplayer Lobby and let any friend join your party. In the base game, you can play the full story campaign with another Aragami at your side. You can customize your Aragami from a set of skins that are included in the Shadow Edition. In Aragami: Nightfall, two players can play the full campaign together as the old and stoic Hyo and the female assassin Shinobu. Being a stealth game, communication is essential if you want to succeed, since a failed stealth attempt will trigger an area alarm that will also affect your partner.
Do you have any closing words for our readers?
Even if you are not a fan of stealth games, Aragami has the proper mix of challenge and action to introduce new fans to the genre. We have put a lot of love on this version of Aragami, and I truly believe Aragami will be a solid and unforgettable experience on Switch. I hope that you enjoy Aragami on Switch as much as we enjoyed developing it. Thank you!
---
Thanks to David for his time. Aragami: Shadow Edition lands on the Nintendo Switch on 21st February.