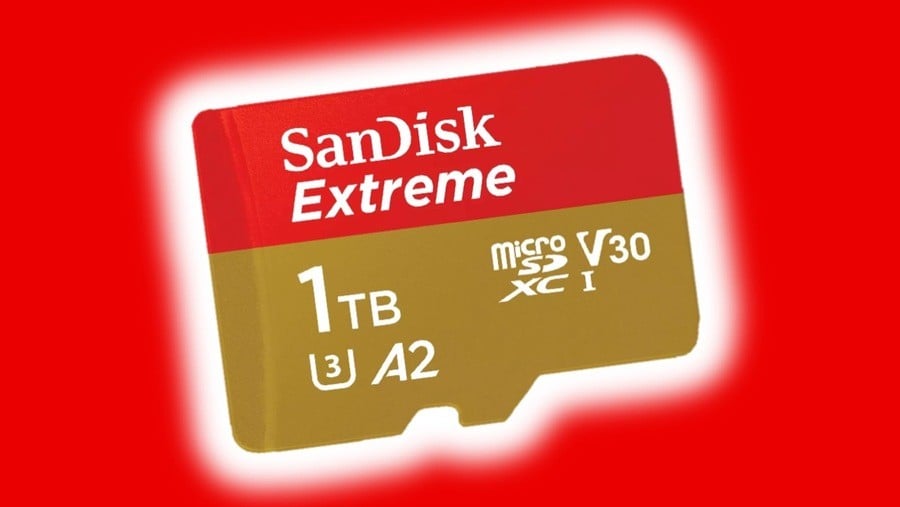 Two brand new microSD cards, both boasting a whopping 1TB of storage space, have been officially unveiled today. With one of these beauties tucked away inside your Switch console, you'll likely never have to worry about storage concerns ever again.
The cards in question come from Micron and SanDisk (which you can see for yourself up above). The SanDisk card is said to be able to achieve up to 160MB/s read speed, as opposed to Micron's 100MB/s, although the Micron card just leads the race on max write performance. To put things much more simply, though, either option can comfortably store and play your Switch games and you'll be gaining an incredible 1,000 GB of storage in the process. Slightly more than the 32GB internal storage, then.
So when can you get your hands on one, and how much will it cost you? Well, the good news is that the SanDisk card is set to launch this April. The bad news is that it'll cost $449.99 (which just so happens to be one and a half times the retail price of the Switch itself). Is a 1TB microSD card worth more than an entire console? We guess that depends on your specific needs.
The main problem here is that you're mostly paying for the convenience of storing all of your games on one card; SanDisk also has a 400GB card available for just $77.90 on Amazon at the time of writing, and plenty of other more affordable options, too.
We have a full guide on the best microSD cards for your Switch right here if you're interested. These 1TB options are definitely exciting, but they might not be the best choice just yet.
Would you go for a 1TB card? Would you rather buy smaller cards and keep swapping them out when needed? Share your thoughts with us in the comments below.
[source theverge.com, via businesswire.com]