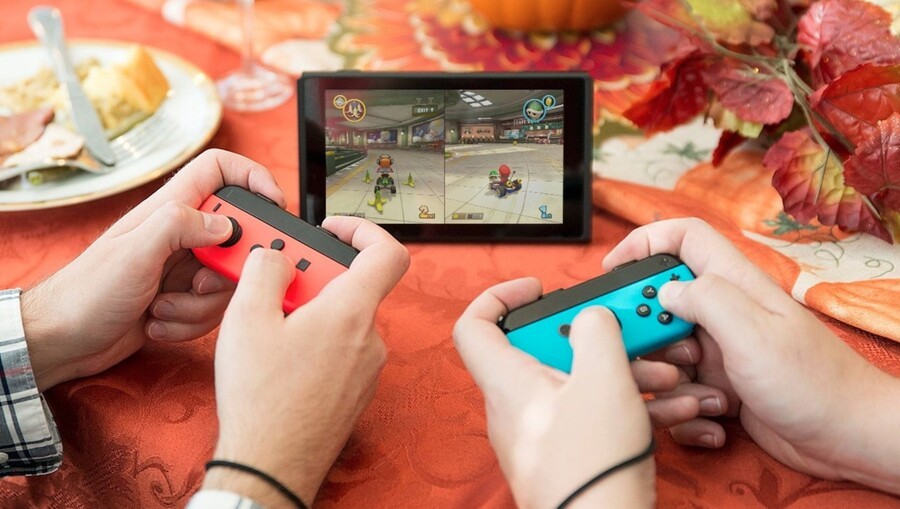 After a trailblazing 2017, Switch has enjoyed an equally impressive sophomore year, albeit one that was perhaps lighter on first-party hits and had more robust eShop and third-party support to make up for it. The console continues to sell in decent numbers and, with 3DS fading from contention, is likely to become Nintendo's sole focus as we move through the next 12 months.
Given that your average console has a lifespan of around 5 years (give or take) before it is replaced by a newer system, by July we could potentially be halfway through the life of the Switch, but we think the system is in for a bumper year and could be the console champ of 2019 – and here are the reasons why.
Burgeoning Third-Party Support
The Switch was relatively light on third-party support in 2017, and it's easy to understand why – the failure of the Wii U meant that many publishers and developers needed convincing before they pledged allegiance to Nintendo's bizarre new hybrid. Stellar sales have clearly done that, and we're seeing much better support as the months roll by. Given that even ports of existing games can take time to create, it's fair to say that the companies which have been keeping their powder dry may have projects in development that will be ready for 2019 – we've already seen that Dragon's Dogma is Switch-bound and Bethesda has taken the bold move of creating the Switch version of DOOM Eternal in conjunction with the other editions; we're sure there will be many more announcements over the next twelve months.
The Death Of The 3DS
The 3DS has had an amazing run, but it's coming to the end of its lifespan and 2019 will surely be the last year it seriously figures in Nintendo's plans. Once Kirby's Extra Epic Yarn launches, it's unlikely to see any more first-party support. While we're sad to see this legendary system get put out to pasture, it will ultimately be a good thing for Switch; Nintendo has positioned the 3DS as the entry-level system for younger players but that doesn't help Switch's market share. Nintendo needs to make Switch its sole offering to grow its user base as aggressively as possible, and part of that strategy involves...
New Hardware SKUs
We've heard chatter about new Switch models, and given Nintendo's prior form in this area, it seems like a safe bet that we'll get at least one new SKU in 2019. What form that will take is anyone's guess, but a 'Switch Lite' would make smart business sense if the 3DS really does get retired. Or, Nintendo could reduce the price of the current model to make it more attractive to parents and release a 'Switch Pro' with a slight spec bump while retaining the same price point – or even sell it for a fraction more. Fresh hardware always has the effect of revigorating the market, and while you could argue that Switch doesn't necessarily need a shot in the arm just yet, a slightly redesigned console would nonetheless give it some additional momentum – just as the 3DS XL, 2DS and New 3DS did during the prolonged lifespan of Nintendo's outgoing dual-screen handheld.
SNES Games On Nintendo Switch Online
A recent datamine indicates that SNES games are coming to Nintendo Switch Online, an event which would drastically elevate the service in the eyes of the Nintendo faithful. The NES is a legendary console without a doubt, but it's clear that people are significantly more excited about the prospect of playing Super Mario World, Zelda: A Link to the Past, F-Zero, EarthBound and Secret of Mana than they are about Tecmo Bowl and Balloon Fight. Assuming Nintendo continues to bring more and more titles to the Switch from both consoles, we could have an incredible selection of retro titles at our fingertips this time next year, making that relatively low monthly subscription price seem like an absolute steal.
A Bumper E3
Nintendo chose to mainly focus on Super Smash Bros. Ultimate at last year's E3, and as a result, we're somewhat in the dark about the company's upcoming AAA projects. Nintendo can't afford to have such a narrow focus this year and will need to bring out the big guns if it wants to deal with the growing anticipation for Sony and Microsoft's next-gen hardware. E3 2019 represents for Nintendo an incredible opportunity to truly clean up; Sony's no-show plays into Nintendo's hands, and with a strong enough line-up of both first and third-party games, Switch could come away from E3 as the most talked-about platform, at least in terms of software. It really is Nintendo's show to lose at this stage, especially given that both the PS4 and Xbox One are coming to the end of their lives.
A Wider Range Of Joy-Con
It's actually quite amazing that after two years on sale, the Switch only has a single alternative Joy-Con option – and that is Hori's D-Pad controller, which is limited by the lack of an internal battery and motion controls. The Joy-Con concept has such incredible potential; we could have dedicated controllers for a wide range of experiences, offering unique interface options – such as analogue triggers for racing games – that enhance the console's standing in the world of gaming. While we wouldn't want to see the flood of naff peripherals that plagued the Wii era, the fact that Joy-Con are replaceable, upgradeable and can be mixed-and-matched makes them ideal for iteration; we'd also love to see a few more adventurous colours, while we're at it. Oh, and if we do get SNES games on Nintendo Switch Online, then we expect to get some SNES slide-on controllers to match the NES ones from last year.
Exploit Fading Rivals And Embrace Fresh Competition
It's hard to believe it when you look at how great the average PS4 or Xbox One game looks, but these two systems are inching towards the grave with each passing month. Sony and Microsoft will almost certainly lift the lid on their successors this year, which is both good and bad news for Nintendo. We could see a lull elsewhere in the market during the latter half of 2019 as Sony and Microsoft scale-up development for their new machines, and that transitional period will play into Nintendo's hands. Granted, the promise of shiny new gadgets will steal away some of the Switch's limelight, but renewed interest in the gaming sector arguably benefits everyone, and it helps that the Switch offers a way to play that is totally unique to its competitors.
Continue To Carve A Niche That's All Its Own
It's important to not underestimate the importance of the Switch's hybrid nature when it comes to figuring out why it has been so successful with the general public; a home console you can comfortably take on the road is something of a game-changer for many players, and Nintendo should never lose sight of that fact. The company was guilty of ignoring the USP of both the Wii U and 3DS (many Wii U games didn't use the GamePad to its full potential, while some later 3DS titles took out the autostereoscopic 3D effect), and it wants to avoid making the same mistake a third time; while a lot of titles obviously work well in both docked and handheld mode, we'd love to see more experiments like the two-Switch game mode in Super Mario Party, which is a shining example of how the console can offer something its rivals cannot. And let's not forget Labo, which – while not to everyone's taste – is an incredibly innovative system which has room to evolve and grow in 2019.
A Redesigned And Overhauled eShop
With so many games hitting the eShop on a weekly basis it's abundantly clear that the current format isn't fit for purpose; discoverability becomes vitally important when you have so much software on offer and at the moment, the eShop is failing a great many developers and publishers, as well as players. A redesign is long overdue and would help promote the enviable catalogue of titles on the console; anyone with an iOS or Android device will know that there are many better ways of presenting this data; we especially like the 'curated' sections of the iOS App Store, where there are even little editorial features which talk about the most worthy releases. The eShop is a powerful weapon that Nintendo should arguably be exploiting to greater effect.
A Massive Title For Christmas
In 2017, Switch had the sublime Super Mario Odyssey to cap off a remarkable year. In 2018, the year's festive release was the peerless Super Smash Bros. Ultimate. What will Nintendo give us at the conclusion of 2019? Metroid Prime 4? Animal Crossing? A new Star Fox or F-Zero outing? Or something else entirely? Whatever it ends up being, a big AAA release is going to be essential during the holiday season, especially if the company wants to convince people to invest in the console, rather than save their money for Sony and Microsoft's new machines.
What do you think Nintendo has to do in 2019 to make the year one to remember? Let us know with a comment.