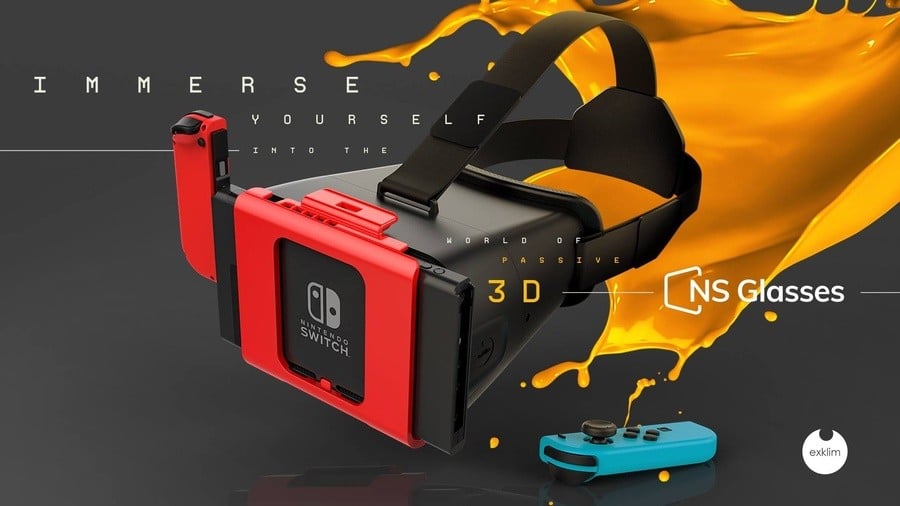 The very idea of Nintendo Switch having a VR headset - and VR games to use with it, of course - has been a rather hot topic for debate over the console's relatively short time on the market; many have expressed a desire to see it happen despite several issues that immediately spring to mind, and some have even gone to the lengths of creating their own homemade kits.
It seems that this desire hasn't gone unnoticed, as Canadian company exklim has jumped on the chance to create its own VR-style headset for the console. Called the 'NS Glasses', the kit has been described as the "world's first headset for Switch" (which is only partly true, but this one is exclusive to the system, at least), sitting on the user's head in a similar fashion to VR headsets currently available on the market.
It features a locking mechanism to keep your Switch securely in place, leaves holes to allow the console's fans to work correctly, and even allows your Joy-Con to remain attached should you wish to charge them while you play. It's said to come with a "comfortable" face pad and adjustable headband, and is even compatible with every single game currently available for the system. Sounds great, right?
Well, the main issue here is that the Switch simply isn't a VR capable device. Rather than being a true VR experience, the NS Glasses use "colour switching technology" to draw out specific shades, giving the impression of a 3D visual inside your headset. It also "smoothes the pixel count" to give off the impression of a higher resolution but, as we know, the Switch's screen displays at 720p as standard.
It's an interesting idea, and a smart-looking design, but we can't help but have the odd doubt over how it will perform. We can't imagine the weight of the Switch being too friendly on the user's neck for long periods, and without any official support from Nintendo, the product would never receive any games that are truly optimised for its use. Still, if you're interested in the concept, pre-orders are set to open soon; you can register your interest here to get the product for 50% off ($50 USD).
What do you think? Are you intrigued by the idea of a simulated 3D effect in a headset for your Switch? Would you only buy a VR-style product if Nintendo decides to release something officially in years to come? Feel free to share your thoughts with us below.